This post contains affiliate links. See my disclosure for more information.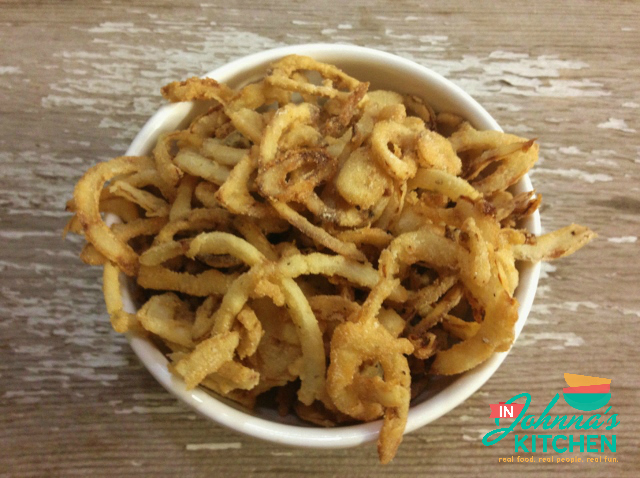 Are you making green bean casserole for Thanksgiving? Whatcha gonna do about those French fried onions that come in a can?
You know the ones I'm talking about, right? Rife with gluten and soy, made on the same equipment as products containing milk? And, well, they are in a can. I'll give you that they are mighty tasty and delightfully crunchy atop a creamy casserole, but I also know they don't work for many of us. I gotcha covered!
It doesn't take much active time to whip up a batch of these at home. Perfect for those of us with some dietary restrictions. Or those of us that just like homemade ingredients. Or those of you who meant to buy them at the store and got home without them. You can make a batch at home in less time than it takes to drive to the store.
A few tidbits on making these: While not necessary, I do use a mandoline to slice my onion super thin. I have this one from OXO. I think it's important when frying any food to keep an eye on the temperature of the oil. I use grapeseed oil and this thermometer for the best results.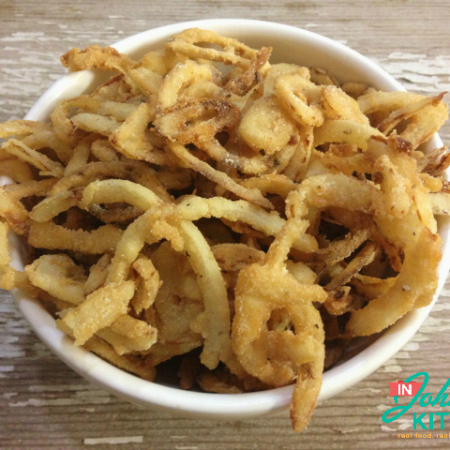 French Fried Onions (gluten-free, dairy-free, soy-free)
Ingredients
1

Tablespoon

apple cider vinegar

1

cup

non-dairy milk

(I use unsweetened almond or hemp milk)

1

yellow onion

, thinly sliced

1/2

teaspoon

black pepper

dash cayenne pepper

grapeseed oil for frying
Instructions
In a liquid measuring cup, add 1 Tablespoon of apple cider vinegar. Top with non-dairy milk to the one cup mark. This will make one cup of a buttermilk substitute. Let sit for 10 minutes.

While milk is curdling, slice onion very thin with

mandoline

. ALWAYS use the handguard with a mandoline, protect your hands!

Place the thinly sliced onion in a baking dish. Top with buttermilk. Let sit for at least one hour on the counter. If you prefer, you can even let them sit in the buttermilk overnight in the refrigerator.

Mix flour, black pepper and cayenne together in a small dish.

Heat oil that is 2" to 3" deep to 350 degrees.

Remove a handful of the onions from the milk. Toss in the flour mixture. Carefully drop into the hot oil.

Fry for 1 to 2 minutes, until lightly browned. I give mine a quick stir about halfway through to keep them from clumping.

Remove from oil with slotted spoon and place on paper towel lined baking sheet.

If making ahead of time, store in an airtight container until used. I have stored these for up to 3 days before using.
Full Disclosure: This post contains affiliate links. If you make a purchase, I make a small commission. I use affiliate links to offset the cost of maintaining this website. I am grateful for your support!