This post contains affiliate links. See my disclosure for more information.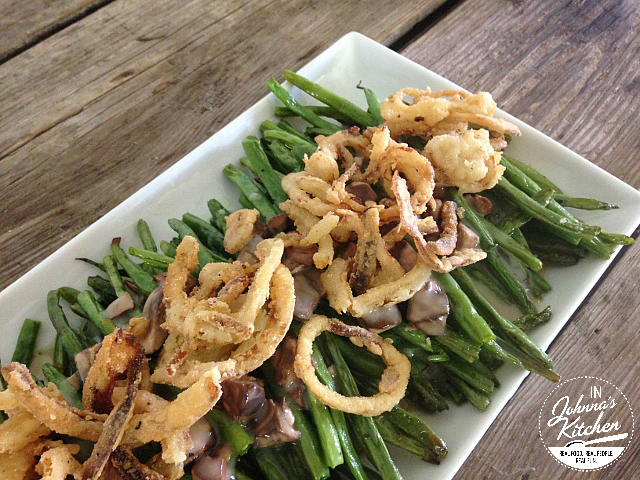 Are you tired of casseroles from Thanksgiving and the following big food shindigs? I sure hope not, because I've got a good one to share with you!
I didn't grow up eating traditional green bean casserole, at least not that I can remember. But the fella I married, his family served this at holiday meals, along with mashed potatoes that came from a box. Not judging, just commenting… 😉
Anyway, I learned to make the casserole the traditional way, with a recipe found on the side of the can of French fried onions. Dang, those are good! But then I bid adieu to gluten, said adios to wheat flour, embraced a different way of eating. I even kicked the grey, gelatinous blobs of canned "cream of" soup to the curb.
So how does one do that and still make a traditional casserole? Is it possible to not completely break up with a classic, to re-make it into something even better? Allow me to introduce you to New and Improved Green Bean Casserole: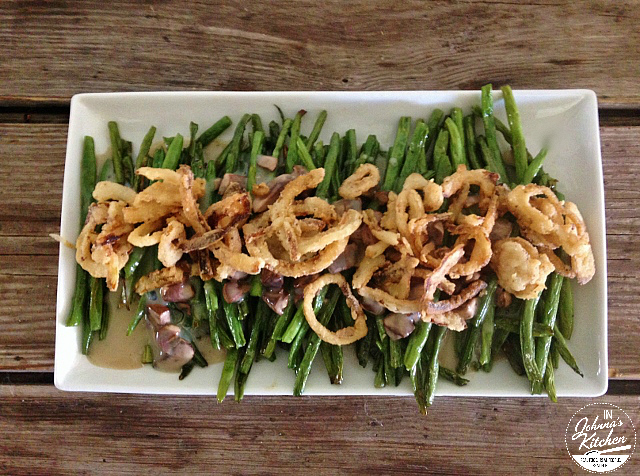 Not only does it have the flavors reminiscent of the traditional casserole, it's even better. And it will work for you if you are gluten-free, dairy-free, egg-free, vegan….it works for so many folks! I made this on Thanksgiving and we both liked it so much, I made it again the next week. The flavor of roasted green beans is far superior than the canned beans I used to use. Add to that the superbly creamy texture of The Gluten-Free Homemaker's Cream of Mushroom soup (currently not available online, looking for an option to share it with you!) and my French fried onions and you'll have a new family favorite to put on the table.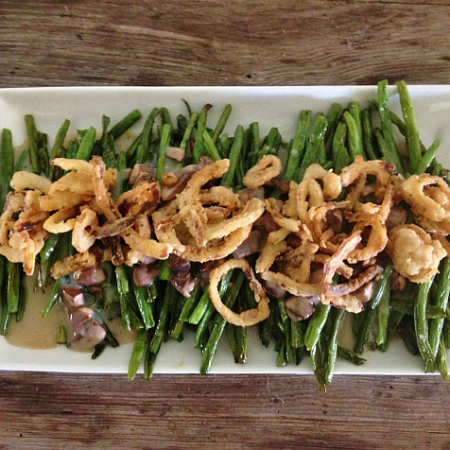 Green Bean Casserole, New and Improved!
Ingredients
1

pound

fresh green beans

2

teaspoons

olive oil

salt and pepper

1

batch The Gluten-Free Homemaker's Cream Soup with mushrooms

1

cup

non-dairy milk

1

batch Johnna's French Fried Onions
Instructions
On day you would like to eat the casserole, preheat oven to 425 degrees. Line a large baking sheet with parchment paper.

Trim ends of fresh green beans. Add to a large bowl. Drizzle with olive oil, salt and pepper. Toss to coat.

Place in a single layer on baking sheet. Roast until just lightly caramelized, 10 to 12 minutes. Toss halfway through for even cooking.

While beans are cooking, cook one batch of The Gluten-Free Homemaker's Cream Soup. I make mine using unsweetened almond milk and arrowroot. Make sure to add the mushrooms at the end. You'll want a "cream of mushroom" soup for this dish.

Once soup has thickened, slowly whisk in additional 1 cup of milk until soup has a slightly less thick consistency, but is not thin. You want it thick enough to sit atop the green beans.

Remove green beans from the oven and place on serving platter. Gently spoon soup over the top of the green beans. (You may not want to add the entire batch of soup, save some to make this the next day or enjoy the soup on its own.)

Top with French fried onions and serve immediately.
This post is linked up to Gluten-Free Wednesdays and Gluten-Free Fridays. Visit both for more recipes!