This post contains affiliate links. See my disclosure for more information.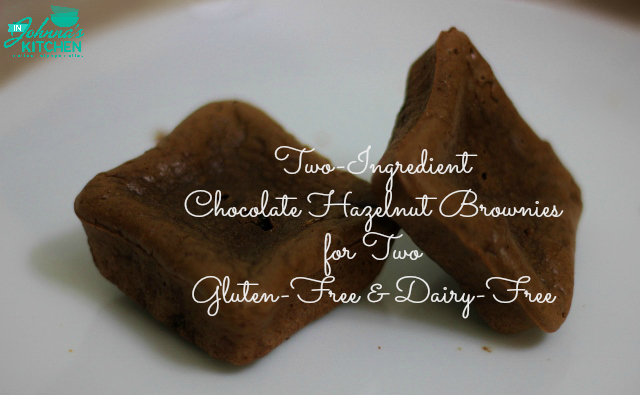 Perhaps you've seen the recipe circulating the internet that makes a pan of brownies with just four eggs and one cup of Nutella.* While delicious, there are two challenges for me: Nutella contains dairy of a sort that makes me puffy and the recipe makes a whole pan of brownies. Maybe you have more restraint that I do. Maybe you don't hear the brownies calling to you. Maybe you can eat just one… If that's you, you have my admiration. I want to grow up to be you. But in the meantime…
Today I'm sharing my solution with you, a recipe that makes only two brownies with two ingredients AND tastes even better than Nutella. Wanna know how?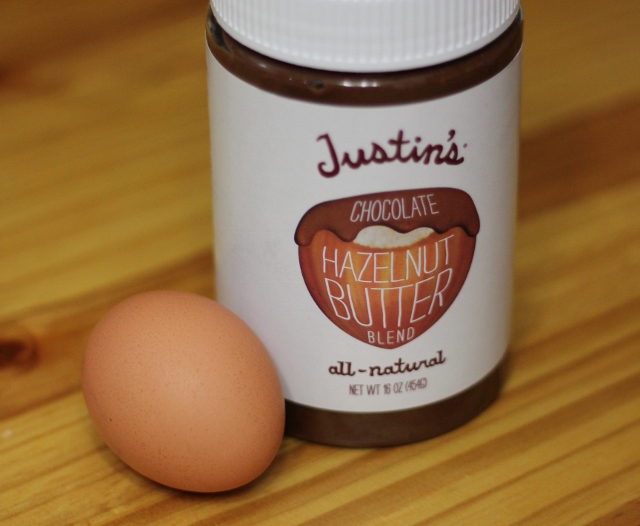 It's with this: the Chocolate Hazelnut Blend from Justin's. Not only is it free of dairy, it has a richer chocolate flavor than Nutella and just a touch of sea salt. I much prefer it to Nutella and buy it by the jar as well as in the cute little single serve packets.
To make these brownies, I used this Wilton brownie pan. Each cavity of the pan essentially holds the same volume as the round cavity in a standard muffin pan. If you don't have the square pan, use a muffin tin and you'll have pretty little round brownies. The flavor will be every bit as good!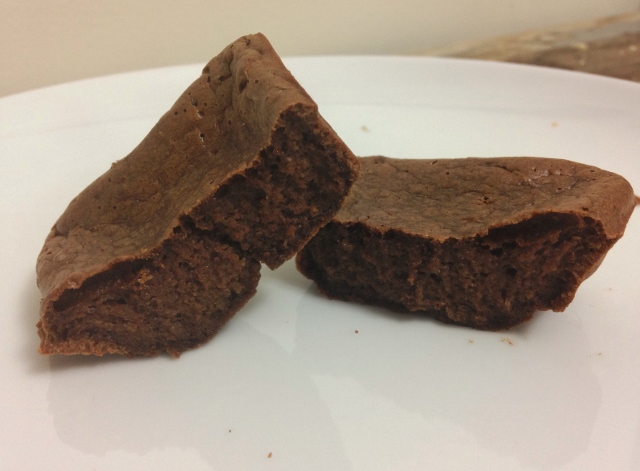 I'm on a bit of a kick making small batches of desserts and meals around here. Later this week, I'll share my Baked Stuffed Apples. Until then, enjoy these brownies!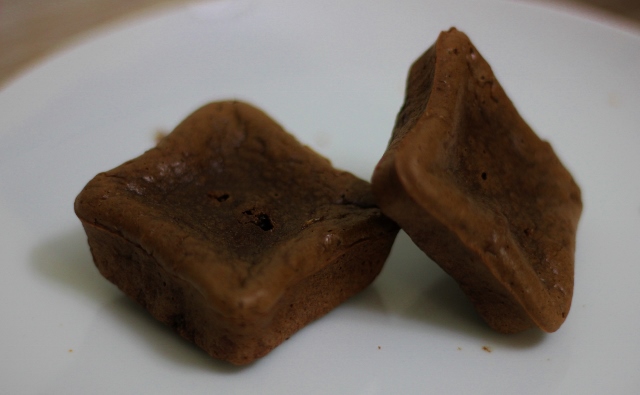 Chocolate Hazelnut Brownies for Two, gluten-free & dairy-free
Ingredients
1

large egg from a happy hen

1/4

cup

Justin's Chocolate Hazelnut Blend
Instructions
Preheat oven to 350 degrees. With cooking spray of your choice, lightly oil two cavities of either a square brownie pan or a standard muffin tin.

Scoop Chocolate Hazelnut Blend into a small bowl that is microwave safe. Heat in 30 second increments until spread is quite thin. Remove from microwave.

In a small mixing bowl, add the egg. Using a hand mixer on high, beat the egg until it has tripled in volume. It will be a very pale yellow.

Once the egg has tripled in volume, with the hand mixer running on low, gradually add the Chocolate Hazelnut Blend a spoonful at a time. Mix until well incorporated.

Divide the batter evenly between two cavities of your pan. Bake at 350 degrees for 9-12 minutes, until a toothpick inserted comes out clean.

Allow to cool for a few minutes before removing from the pan. Enjoy warm or at room temperature.
*I attempted to find the original source of the two-ingredient Nutella brownies to credit as inspiration for my two brownie recipe. I'm not sure who the original recipe developer is, but want to make sure they know their creation is appreciate. This recipe and tutorial over at The Kitchn includes a lengthy list of possibilities for the creator of the original recipe that inspired my version. Kudos to all!
Disclosure: This post contains affiliate links. Should you make a purchase after clicking on a link in this post, I may make a small commission. Affiliate links help me to offset the cost of maintaining this website and creating original recipes tested in my kitchen. I am grateful for your support!