This post contains affiliate links. See my disclosure for more information.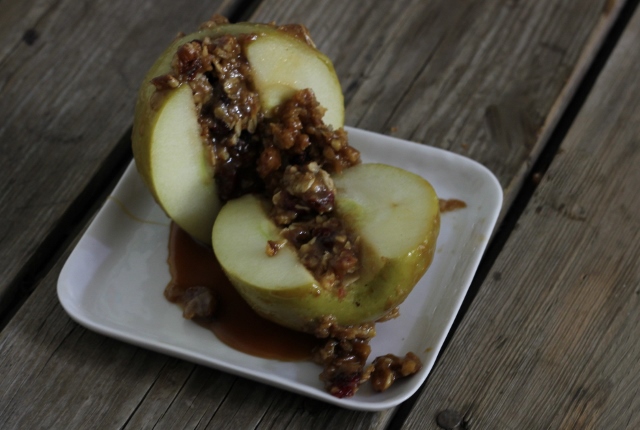 On Monday I mentioned I am on a kick of creating small batches recipes. In a house with just two people, I often give in to the temptation of leftovers, tempted by a full batch of something I should only indulge in a single serving of, mostly brownies. Recently I've been making lots of hearty comfort food, dishes that fragrance the entire house and help me feel warm even in the middle of winter. These Baked Stuffed Apples for two are my current favorite and one I don't feel bad about eating after a light meal.
When feeling particularly indulgent, we drizzle a bit of caramel over the top of the apples.* But they are excellent even without the caramel. There hasn't been any in the house, but I'm convinced a small scoop of ice cream would also be a great accompaniment. If you try it, I'll hope you report back to let me know.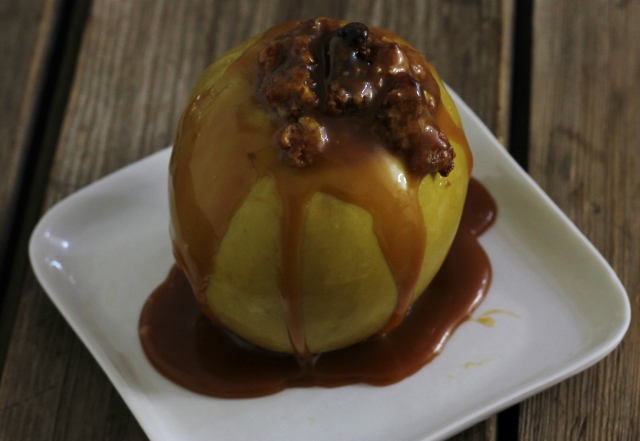 *I was kidding about that "bit" of caramel. I got a bit heavy-handed with the caramel sauce. It was so very scrumptious.
As always, please make sure you use certified gluten-free oats if that is a concern for you. Oats are one ingredient I thought I could get away with buying in the "regular" department. I was WRONG. I got super sick several years ago from oats that are not certified gluten-free. Now I pay a couple bucks more a bag. No big deal, nothing like the big deal that being sick for days can be.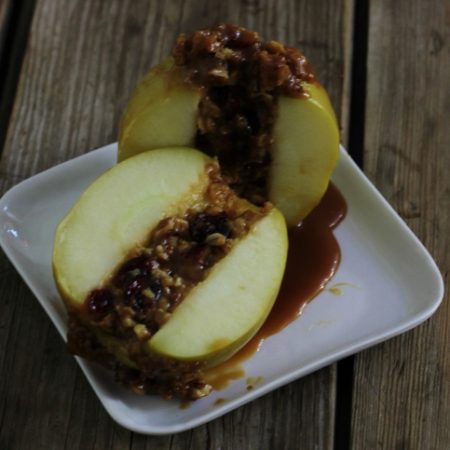 Baked Stuffed Apples for two; gluten-free, dairy-free, vegan
Ingredients
2

large apples of your choice (we are using Granny Smith right now

, but Honey Crisp would be wonderful!

2

Tablespoons

Johnna's Favorite Gluten-Free Flour Blend

1

Tablespoon

certified gluten-free oats

1

Tablespoon

maple syrup

1

Tablespoon

coconut sugar

(may use brown sugar instead)

dash cinnamon

1

Tablespoon

coconut oil or vegan butter substitute like Earth Balance

1

Tablespoon

chopped pecans

1

Tablespoon

dried cranberries or raisins

Caramel sauce

(optional)
Instructions
Using an apple corer or a paring knife, core each of the apples.

Heat oven to 400 degrees. Place apples in a small baking dish.

In a small mixing bowl, combine flour, oats, maple syrup, coconut sugar and cinnamon. Mix until well combined.

Using a fork, blend in coconut oil or butter substitute until crumbly.

Gently stir in pecans and cranberries or raisins.

Stuff half of the mixture into the opening of each apple.

Bake at 400 degrees for 20-25 minutes. Length of baking time will depend on size of apple. When the apple gives way easily to a fork, they are done and ready to be gobbled up!

Serve hot, with a drizzle of caramel sauce if you would like.
Recipe Notes
Some baked apple recipes call for water to be poured around the apples in the baking dish. I am not a fan of this method and prefer a dry baking method instead.