This post contains affiliate links. See my disclosure for more information.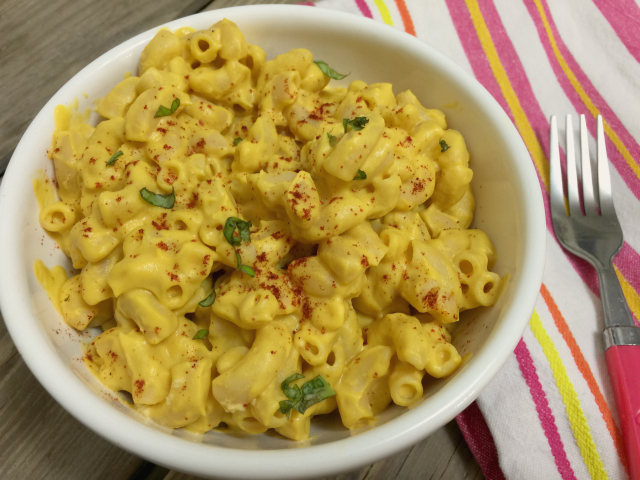 This Mac & Cheese is by far the best I've made, hence Johnna's Best Mac & Cheese. I've got quite a reputation for making wonderfully creamy macaroni and cheese, magically devoid of dairy. But this one? It's special. It will blow your mind. Plus it's not only gluten-free, it's also dairy-free and grain-free! (There's also a bonus recipe at the very end of this post, don't miss it!)
So how did I do this? With vegetables like sweet potatoes or yellow potatoes, carrots and onions. A bit of nutritional yeast. And the pasta? Made with chickpeas! Have you heard about Banza? The folks at Banza sent me a box of complimentary pasta to sample and I'm in love! It's pasta made in Detroit from chickpeas and only three other ingredients. Double the protein, four times the fiber and half the net carbs as "regular" pasta. Plus it is made in a dedicated gluten-free facility. It's available in shells, rotini, elbows and penne. I've tried all four varieties and can't possibly pick a favorite. The elbows and the rotini both worked well making this mac & cheese recipe.
The creamy, cheese sauce for this mac & cheese is made in a high speed blender, such as a Blendtec or a VitaMix. If you don't have either of those, I've added special instructions at the bottom of the recipe. It was hard to sell me on one of the high speed blenders way back when I was training to be a certified living foods chef. But after buying one, I can't imagine living without one. This sauce cooks, yes cooks, in the blender. It gets steaming hot in the blender in less time than it takes to boil water and cook the pasta. Such an easy weeknight dish!
Alright, let's get right to the recipe. Here's Johnna's Best Mac & Cheese. (Don't forget, there's a special bonus recipe at the bottom of this post…)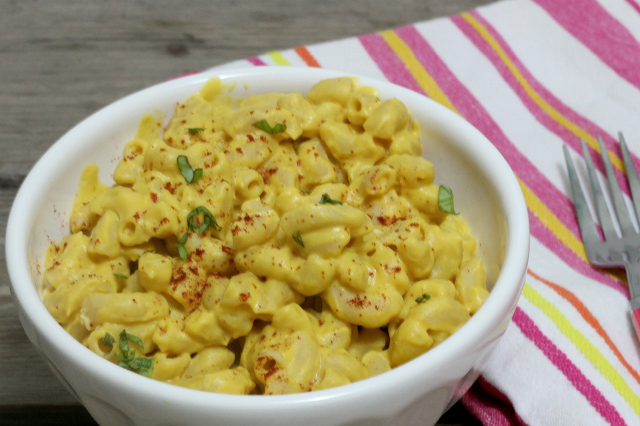 Johnna's Best Mac & Cheese (gluten-free, dairy-free, vegan, low carb, grain-free)
Ingredients
16

ounces

gluten-free pasta

(I used Banza chickpea pasta)

1 3/4

cup

rough diced sweet potatoes or yellow potatoes

(sweet potatoes = more creamy)

1 1/4

cup

vegetable stock

(be certain this is gluten-free)

1 1/4

cup

cashews

, raw and not salted

3/4

cup

rough diced carrots

2/3

cup

rough diced yellow onion

1/2

cup

dairy-free milk

(I use hemp milk)

1/4

cup

nutritional yeast

2

Tablespoons

lemon juice

1

teaspoon

sea salt

1

clove

garlic

1/2

teaspoon

sweet or smoked paprika

(I like the hint of smokiness in smoked paprika)

additional paprika

, chives or chopped fresh herbs of your choice for garnish
Instructions
Boil water and cook pasta as per directions on package.

While pasta is cooking, place all ingredients for the sauce into a high speed blender such as a VitaMix or Blendtec. (If you do not have a high speed blender, you will need to see the notes at the bottom for cooking directions.)

Turn blender on low, slowly working speed up to high. Blend on high until sauce is creamy and steaming hot.

Drain pasta. Gently mix in about half of the cheese sauce. You will not need the entire batch of cheese sauce, only about half. Serve immediately.

The remaining cheese sauce may be stored in the refrigerator or frozen. I have frozen this sauce and allowed it to thaw at room temperature with great success.
Recipe Notes
If you do not have a high speed blender, you will need to boil water in a medium saucepan. Add the vegetables and cook until fork tender. Transfer to regular blender with all other ingredients except the vegetable stock. You will eliminate the vegetable stock and instead replace it with hot cooking liquid from the vegetables.
Big thanks to Vegan Yumminess and Veg News magazine for their inspiration in creating this recipe, which is an adaptation and modification combining elements of both of their recipes as well as my own take on mac & cheese.
And here it is, the special bonus recipe! Quick and easy…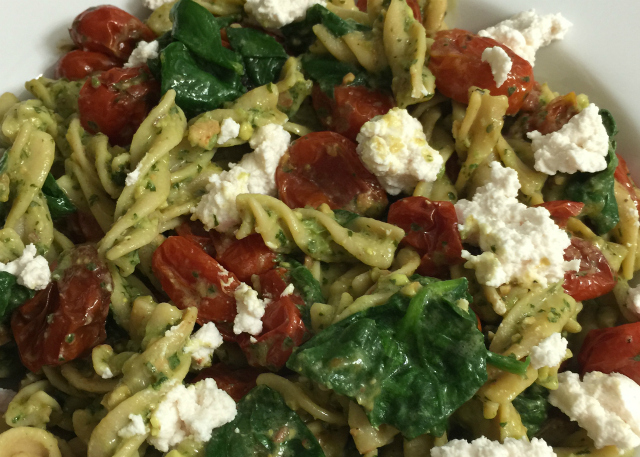 You'll need the following:
One box of Banza Rotini
One batch Pinch of Yum's Magic Green Sauce
Two generous handfuls of cherry or grape tomatoes, roasted
Two generous handfuls of fresh spinach
1/2 container of dairy-free Kite Hill ricotta (available at Whole Foods)
Boil pasta per directions. Drain. Return pasta to pan and toss with spinach. The spinach will wilt. Start to mix in Magic Green Sauce, a couple tablespoons at a time until the pasta is nicely coated. Stir in roasted tomatoes. Split into bowls for serving, top with crumbles of Kite Hill ricotta.
You'll have Magic Green Sauce left over. I'm obsessed with it, thanks for my friend Sarah from Celiac in the City. It's great on roasted vegetables, excellent as a dip with raw veggies, perfect as a baked potato topping, fantastic brushed on grilled tofu. Let me know how you enjoy it!
Looking for more Mac & Cheese goodness? Here are a few more of my recipes:
Pumpkin Mac & Cheese (gluten-free with a dairy-free option)
Pumpkin Cider Mac & Cheese (vegan, super creamy!)
Smoked Cheddar Mac & Cheese with Crunchy Potato Chip Crust (gluten-free, dairy-free)
Disclosure: As mentioned earlier in the post, the nice folks at Banza sent a few boxes of their pasta to me. No other compensation was received and I was not asked to write about their product. Every box they sent was quickly gobbled up and we've purchased more at our local Sprouts store. I'm sharing my opinion only, not sponsored content.