This post contains affiliate links. See my disclosure for more information.


I've made this recipe using the 6-quart Instant Pot. Inside the Instant Pot, you'll need to place a stainless steel bowl that fits nicely into the pot. I've used this bowl. Things you won't need: 90 minutes, a strong arm for constant stirring and loads of patience.

Inside the pot, you'll need to place a pan that has no handle or a small stainless steel bowl. I use an 8-cup bowl that is similar to those found in this set. You might take the insert out of your instant pot with you to the thrift store and see what you can find that fits. I always see lots of smaller stainless steel bowls when I'm browsing. There's sure to be one perfect to fit inside your Instant Pot. You might keep your eyes open for a steamer basket, too. That comes in handy when making hard-boiled eggs! I found a little one at IKEA that works great.
As I mentioned earlier, I only use Anson Mills grits. Not only are they flavorful and of high quality, but they are also gluten-free. The grits shown in this post are all "coarse" grits, not quick grits. Quick grits will work similarly in the Instant Pot, however I like the texture of coarse grits much better. When choosing cheese, keep in mind the cheese will have an impact not just on flavor but on color. I've shared several photos to show the difference in cheese varieties.
Alrighty, let's get to the recipe now!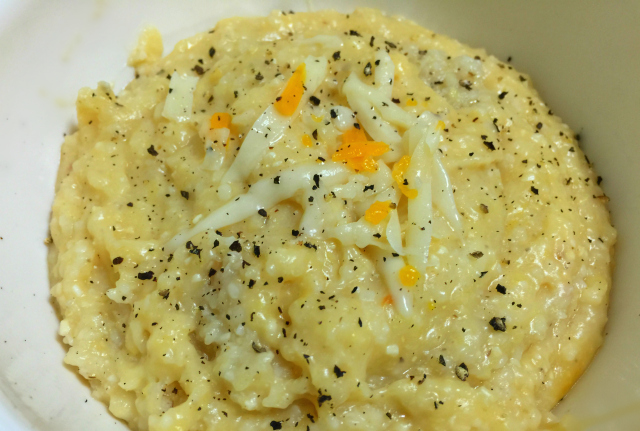 Instant Pot Cheese Grits (gluten-free, dairy-free option)
Ingredients
3/4

cup

water

, placed in the bottom of the Instant Pot

1 1/2

cups

water

1

cup

vegetable stock

(be certain it is gluten-free)

1

cup

coarse ground grits

(I recommend Anson Mills)

2

Tablespoons

Earth Balance vegan butter substitute or butter

1

cup

shredded cheese of your choice

(or Daiya shreds)

1/2

teaspoon

fresh ground black pepper

1/4

teaspoon

sea salt

Additional salt

, pepper and shredded cheese for topping, if desired
Instructions
Place 3/4 cup of water in the Instant Pot. Make certain the trivet is in place.

In a small bowl or pan (I use an 8-cup stainless steel bowl), combine 1 1/2 cups water, vegetable stock, grits and Earth Balance or butter. Stir well to combine.

Place the bowl atop the trivet in the Instant Pot. Seal the Instant Pot.

Set the timer for 15 minutes at high pressure.

It will take a few minutes to come to pressure, then the 15 minute timer will start working. When the 15 minutes is up, allow the pressure to release on its own, do not do a manual pressure release.

Remove the lid once the pressure has released. Carefully remove the bowl from the Instant Pot. Stir the grits well.

Last, stir in the cheese, pepper and salt. Serve immediately.

Enjoy!