This post contains affiliate links. See my disclosure for more information.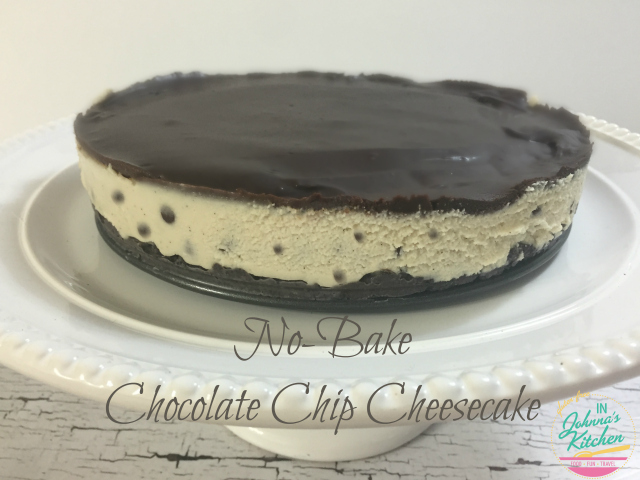 No-Bake Chocolate Chip Cheesecake. A crunchy, chocolate cookie crust topped with a smooth and creamy filling brimming with chocolate chips topped with a decadent chocolate ganache. Did I catch your attention yet? Want a slice?
But what if I told you this is also gluten-free, dairy-free, egg-free and vegan? Plus it's also the richest, creamiest cheesecake maybe ever, in the whole universe of all that is cheesecake. Well, maybe that's a bold statement but it is a very rich dessert I'm proud to share with friends and neighbors. I bet your family, friends and neighbors will enjoy it, too!
I used Oreo-type cookies for the crust, which makes the easiest no-bake crust when combined with a bit of coconut oil to firm it up. The filling is made with cashews. If you haven't explored "raw vegan" desserts, you should. This is the foundation of this cheesecake. Don't let the terms "raw" or "vegan" dissuade you from giving it a go. Cashews are the foundation of many no-bake desserts with a healthier slant and with good reason. They make a creamy filling that is easily mistaken for dairy. And the ganache on top? Super simple. No tempering of chocolate, quick and easy.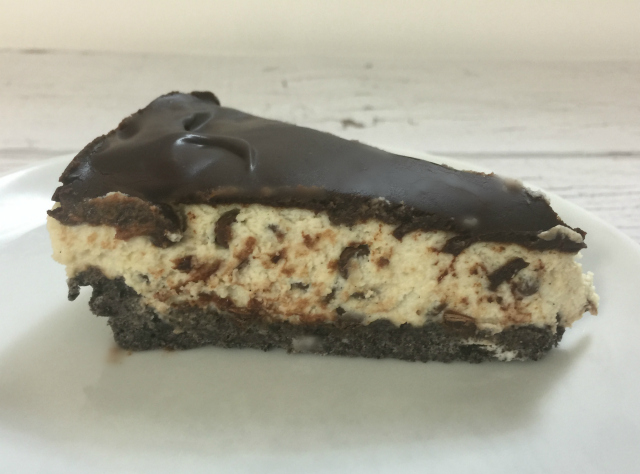 You'll need a few things to make my No-Bake Chocolate Chip Cheesecake. First, an 8″ Springform pan. Second, a food processor. You might be able to get away with using a high speed blender, but I think you'll do better with a food processor. Third, a ginormous sweet tooth. Or friends who enjoy it when you share food. While I would most often cut a cheesecake this size into 8 slices, you could easily cut this one into 10 or 12 slices, as it is indeed very rich.
Ready for the recipe? Just click here!