This post contains affiliate links. See my disclosure for more information.


Dairy-Free Dulce de Leche
Made with only one ingredient, dairy-free and with virtually no hands-on time needed!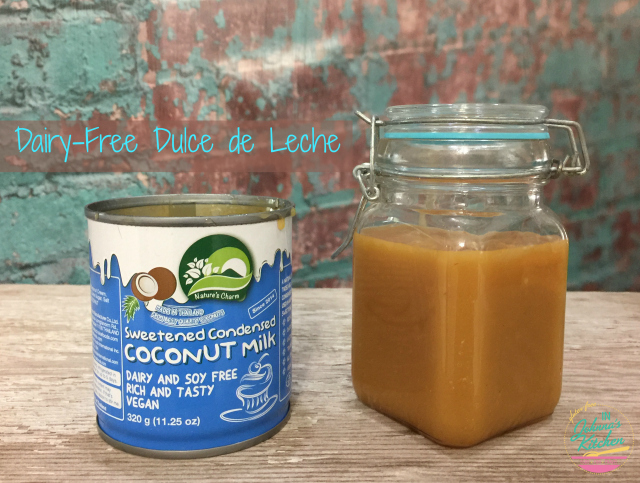 For those who avoid dairy by necessity or choice, the internet can be so ornery, tempting us with tales of using only a can of sweetened condensed milk to make Dulce de Leche, that sweet caramel-like sauce that is perfect stirred into coffee, drizzled on sweets, enjoyed straight off of a spoon.
Only recently did I spot sweetened condensed milk made from coconut milk by Nature's Charm. It's perfect for this! Even without dairy, you can make one ingredient dairy-free dulce de leche!
I found this on the top shelf of the baking aisle at my local Sprouts. Other friends have reported finding it at Fresh Thyme, as well as ordering it on Amazon. I paid $3.29 per can at Sprouts.
So how do you turn a small can of sweetened condensed coconut milk into Dulce de Leche? You stick it in the Instant Pot, of course! (Or a Crockpot if you prefer.)


Look at this oooey, gooey, sweet goodness…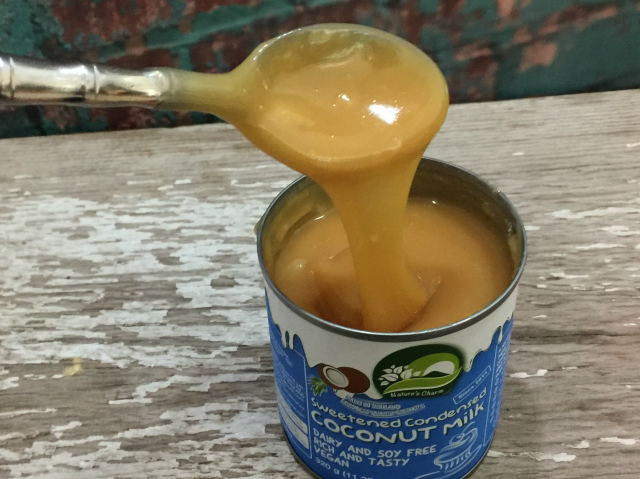 I stirred it into coffee. Even though I'm not usually a fan of sweet coffee drinks, this was the perfect afternoon treat. This is way better than any pricey coffee house drink.
For my favorite fella's birthday, I made chocolate cupcakes with vanilla bean frosting and then drizzled the Dulce de Leche on the top. Which made them over the top.
Decadently sweet, a slight hint of caramel perfectly accompanied by chocolate and vanilla bean. A great way to celebrate!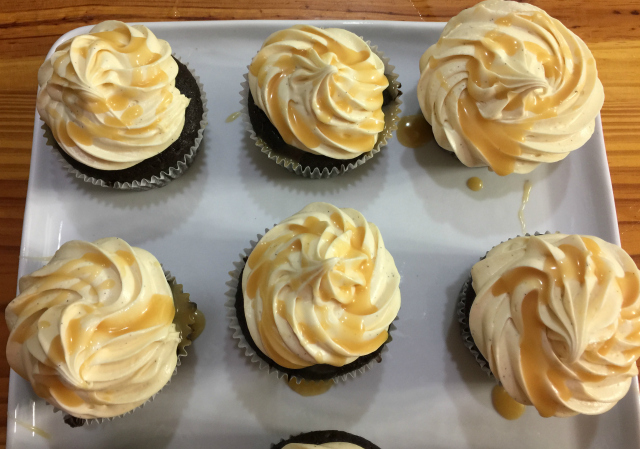 Here are a few others ways you can enjoy this Dairy-Free Dulce de Leche:
Stir into hot cocoa
Drizzle on French toast instead of syrup
Make alfajores, delicate South American cookies
Drizzle on top of dairy-free cheesecake
Serve as a dip with fruit
Use as an ice cream topping
Give as a gift (one can perfectly fills this cute jar)
How does this work? Well, if I could be technical for a moment, it's the Maillard reaction.
It's the same reaction that causes your cookies and other sweet treats to brown in the oven. Same with a toasted marshmallow, as well.
It's a chemical reaction between the reducing sugars and amino acids that creates wonderful flavors during the browning. There are hundreds of flavor compounds created during the Maillard reaction, which is what changes sweetened condensed milk into a rich, creamy Dulce de Leche with a deeper flavor than what was initially place in the Instant Pot or Crockpot.
Alright, enough of me and my food nerdiness. Let's move on to the recipe: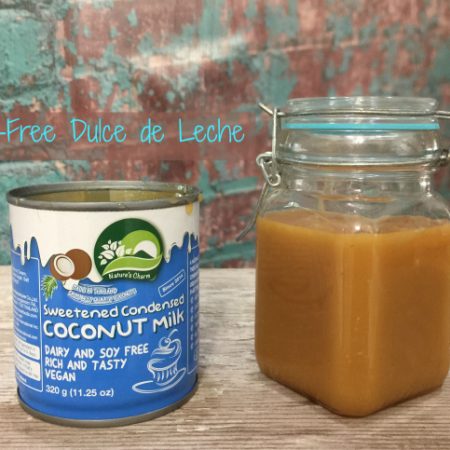 Dairy-Free Dulce de Leche, Only One Ingredient!
Ingredients
Two cans Nature's Charm Coconut Sweetened Condensed Milk

Water
Instructions
Instant Pot Instructions:
Place the trivet in the bottom of the Instant Pot.

Place two cans of Coconut Sweetened Condensed Milk atop the trivet. (Should your cans have a removable label, remove the label prior to placing in the Instant Pot.)

Fill with enough water to completely cover the cans with one inch of water over the top.

Seal the Instant Pot, press the manual button for high pressure and set the time to 17 minutes on high.

Once the 17 minutes are up, unplug the Instant Pot (or at least turn it completely off) and do a Natural Pressure Release (NPR) overnight.

In the morning, open the Instant Pot and remove the cans of milk. If they are not completely cool to the touch, leave them on your counter unopened until they are completely cooled before opening.

Store in the refrigerator in a glass jar.
For the Crockpot:
Place two cans of coconut sweetened condensed milk in the crockpot, removing labels if the cans have a removable label.

Cover with water, enough to leave one inch of water over the top of the cans.

Place the lid on the crockpot.

Cook on LOW for 8 hours.

After 8 hours, turn the crockpot off, leaving the cans in the water until it is cool. Overnight is best.

Open cans only after they are cool. Store sauce in glass jars in refrigerator.