This post contains affiliate links. See my disclosure for more information.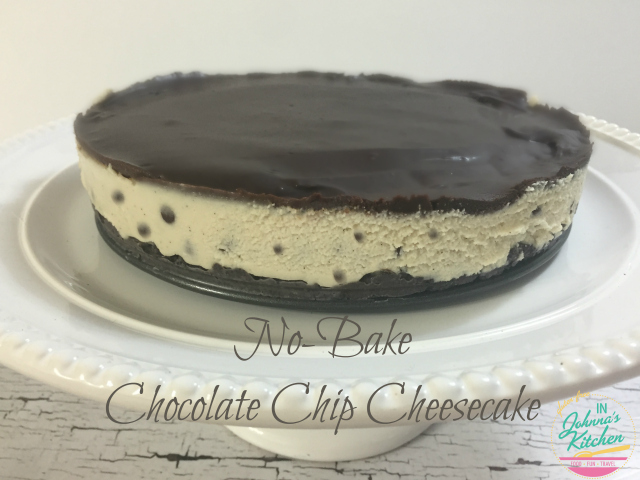 A few tips on making this cheesecake:
Use vanilla bean paste. While regular vanilla extract will work, a rich vanilla flavor best gained by using vanilla bean paste elevates this decadent dessert. Plus you'll get the pretty little flecks of vanilla bean in your cheesecake!
For the chocolate sandwich cookie crust, I used Glutino's cookies. Please read labels carefully if you have dietary concerns beyond gluten. All of the gluten-free sandwich cookies I could find had a voluntary "may contain" statement regarding eggs or dairy. Glutino may contain egg and milk, Kinnikinnick K-Toos may contain egg, and Trader Joe's gluten-free Joe Joe's may contain milk. You know your dietary needs best and should choose cookies for the crust based on that. Or you could make your own at home.
I've used Enjoy Life's mini chocolate chips in both the filling and the ganache. Mini chips are the right size for the filling. For the ganache, I find mini chips melt in less time and more evenly than larger chips or chunks.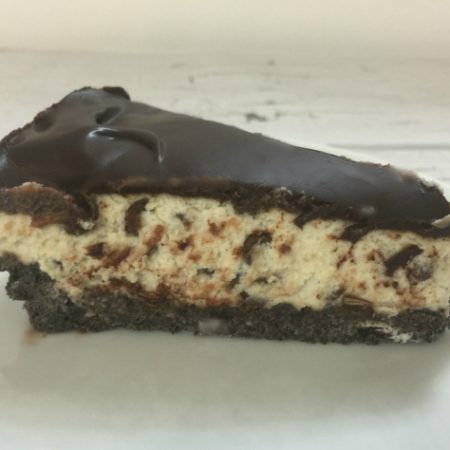 No-Bake Chocolate Chip Cheesecake (gluten-free, dairy-free, egg-free, vegan)
Ingredients
For the Crust:
1

package

(10.5 ounces) gluten free chocolate sandwich cookies (I used Glutino, which has a "may contain milk and egg" statement, Kinnikinnick has a "may contain eggs" statement, Trader Joe's has a "may contain milk" statement. Find one that works for your particular dietary needs.)

3

Tablespoons

coconut oil

, liquified
For the Filling:
1 3/4

cup

raw cashews

1/2

cup

coconut oil

, liquified

1/3

cup

plus 1 Tablespoon maple syrup

1/4

cup

water

1/4

cup

fresh lemon juice

1

teaspoon

vanilla bean paste

1/4

teaspoon

sea salt

1/2

cup

mini chocolate chips

(I use Enjoy Life minis)
For the Ganache:
3/4

cup

chocolate chips

(I find mini chips melt better, such as Enjoy Life)

3

Tablespoons

dairy-free milk

(I use this hemp milk)
Instructions
The night before making the cheesecake, soak the cashews in enough water to completely cover them. You can get away with soaking for only 3 to 4 hours, but I find it makes the creamiest filling if you soak them overnight.
For the Crust:
You will need an 8" Springform pan.

Place cookies and liquified coconut oil in food processor fitted with "S" blade. Pulse until cookieshave reached the consistency of large crumbs.

Press into the bottom of the Springform pan and place in the freezer to firm up the crust while you are making the filling.
For the Filling:
Drain and rinse cashews. Place all filling ingredients EXCEPT chocolate chips into the food processor. Process until mixture is very smooth. This takes a minimum of 5 minutes in my food processor.

Once filling is smooth, add in chocolate chips by hand-stirring then pour over the top of the chilled crust. Return to the freezer to set. Allow to set for a minimum of two hours before pouring ganache over the top.
For the Ganache:
In a microwave-safe bowl, add chocolate chips and dairy-free milk. Microwave for one minute and then stir, stir, stir. This is enough time in my microwave for the chips to be melted. If it is not enough time in yours, microwave in 30-second increments until chocolate is melted.

Allow ganache to cool just a bit before pouring over the set cheesecake filling. Pour the entire bowl of ganache over the top and gently spread over the top. Return to the freezer to set.

This cheesecake needs to be kept refrigerated until serving. Slice into as many servings as you would like. I slice this one into a minimum of 10 servings, as it is quite decadent.

Enjoy!