This post contains affiliate links. See my disclosure for more information.


Have you tried Dalgona Coffee, the heavenly caffeinated cloud over iced milk everyone is talking about? Today I'm sharing a very simple recipe to make your own dreamy iced coffee in a flash!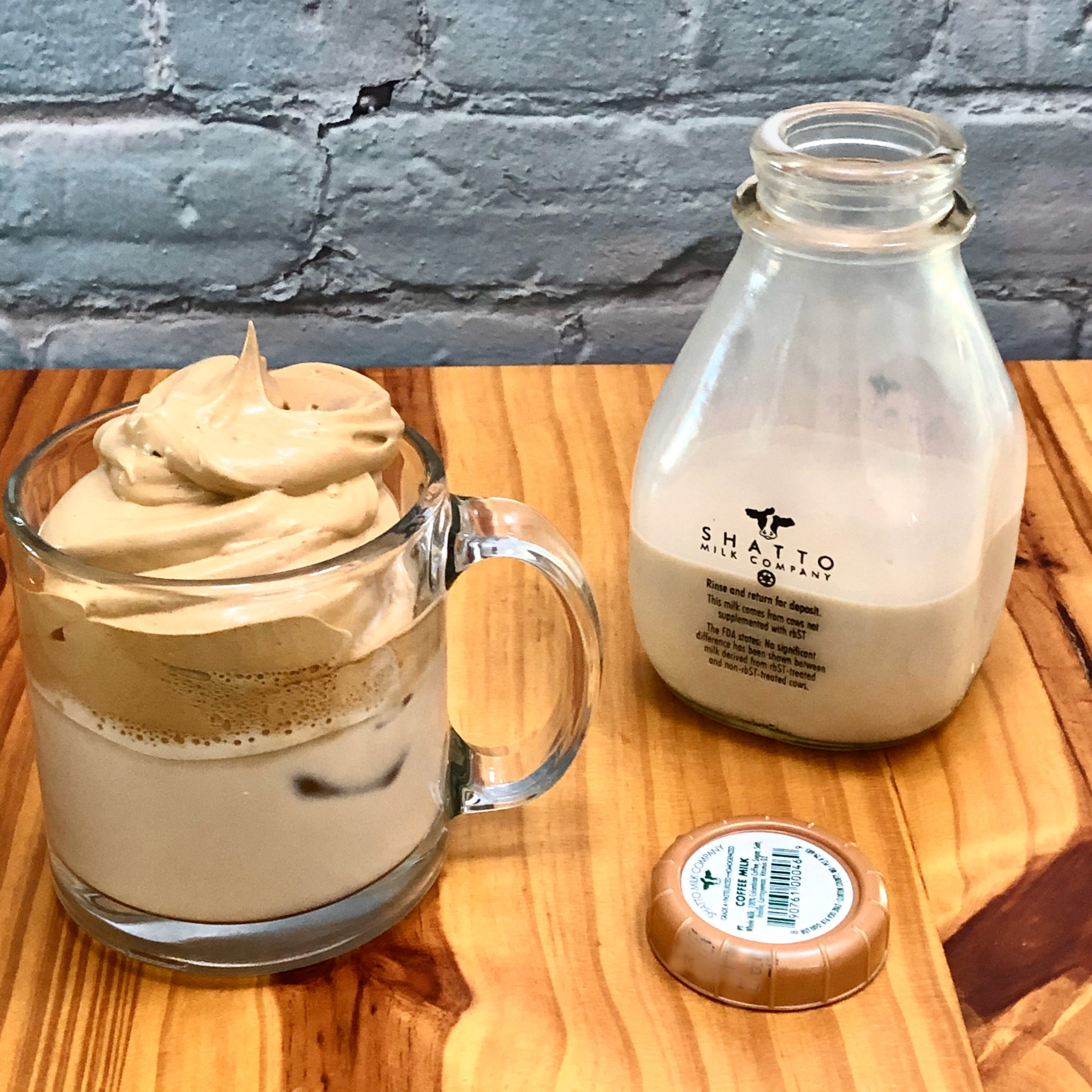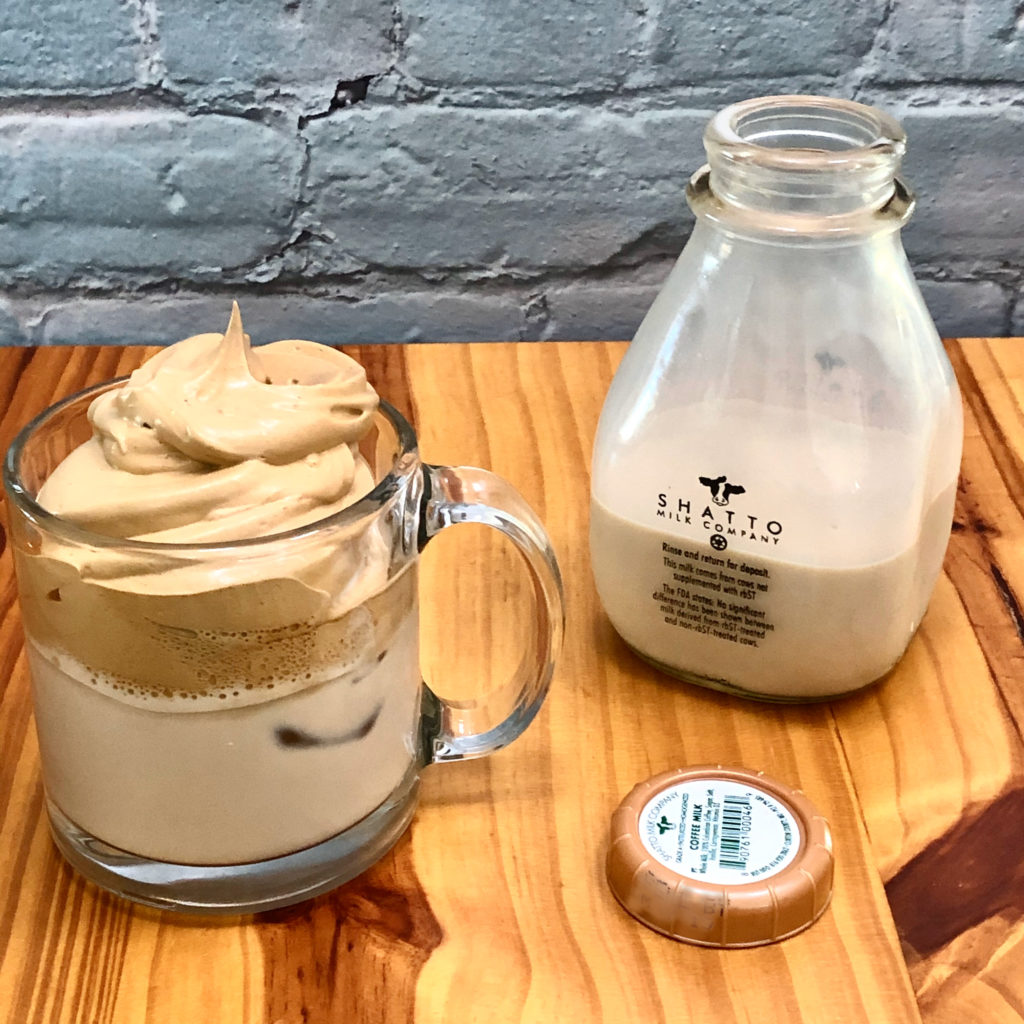 Maybe you've seen a TikTok video of Dalgona coffee being made? It reportedly originates from a Korean TV program and originates from a Korean street snack that tastes similar to honeycomb toffee. The method to make Dalgona coffee results in essentially a whipped coffee served over iced milk, so a TV personality named the beverage after the similarly flavored honeycomb toffee.
It also reminds me a bit of the Indian cappuccino craze that was popular back in 2017. It didn't seem to take hold as well as Dalgona coffee. I may actually prefer Indian cappuccino as I like a hot coffee over an iced one. (You can definitely add the whipped coffee portion of a Dalgona coffee to warm milk, although it is most often shown iced.) With Indian cappuccino, steamed milk is poured over the whipped coffee, sugar and water fluff and then stirred together so there is a nice layer of foam on top. Quite similar to Dalgona but it pre-dates TikTok and several weeks of stay at home orders so perhaps not as popular. Timing is everything…
Dalgona coffee was first mentioned on a Korean TV program earlier this year. The name "dalgona" originated from an old fashioned Korean street snack, which has a similar taste to honeycomb toffee. The way dalgona is made sort of resembles the whipped coffee, so a TV personality named the coffee after that. I've seen mention of some cafes serving the coffee with a piece of Dalgona candy on top or bits of cookie or even more coffee powder for those who really enjoy caffeine!
A few notes on ingredients and technique:
Caffeine: I prefer using instant espresso to instant coffee for a deeper, richer flavor. You'll want to use the one you prefer the flavor of, as the flavor is quite strong. Also be certain the instant espresso or coffee you are using is gluten-free if that is a requirement for you. Not all are gluten-free.
Sugar: I've tried this with coconut sugar, raw sugar and good ol' regular C&H white sugar. The C&H sugar worked the best.
Water temperature: Some recipes call for boiling water. It's not necessary to use water that is at boiling. Hot water from the tap is sufficient.
Whip it: There are all sorts of recommendations for the size and shape of whisk that best achieves the whipped cloud of coffee goodness, along with the number of strokes with the whisk. Ummm, well, if that's not your scene, use a hand mixer or stand mixer. I use my trusty KitchenAid stand mixer fitted with the whisk attachment. I spin it on low just to combine ingredients and then put it all the way up on high for about 2 minutes. It's finished when it will hold a stiff peak.
Spooning versus piping: I've spooned the fluff over iced milk and I've also piped it, slipping a large open star tip into a ziploc bag with a corner snipped off. The piping looked best, there's zero taste difference. If I'm making this simply to enjoy myself, I'll spoon it in. For company, piping would be nice. I'm also finding I enjoy it with a sprinkle of cinnamon over the top.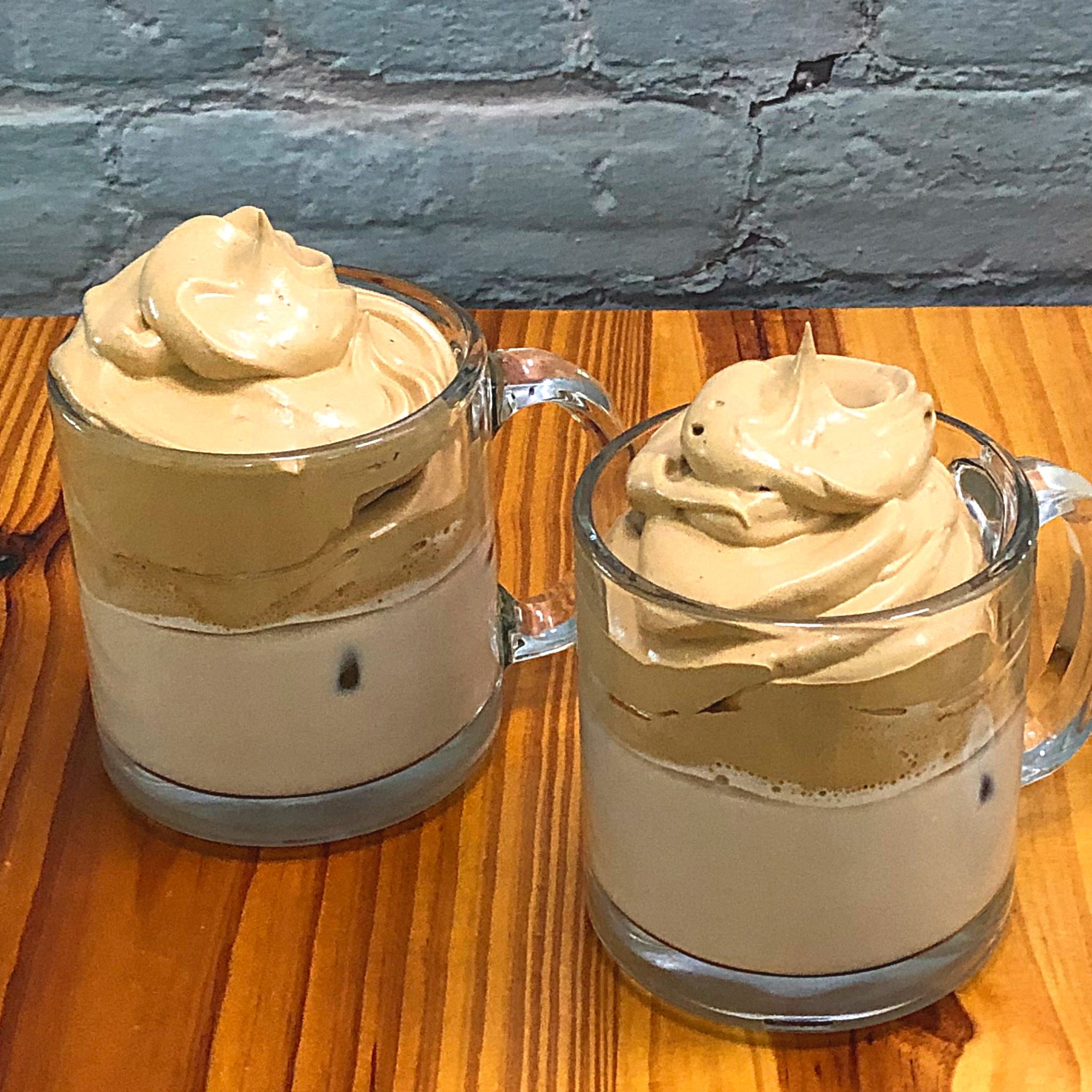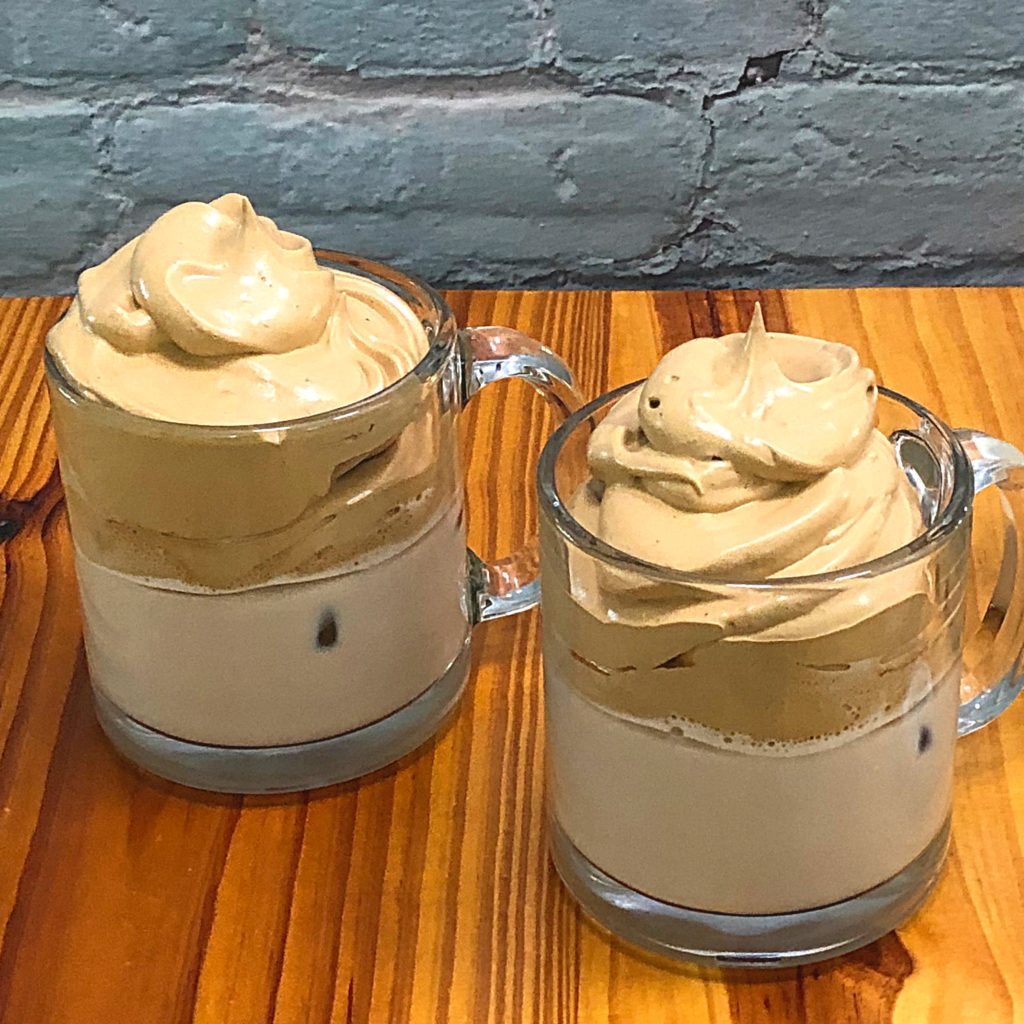 The milk: You can put the dreamy caffeinated cloud that is Dalgona over any milk. As I've mentioned already, it's usually iced but it can be warm milk. You can make it with any milk, dairy or dairy-free. I usually have almond milk in the fridge. This week the milkman from Shatto Home Delivery left a pint of coffee milk. That's what is shown here and it made a lovely afternoon treat with lots of coffee flavor. It's also fantastic with chocolate milk, especially if you can get a really rich one from your local dairy.
Sharing: The proportions of my recipe make it very easy to duplicate. I've tripled it with no trouble at all. If you've got extra Dalgona fluff leftover, it keeps quite well in the refrigerator. It might make a good frosting applied to a cake right before serving. Let me know if you've made extra and give that a try.
Ok, let's get to the recipe now. I'd be interested to hear what you think about Dalgona coffee and any variations you've tried, such as the matcha version.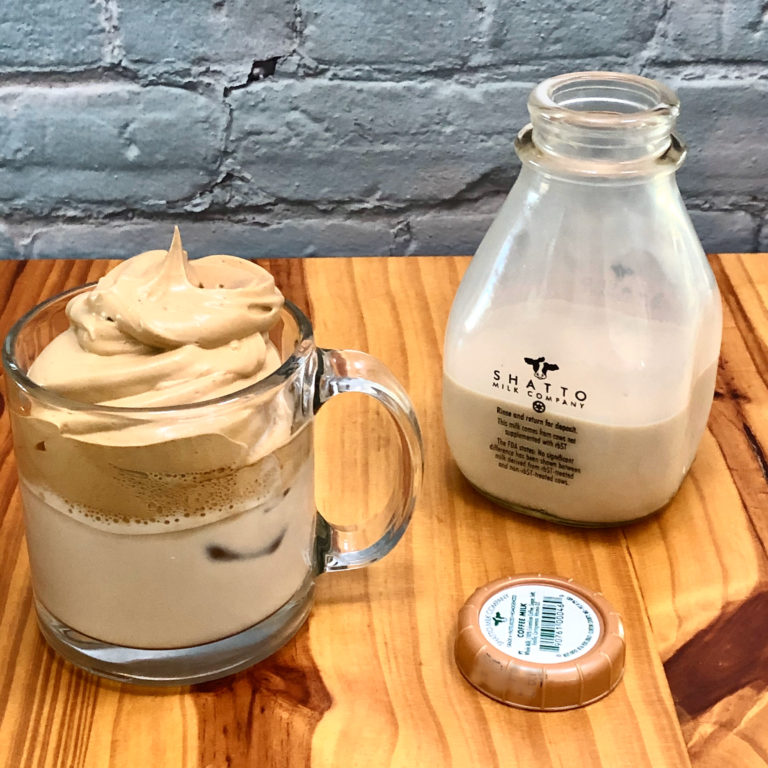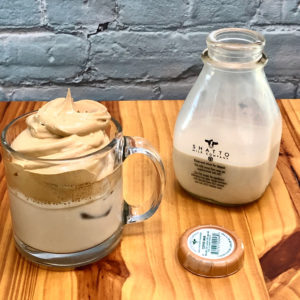 Dalgona Coffee
Ingredients
2

Tablespoons

instant coffee or espresso

2

Tablespoons

sugar

2

Tablespoons

HOT water

6

ounces

milk

1

handful

ice cubes

cinnamon, extra coffee powder, cayenne

optional toppings
Instructions
In the bowl of stand mixer fitted with whisk attachment OR using a hand mixer with whip blades attached, mix instant coffee or espresso, sugar and hot water. Whip on high until the mixture will hold a stiff peak

Add ice cubes to a glass. Pour milk over ice cubes.

Pipe or spoon Dalgona fluff over the iced milk.

Sprinkle cinnamon, extra instant coffee or a tiny pinch of cayenne over the top if you'd like.