This post contains affiliate links. See my disclosure for more information.


Do you miss deep fried restaurant appetizers since going gluten free? I know I sure did! I've got a super easy recipe for Restaurant Style Fried Pickles and it's gluten-free plus dairy-free plus egg-free, plus vegan…. This recipe would work for lots of different eating styles AND I've got some easy tips on making fried appetizers easy and quick.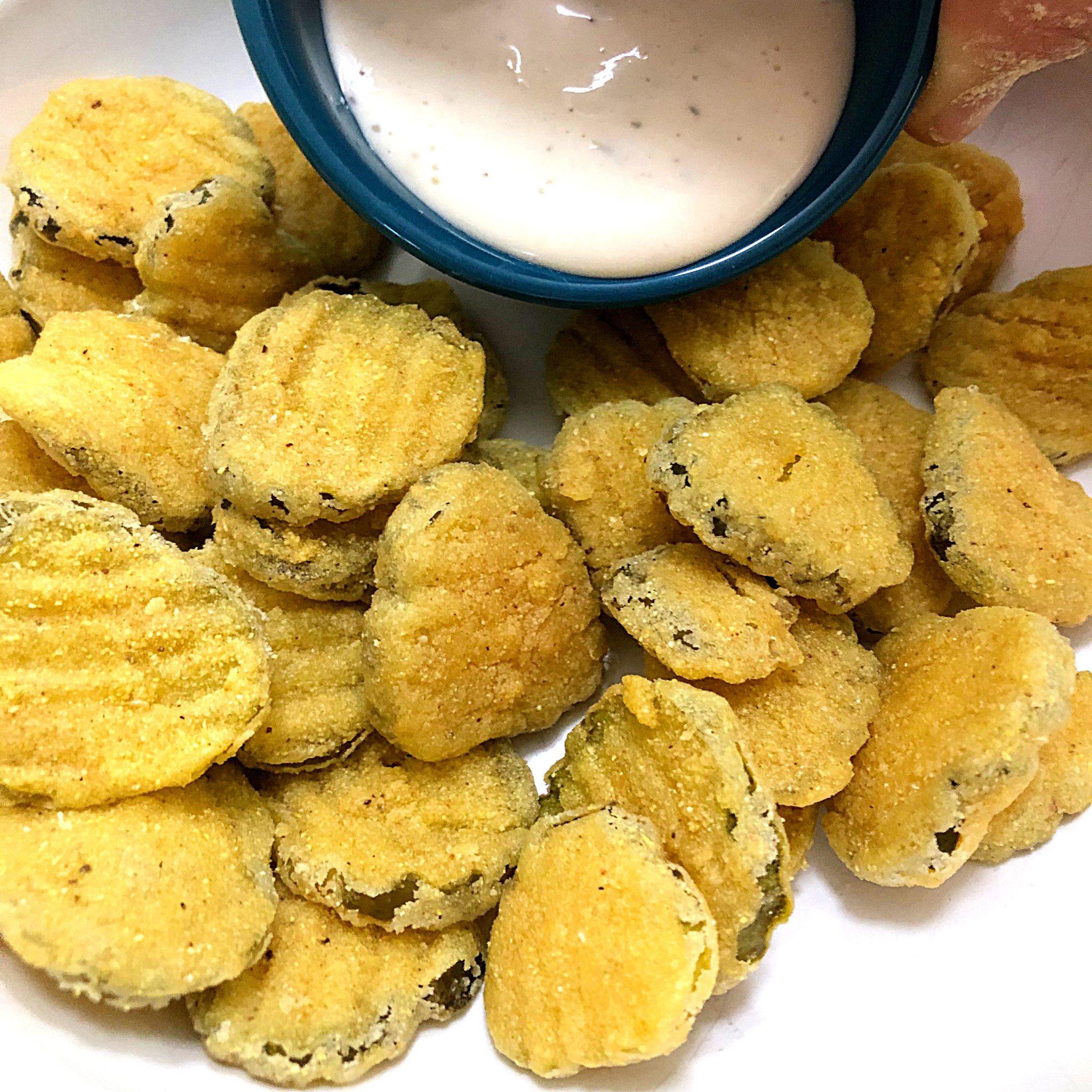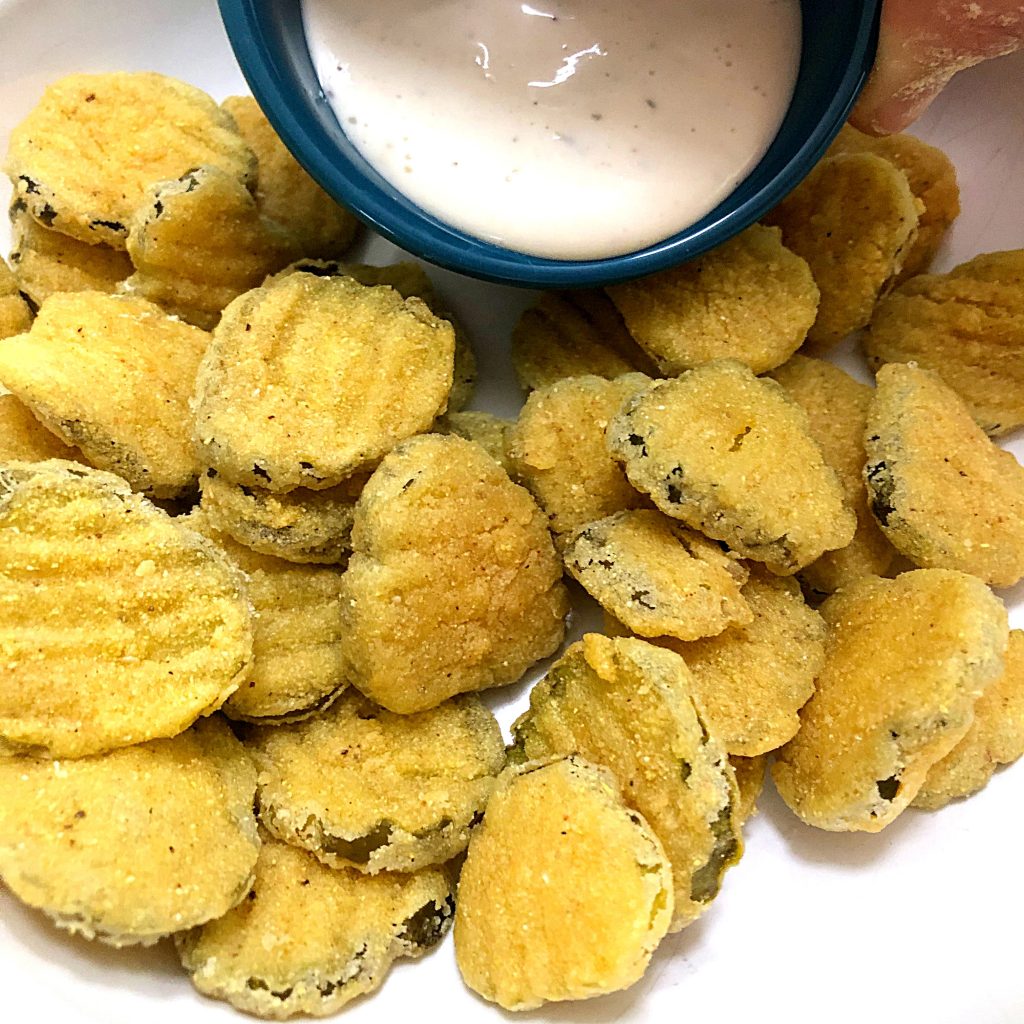 First, let's talk about a fryer. I've mentioned several times before that I have this little fryer (available on Amazon) but lately I've been frying more and more in my Lodge cast iron Dutch oven. Lugging it to the cooktop is a bit of a workout, as it's super heavy, but it works well for frying. It also has a larger surface area than my little fryer, which means I can fry more pickles at a time! When I made this recipe with the little deep fryer, it took seven rounds of frying to complete the recipe. With the cast iron Dutch oven, just three. I was completely done with frying in under 10 minutes and the first round of pickles were still hot when the last ones were finished. Long story longer, I'm a fan of the cast iron Dutch oven for frying.
What about the oil temperature? That's one nice thing about a deep fryer, the thermostat. I have been using this thermometer (link is to Amazon, but look for it locally or at your favorite kitchen supply store). Please be mindful as you remove one batch of pickles to check the temperature before adding the second. When you add pickles, the temperature will drop a bit but likely rebound. If the oil is on the burner too long without pickles in it, you'll see a spike in temperature which you can regulate by adjusting the burner. It's not likely to be much of a problem, but something to keep an eye on if frying isn't something you do often.
Ingredients: I've used $1.50 jars of Hamburger pickle slices from the grocery store. Nothing fancy. I see no reason you couldn't try this with any pickle slice though. The cornmeal I use is from Anson Mills. I'm a big fan of their grits and add cornmeal on to each order. The flour I've used in this recipe is My Favorite Gluten-Free Flour Blend. I know many of you use pre-made gluten-free flour blends. I developed my own blend early on so I could have a blend that weighed the same per cup as "regular" gluten-full flour to be most effective in directly modifying gluten-full recipes. It is made with readily available ingredients. A bonus: my blend does NOT contain any gums. Xanthan and guar kinda gunk up digestion for me so I avoid them, plus they change the flavor just enough to bother me. I don't find gums to be as necessary as we were led to believe over a decade ago in the gluten-free world. Experimenting with eliminating them has proven that they can be avoided in many things.
Ok, on with the show. Let's fry up some pickles!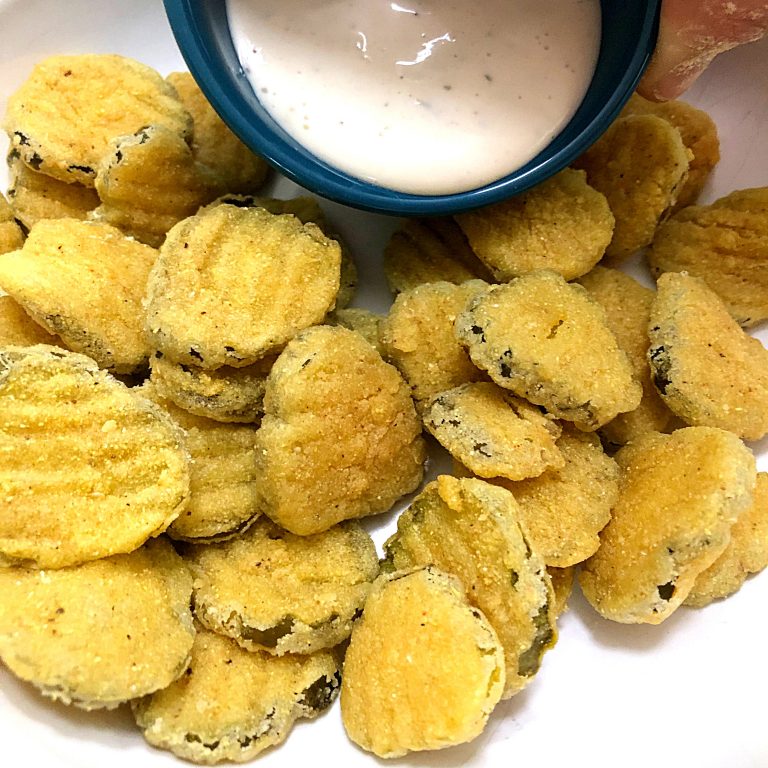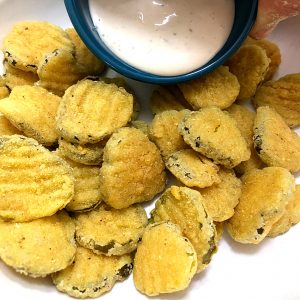 Restaurant Style Fried Pickles, Gluten-Free
Ingredients
1

16 ounce jar

hamburger pickle slices

1

cup

gluten-free cornmeal

1/3

cup

gluten-free flour blend

1

teaspoon

Old Bay seasoning

1

quart

neutral oil suitable for frying (I like grapeseed and peanut)

Ranch dressing for serving
Instructions
Drain pickles well and blot dry with a paper towel.

Heat oil in pan on cooktop or in deep fryer to 365 degrees. Oil should be at least 1" deep.

Mix cornmeal, flour and Old Bay seasoning in a gallon-size ziploc bag

Have an empty plate and a plate lined with paper towels ready for the next steps...

Add 1/3 of the jar of drained and blotted pickles to the ziploc bag with the flour mixture. Shake, shake, shake to coat the pickles.

Remove the pickle slices and place on the empty plate.

Once oil has reached 365 degrees, slide the pickles directly from the plate into the oil. Fry for 2-3 minutes until they are starting to lightly brown.

While the first batch of pickles is frying, add another 1/3 of the jar of pickles to the flour mixture. Shake, shake, shake and then place them onto the empty plate. You'll have them ready to go when the first batch are done.

Remove the first batch from the fryer and place on the paper towel-lined plate to absorb any excess oil.

Slide second batch into the fryer.

Repeat this process one more time to fry all of the pickles.

Serve with a side of ranch dressing.
BONUS FOR READING TO THE END: This same recipe can be used with a jar of sliced jalapenos!