This post contains affiliate links. See my disclosure for more information.


Baked Buffalo Cauliflower Bites, gluten-free and vegan but you'd never know it! This have been on repeat in my kitchen lately and I'm sharing the easy recipe with you today. Turn the oven on and get ready to enjoy these spicy bites of goodness!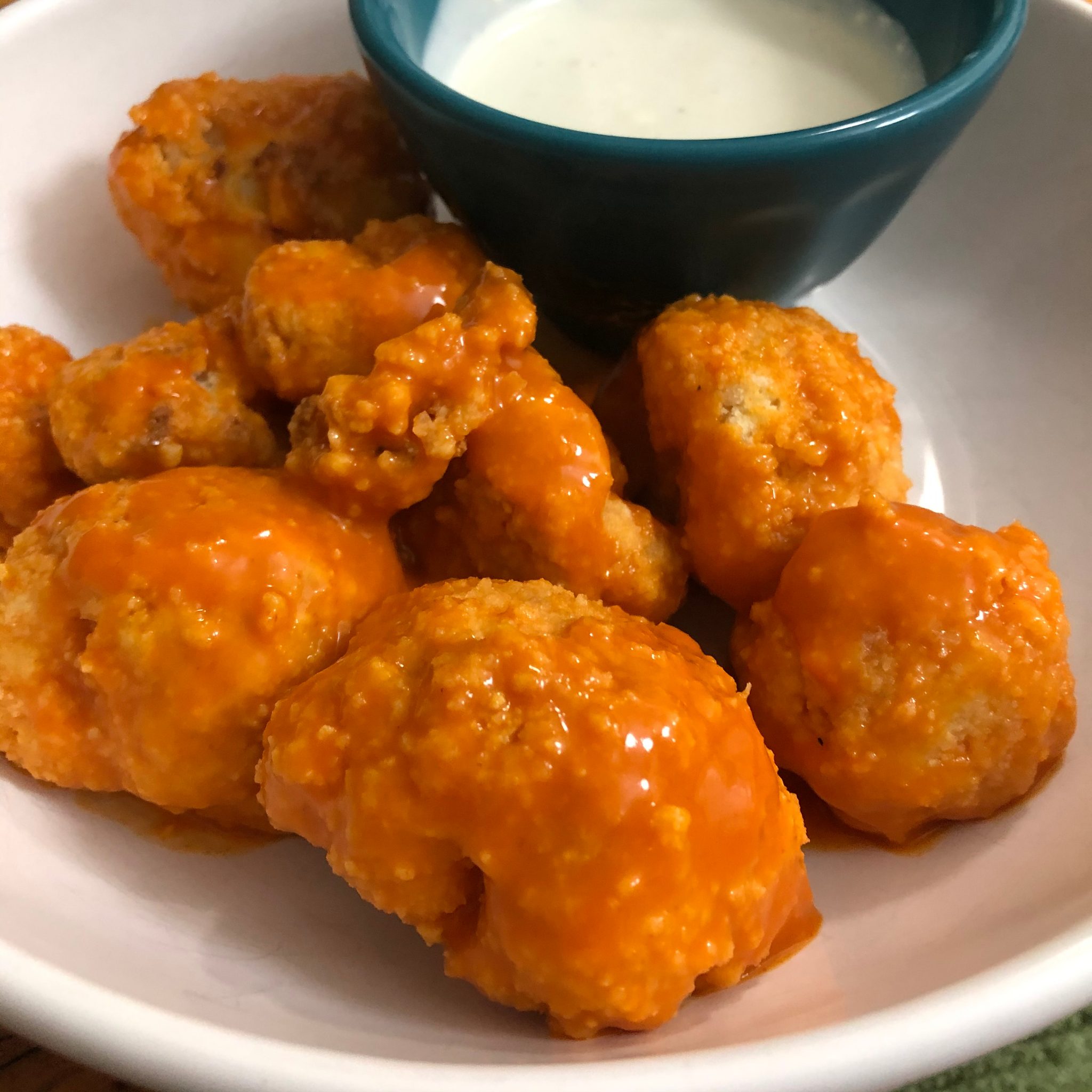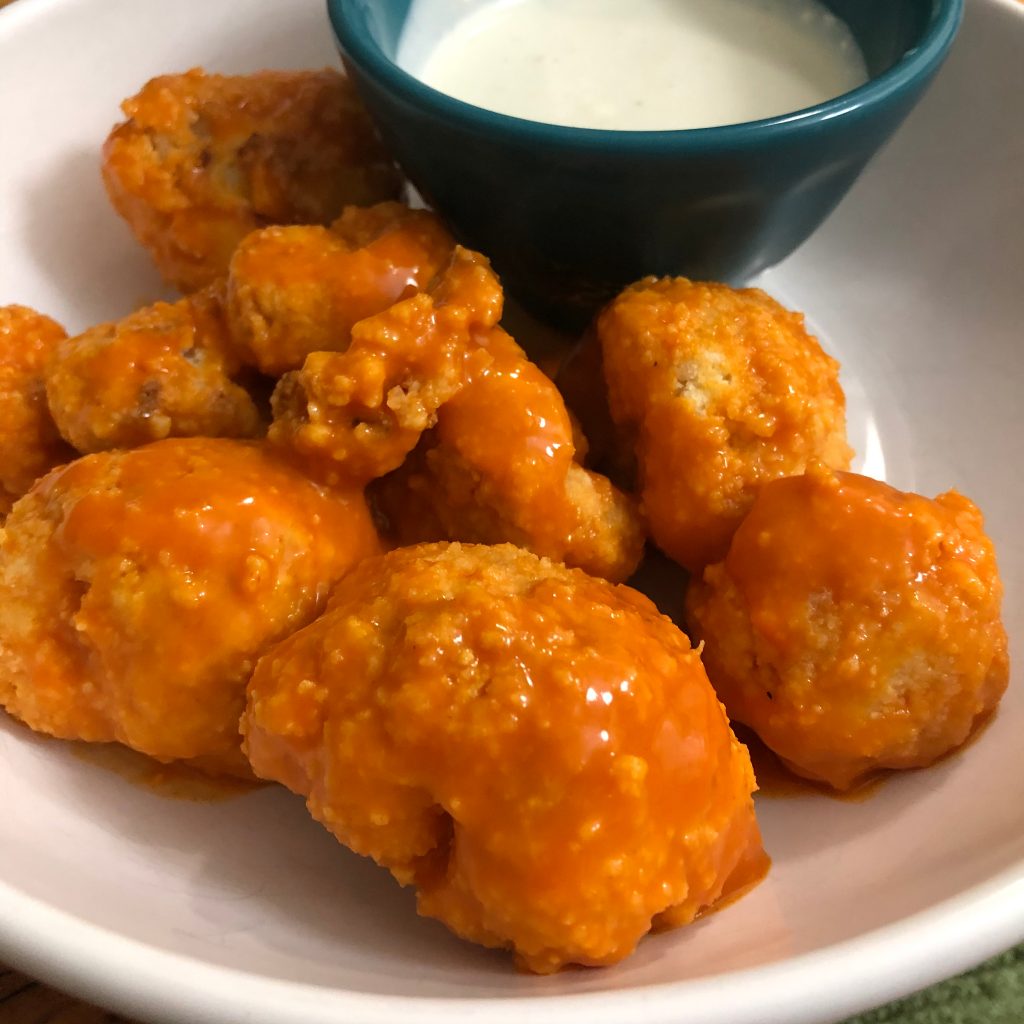 When the quarantine times started, Drafthouse shared the version they serve in their theatres. It wasn't gluten-free and used frozen cauliflower. I decided to have a go at it myself with ingredients I keep in my kitchen. Let's talk about those ingredients real quick:
Cauliflower: I've used a head of fresh cauliflower instead of frozen. I haven't had the best of luck with frozen cauliflower not being a mushy mess. It may be the brands I have access to. Fresh has worked well in this recipe.
Rice Crumbs: I've used rice crumbs from Trader Joe's in place of breadcrumbs in this recipe. Rice crumbs are made with puffed rice cereal broken into small pieces. In some areas, Trader Joe's store employees are reporting that rice crumbs have been discontinued. If you run into that, you can buy this puffed rice cereal from Nuts.com and give it a quick spin in the food processor until is resembles the texture of bread crumbs. I've mentioned the cereal from Nuts.com because it is gluten free. Not all puffed rice cereal is gluten free.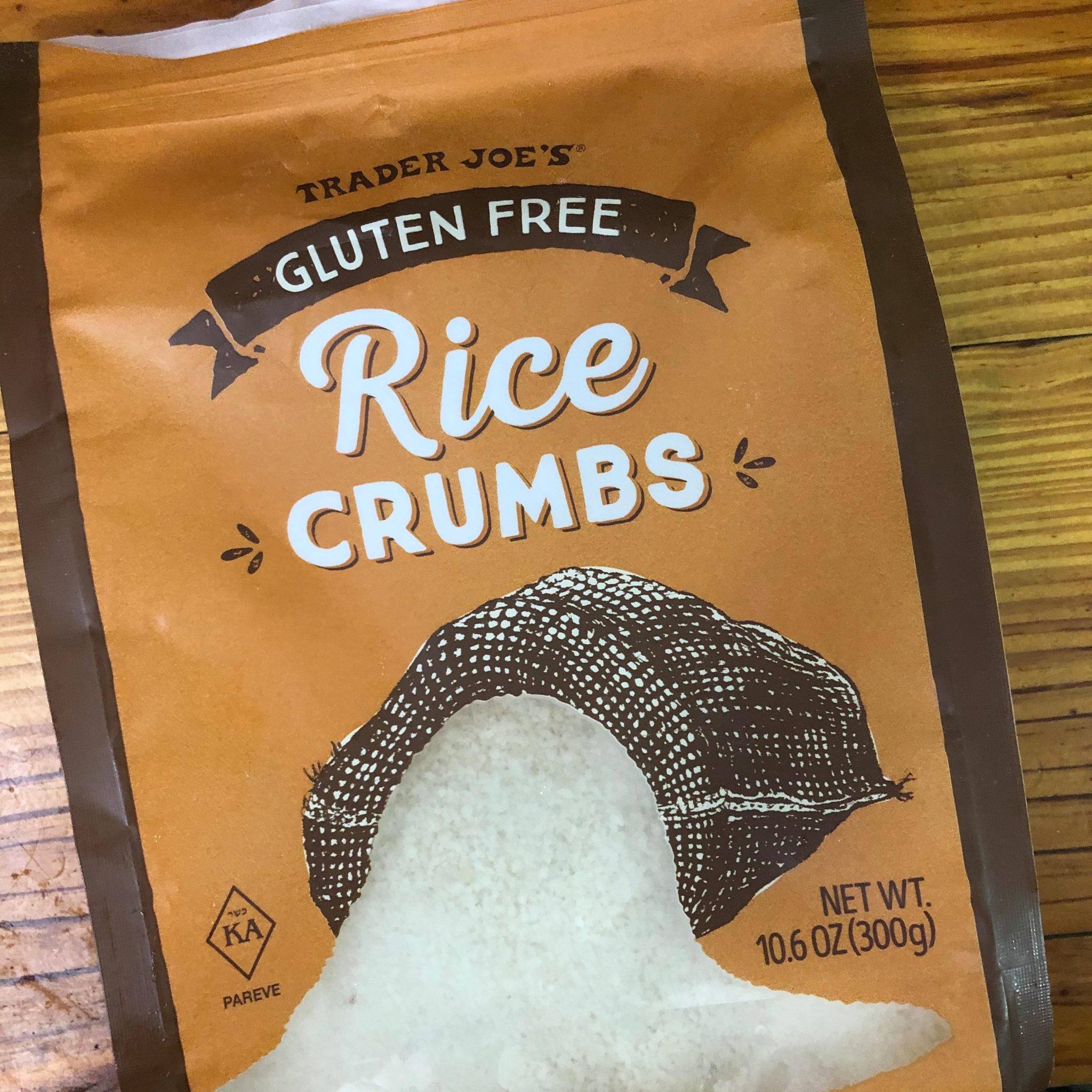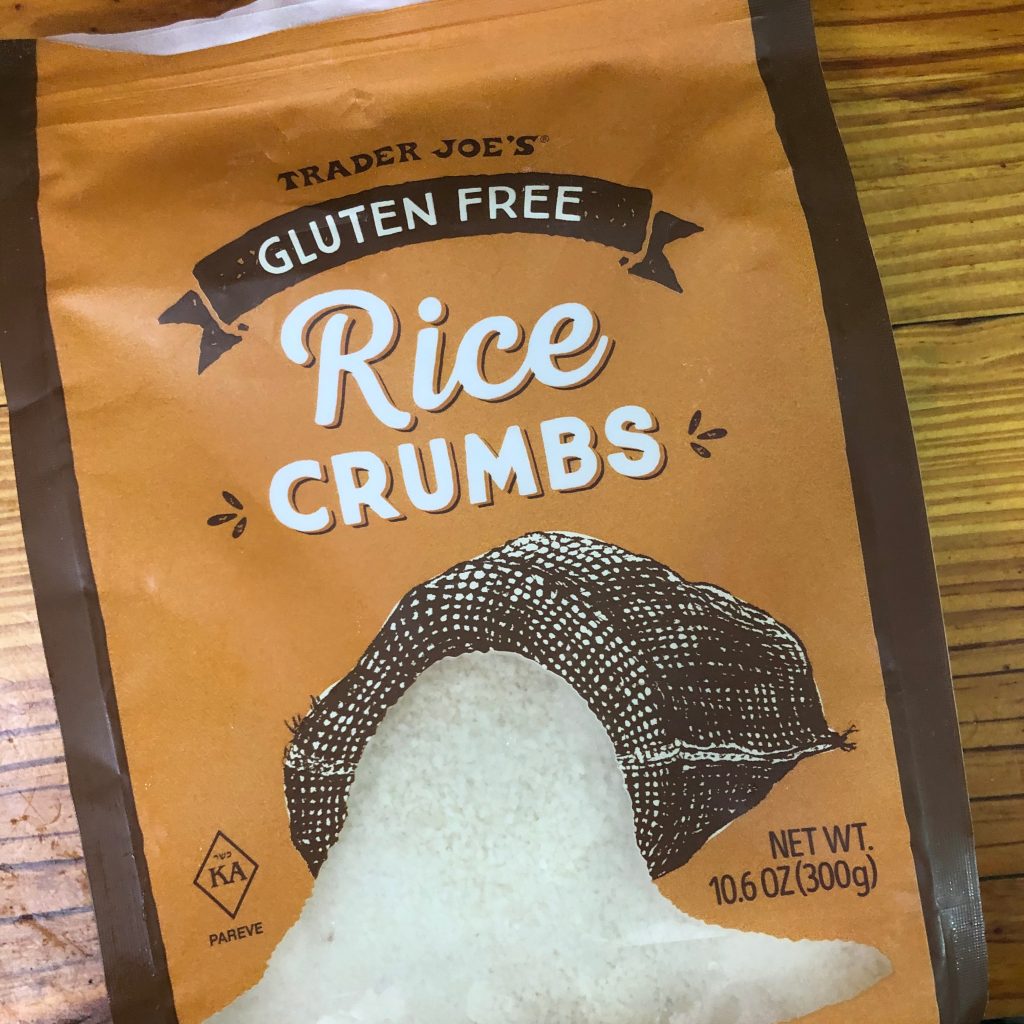 Milk: I use unsweetened almond milk if we have it. If we don't have almond milk on hand, I make milk with hemp seeds. It's a very fast way to make dairy-free milk since the seeds do not have to be soaked like nuts do.
Buffalo Sauce: I like Frank's best. Please be sure to read the label on the Buffalo sauce you choose. Not all are gluten free and some contain dairy. I had the unfortunate opportunity to try a few different brands during my testing of this recipe as grocery stores struggled to keep Buffalo sauce in stock. I always return to Frank's.
Butter: I've used Earth Balance in making the sauce in the recipe. I tried it once with filtered coconut oil, which has very minimal coconut taste, but it just wasn't quite right flavor-wise. If you eat dairy, regular butter works, too.
Ranch or Bleu Cheese Dressing: Maybe it's because I live where people eat ranch on everything, but it seems like more places are serving ranch with buffalo wings than are serving them with bleu cheese dressing. I much prefer bleu cheese. Here's my recipe for vegan bleu cheese dressing. If ranch is your thing, this recipe from Karissa's Vegan Kitchen is spot on for that creamy ranch flavor. If you like store bought dressing, Primal Kitchen makes a great ranch.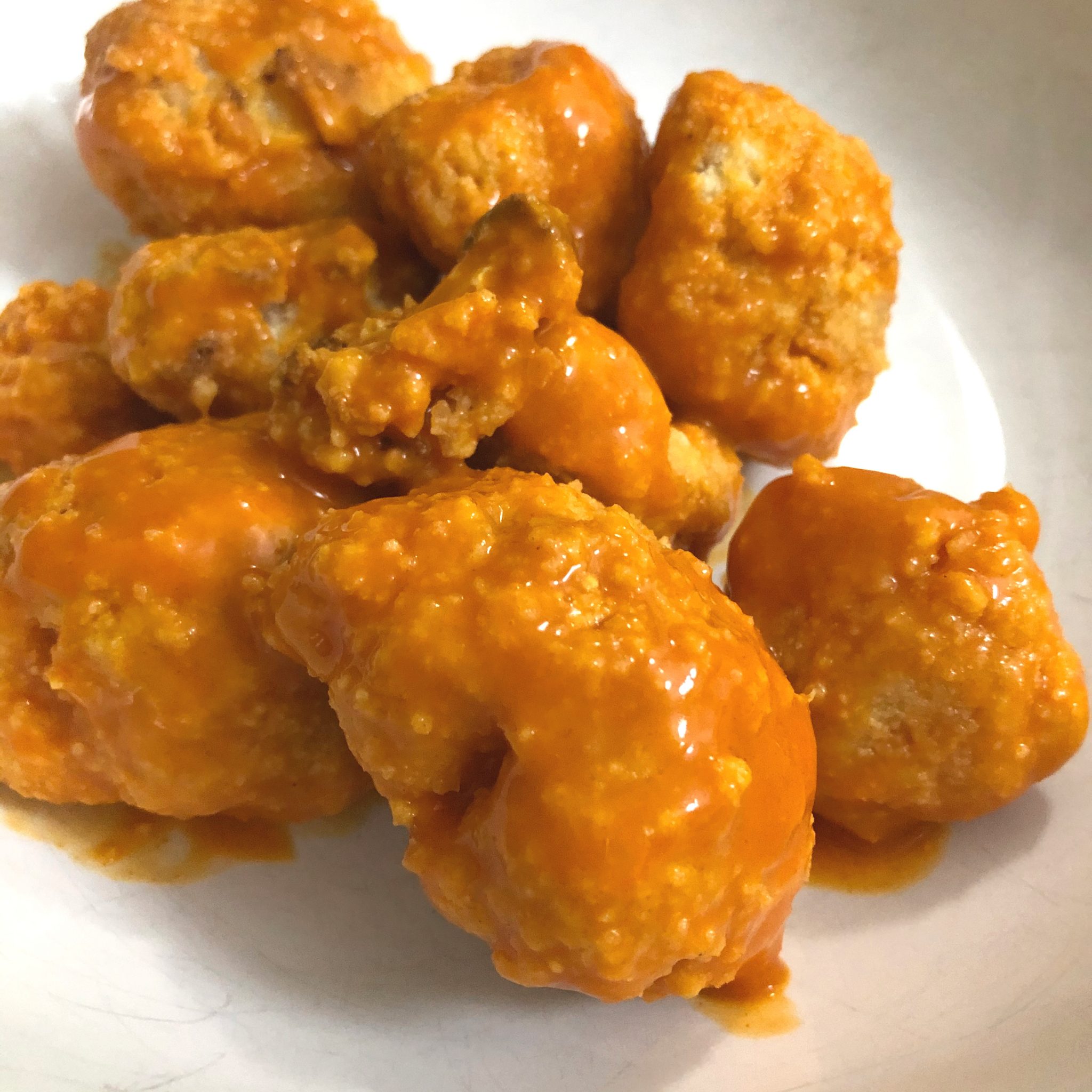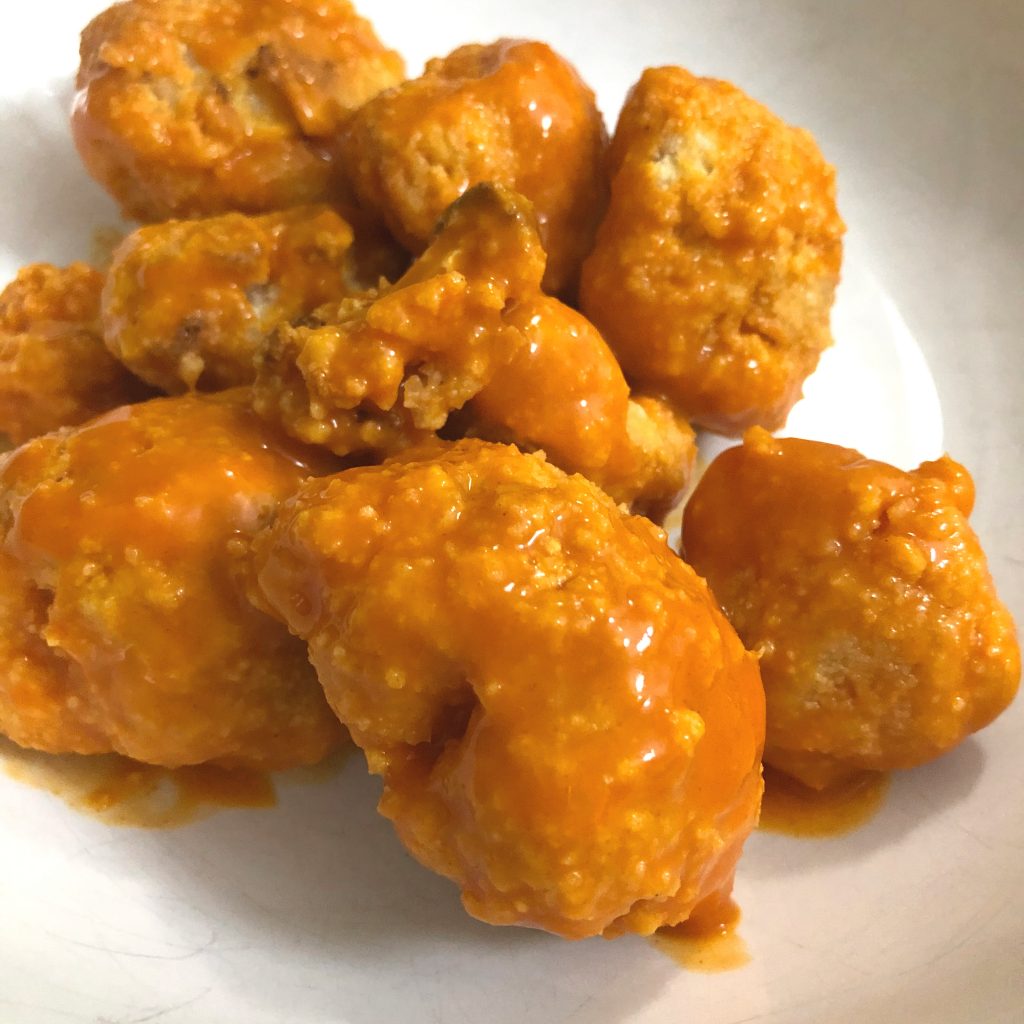 Ok, that's all of the ingredient tidbits I've got. Let's get to the recipe…
Ooooope, wait! I want to share other Buffalo-style recipes real quick: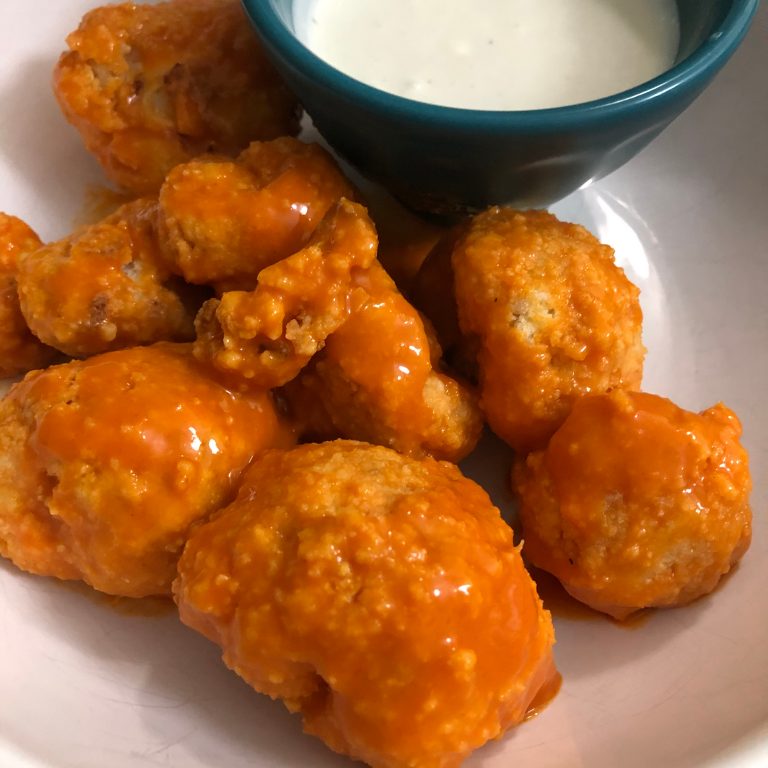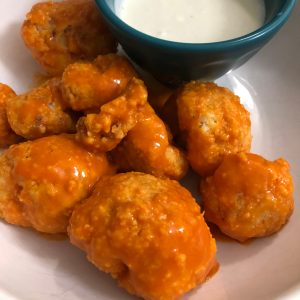 Baked Buffalo Cauliflower Bites, Gluten-Free and Vegan
Ingredients
1

head

fresh cauliflower, cut into florets

1/2 to 3/4

cup

rice crumbs from Trader Joe's

1/2

teaspoon

sea salt

1/2

teaspoon

black pepper

1/2 to 1

cup

milk (I use unsweetened almond or hemp)

2/3

cup

Buffalo sauce

1/3

cup

melted butter/Earth Balance

Ranch or Bleu Cheese Dressing for dipping
Instructions
Preheat oven to 375 degrees. Line TWO baking sheets with parchment paper.

Cut head of cauliflower into florets. Set aside.

In a large (gallon size) ziploc bag, mix together flour, salt and pepper.

Place rice crumbs into a bowl. (Building a breading assembly line...)

Place the cauliflower florets into the ziploc bag with the flour mixture. Shake, shake, shake, to coat all of the pieces.

Place the pieces of cauliflower into the milk for 15 seconds each. I do these in batches of 4 or 5 florets at a time.

Remove from the milk and roll in the rice crumbs to evenly coat. Place onto parchment lined cookie sheet.

Once all are breaded, place in oven and cook for 30-45 minutes, checking every 15 minutes to gently turn.

At 30 minutes, insert a fork into one cauliflower floret to check for doneness. It should be soft but still have a bit of resistance. Sometimes cauliflower will cook the full 45 minutes and sometimes it is nice at 30.

While the cauliflower bakes, melt the butter substitute and add to buffalo sauce. Have it ready to go in a large mixing bowl.

When cauliflower is done, toss florets in the buffalo sauce and serve immediately. Add a side of ranch of bleu cheese dressing if you would like.