This post contains affiliate links. See my disclosure for more information.


Recently a friend said to me, "Oh, I bet you don't have a BBQ grill since you're vegetarian." Huh?
Why, yes we do have a BBQ grill and it would appear that it gets used more than the grills our carnivorous neighbors have on their decks. We grill several times a week, even more so in the Summer when it's too hot to heat up the indoor kitchen. Kabobs, pizzas, an occasional veg burger, grilled fruit to use in guacamole or for dessert…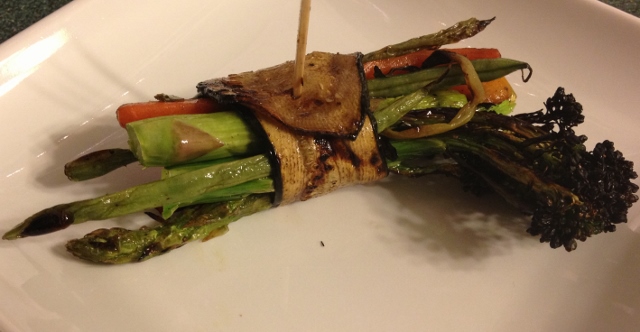 We often make a quick dinner from whatever vegetables our garden has provided, along with the veggies neighbors and friends have shared with us. It seems like produce is a little slow coming on this year, so it's still slim pickings and we're buying a fair amount of produce at the grocery store. But thank goodness for those beautiful zucchini. We've been getting a few zucchini every day and love them grilled.
In the recipe below, I've included the vegetables used in the accompanying photos. Please don't let the recipe limit you, use whatever vegetables you have handy. This recipe is flexible.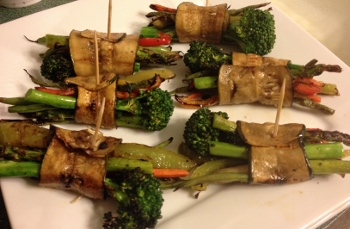 Grilled Zucchini Veggie Bundles
Ingredients
1

medium zucchini

, sliced into thin strips using a mandoline or knife

3

T

. balsamic vinegar

2

T

. olive oil

6

oz

. haricot verts or any long bean

(half a pkg. from Trader Joe's or Costco)

5

green onions

, split into halves

5

stalks asparagus

5

stalks baby broccoli

1

carrot

, cut into 10-15 thin sticks

1/2

red bell pepper

, sliced into long pieces

1/2

green bell pepper

, sliced into long pieces

1/2

yellow bell pepper

, sliced into long pieces

Salt and Pepper to Taste

non-stick cooking spray

10

toothpicks
Instructions
Heat BBQ grill to medium heat.

In a baking dish, mix together vinegar and oil. Marinate zucchini slices in this mixture. It is not necessary to let the zucchini sit in this for long. Toss the strips a few times to make sure each strip is coated on both side.

Grill the zucchini over medium heat, flipping after just a couple of minutes. Thin strips of zucchini grill very quickly.

In a grilling basket, add remaining vegetables except for asparagus and broccoli spears. Give them a quick spray with cooking spray and a sprinkle of salt and pepper.

Grill vegetables, tossing often to ensure none stick to the bottom of the basket.

To grill asparagus and broccoli spears, give them a quick spray with cooking spray and cook directly on the grill. They cook very quickly, keep a close eye on them.

When zucchini and vegetables in the grilling basket are cooked assemble the bundles

Take one slice of zucchini and lay flat on plate.

In center of slice, assemble a bundle of vegetables.

Roll zucchini and secure with a toothpick.

Serve immediately while still warm. It is possible to gently place them back on the grill for a few moments if they have cooled while being assembled.