This post contains affiliate links. See my disclosure for more information.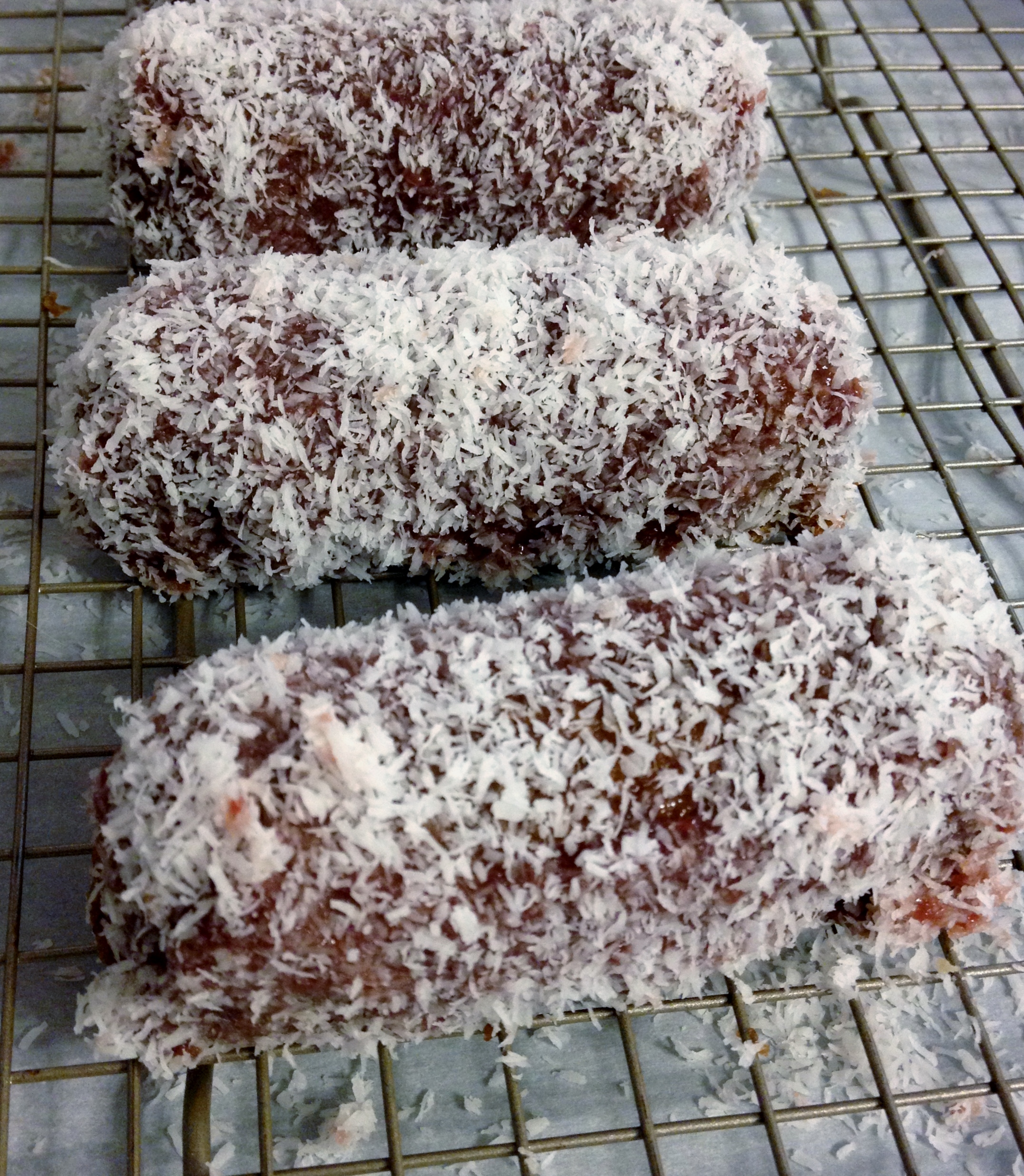 Last year for my birthday, I created a dessert buffet that included a couple of Hostess-inspired favorites: my version of the Hostess cupcakes, which I call Fauxstess and Raspberry Zingers. I kept the Raspberry Zinger recipe in my pocket for a special occasion. And today is that occasion!
So why today, you ask? Well, we are just one short day away from Hostess re-launching in the U.S. Where I live, there is a huge billboard along the interstate announcing the return of Hostess. Seems some folks are super duper excited to be able to buy these processed treats again.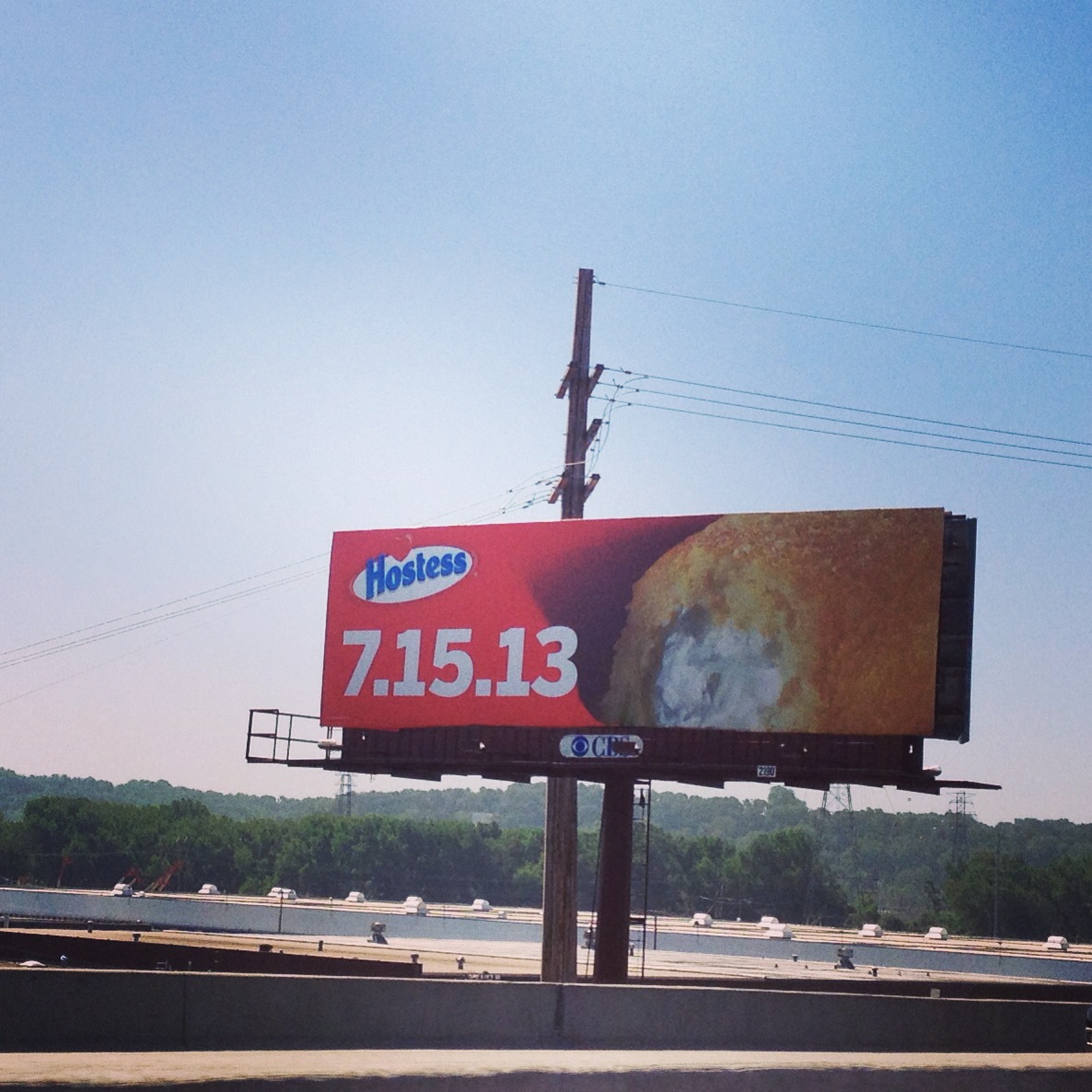 I gotta tell you a little bit about something I've had brewing for the last eight months. On the very last day the Hostess outlet stores were open here, I went to the one nearest me in an attempt to buy Twinkies. I shared a photo of the crowd in the store on Instagram and another of my purchase. Within minutes, I got a frantic text message from a friend asking, "What on earth are YOU doing at a Hostess outlet? Is everything ok? Get out of there!"
The reason I went was inspired by a smoothie place nearby that has had a McD's Happy Meal sitting out on a shelf for a couple of years. It never molded. In fact, it mostly looked like what I would expect it to look like when handed out the drive-thru window. I had heard that Twinkies and other Hostess products had a shelf life of years, not days and would probably survive a nuclear war. I wanted to test that theory, I wanted to see if they would be similar to the Happy Meal sitting out at the smoothie place.
There were no Twinkies to be had on that very last day at the Hostess outlet, but I did snag Raspberry Zingers, Vanilla Zingers, Donettes, CupCakes and a fruit pie. I removed an assortment from their original packaging and put them in an acrylic box with air holes.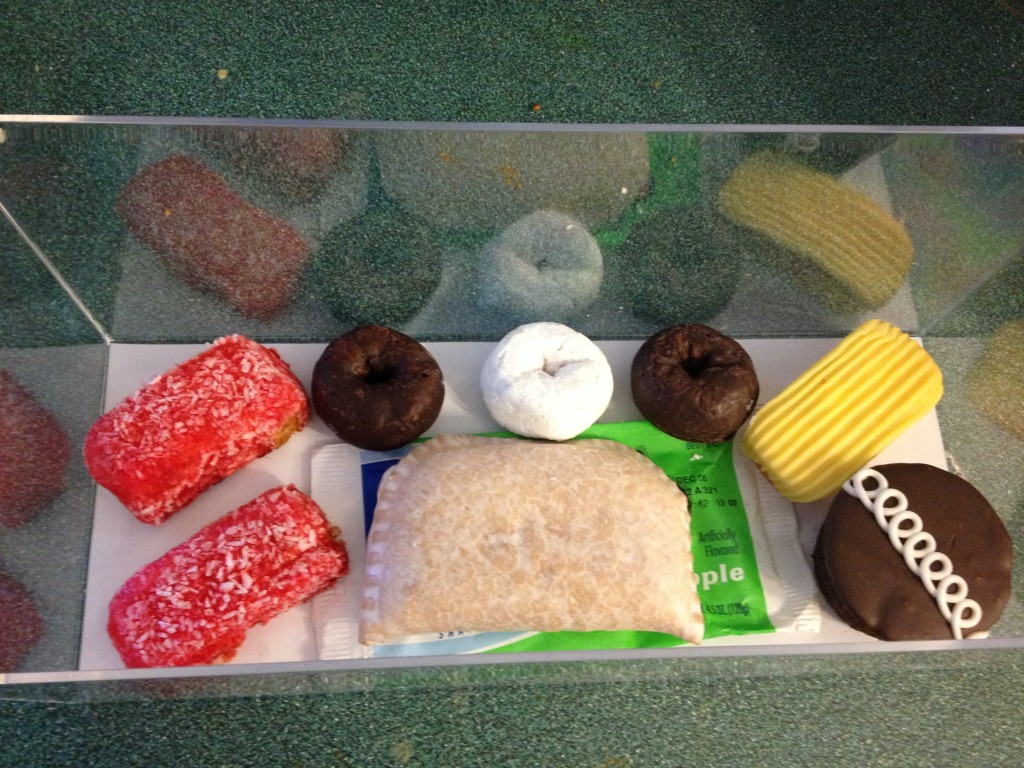 Eight months later, the fruit pie is no longer in the box. It molded! I've been assured this must have been some production error, as Hostess products shouldn't mold. It took 5 months for it to mold, but it did and so I tossed it. Nothing else in the same box has molded. Ever. I tossed the donuts in direct contact with the pie as a precautionary measure. It wasn't until about a month ago that they even got hard. They were soft to the touch for months! They are still not rock hard, kinda squishy but not cake like any longer. I broke a Raspberry Zinger open and the cream filling is still creamy. The frosting on top of the CupCake has gotten lighter in color and is sparkly, like glittery, shimmery, cosmetic-like sparkly. All of the items are smaller, a little less vivid, but no rancid smell, no odor. So very odd.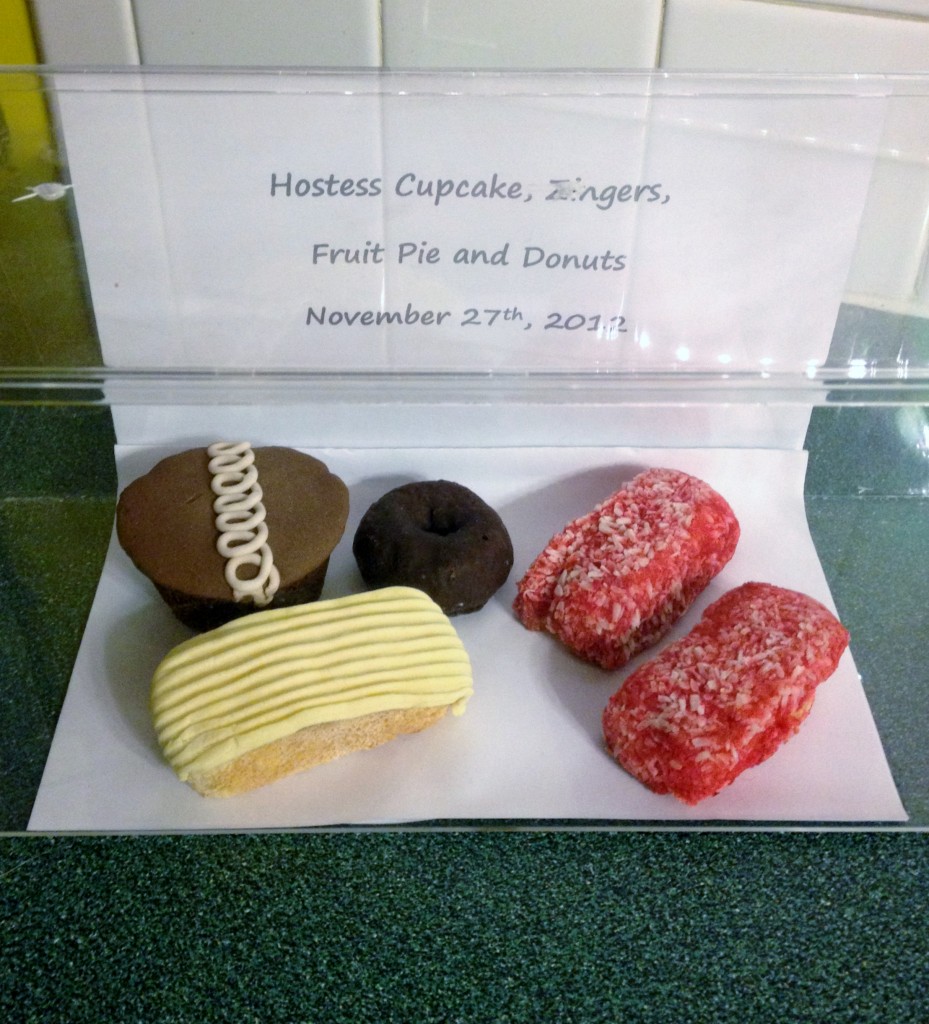 I kept one package of Raspberry Zingers unopened. They are still in the original packaging, with a December 22nd (no year) expiration date. No molding, no signs of anything being different than the day I bought them. They are still very soft to the touch.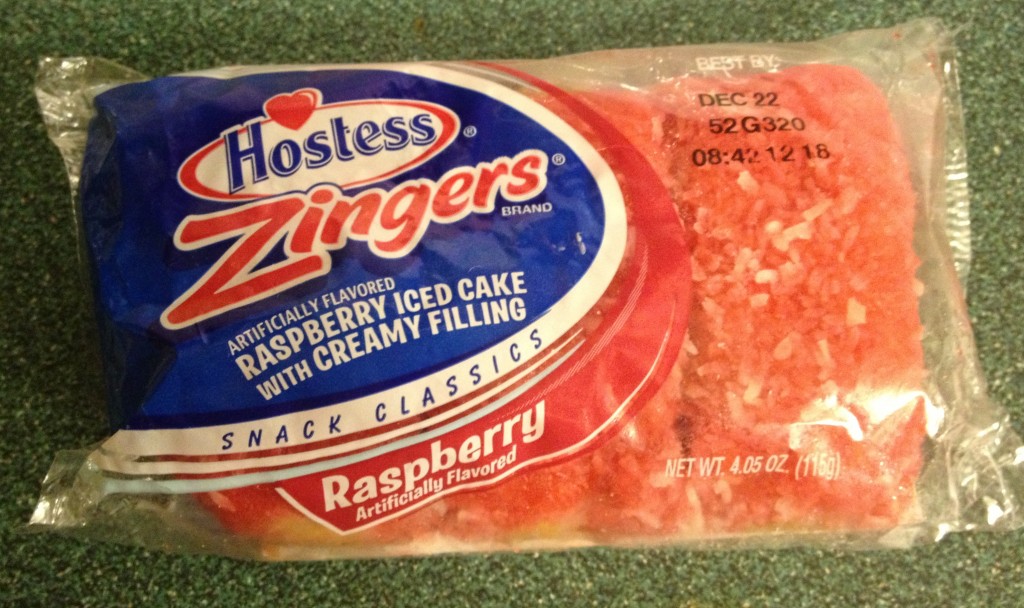 You're welcome to come over and try them. I couldn't find anyone willing to taste test them for me once they found out they were 8 months old. Maybe the lady I met in line at the Hostess outlet store would. She told me I should buy more than I was, as they would last forever. She even encouraged me to load my freezer up, wait a year and then sell them on eBay. Not even the savvy Hostess outlet shoppers had faith that Hostess would return…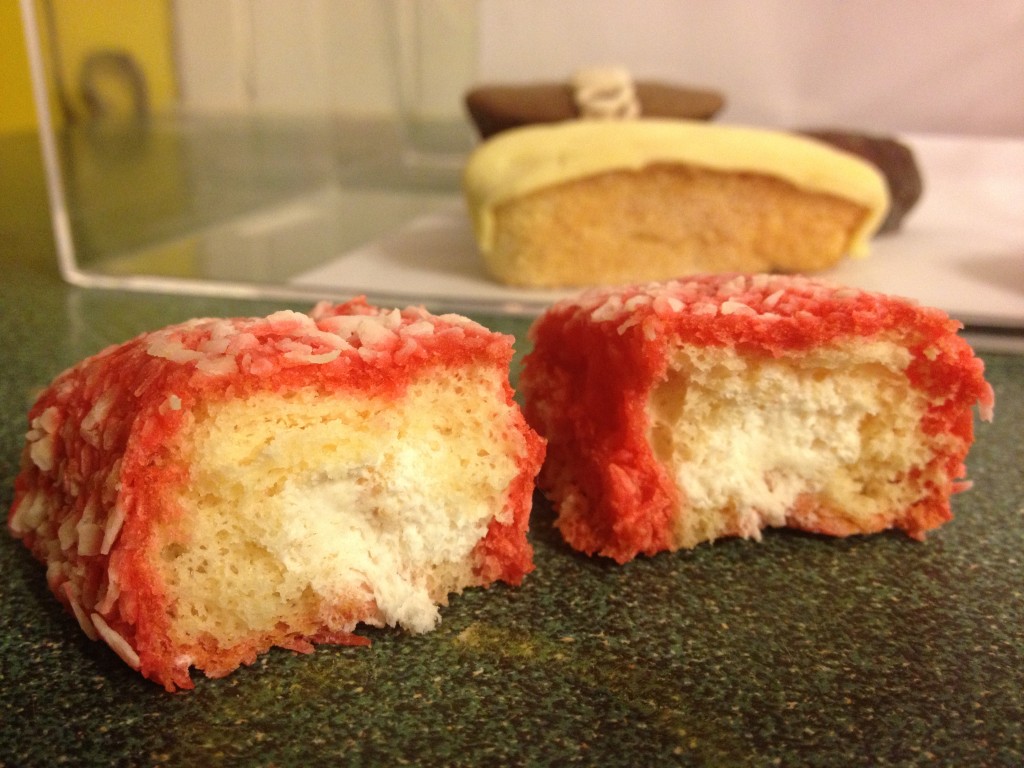 My very unscientific test has proven only one thing to me: I'm pretty grossed out by Hostess products. If the 50+ ingredients in one of these snack cakes wasn't enough to dissuade me from eating them, the fact that they don't rot is. I've asked myself over and over again why anyone would want to eat cake that doesn't rot. Never mind that most of us don't keep good cake around long enough to rot, but really? There's better stuff out there to eat.
So enough about the weird box of Hostess treats still lurking in my office…
If you are reading this, odds are you either can't eat Hostess products because of food allergies/intolerances OR you find the ingredients so questionable you choose not to eat them. Either way, I've got a solution for you. While these are definitely still an indulgence, I've created them with ingredients I feel pretty good about eating. And I want you to be able to celebrate the return of Hostess tomorrow right along with all of the folks who are gonna run out and buy zingers off the shelf.
To make these, you'll need a canoe pan. The one I've used is larger than a Hostess zinger by about a third. It makes a nice size cake to share. If you don't have a canoe pan, here are instructions on how to make cakes shaped like this using foil. I've also used a raspberry fruit spread from Trader Joe's and teeny tiny shredded coconut from Let's Do Organic. The other ingredients are pretty straight forward.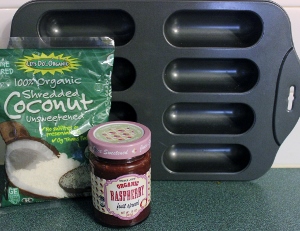 Oh, one more thing! Tomorrow I'm sharing a gluten-free Hostess-inspired round up. Please drop back by for remodeled recipes of Hostess favorites, like Twinkies, Ding Dongs, Ho Hos and more from your favorite gluten-free bloggers!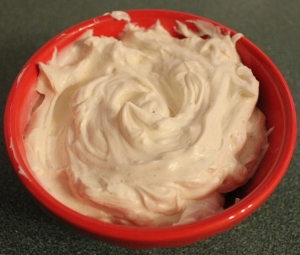 Cream Filling for Zingers
Ingredients
3/4

cup

powdered sugar

1/2

t

. vanilla bean paste or vanilla extract

2

T

. boiling water

1/3

cup

palm shortening

(I use Spectrum organic)

1 1/2

T

. cold Earth Balance vegan buttery sticks

(the soy free variety always works)
Instructions
In bowl of stand mixer fitted with whip attachment OR with hand mixer, combine the powdered sugar and vanilla until well combined.

Mix in the boiling water carefully. Whip until well combined and cool, about at room temperature.

Add in shortening and COLD Earth Balance. Whip until smooth and doubled in size.

That's it! Use a pastry bag or frosting tool as described in cake recipe to fill the zinger cakes.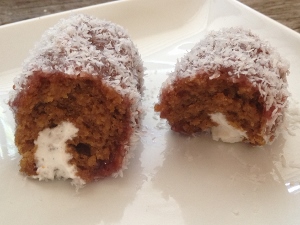 Cake for Raspberry Zingers, plus assembly instructions
Ingredients
1

cup

blonde coconut sugar

3/4

cup

sunflower flour/meal

(grind raw sunflower seeds in food processor)

1 1/2

t

. baking powder

1/2

t

. baking soda

1/2

t

. sea salt

1/2

cup

coconut oil

, liquified

1/2

cup

unsweetened coconut milk or other non-dairy milk

1-6

oz

. container coconut yogurt or other non-dairy yogurt

2

T

. vanilla bean paste or vanilla extrat

2

T

. flax seed meal in 5 T. hot water

(egg replacement/flax slurry)

non stick cooking spray

1

jar raspberry all fruit spread

(I use Trader Joe's)

1

cup

finely shredded unsweetened coconut
Instructions
Preheat oven to 350 degrees.

In large mixing bowl or bowl of stand mixer fitted with paddle attachment, combine dry ingredients.

In smaller bowl, combine all liquid ingredients. It is best if they are at room temperature, as the coconut oil will solidify if other ingredients are cold, making lumps of oil in the mixture.

Combine liquid ingredients with dry and mix until just combined.

Spray all eight wells of the

canoe pan

with non stick cooking spray.

Fill each will with a scant 2/3 cup of batter.

Bake at 350 degrees for 18-22 minutes. A cake tester or toothpick inserted into the center of the cake will come out clean when they are done.

Allow to cool in the pan until cool to the touch. Gently invert onto a cooling rack.

While cakes cool, make the cream filling.

To insert the cream filling, use a pastry bag or frosting tool equipped with either a filler tip or a large star tip. It is not necessary to cut holes into the cake. Just gently insert the tip and press lightly to fill. The cake will swell, stop before it bursts.

Moving on to the raspberry and coconut topping:

In a microwave safe bowl, add the contents of the jar of raspberry fruit spread. Heat just until it has thinned to the consistency of honey. In my microwave, this is less than one minute.

Pour half of the coconut shreds out onto a small plate.

One at a time, place the zinger cakes into the raspberry spread, upside down. Gently remove and roll in the coconut shreds.

Return to the cooling rack. I put parchment paper beneath my cooling rack to catch any drips.

Allow to set up for about 15 minutes before serving. If not serving soon, these are best kept in the refrigerator.