This post contains affiliate links. See my disclosure for more information.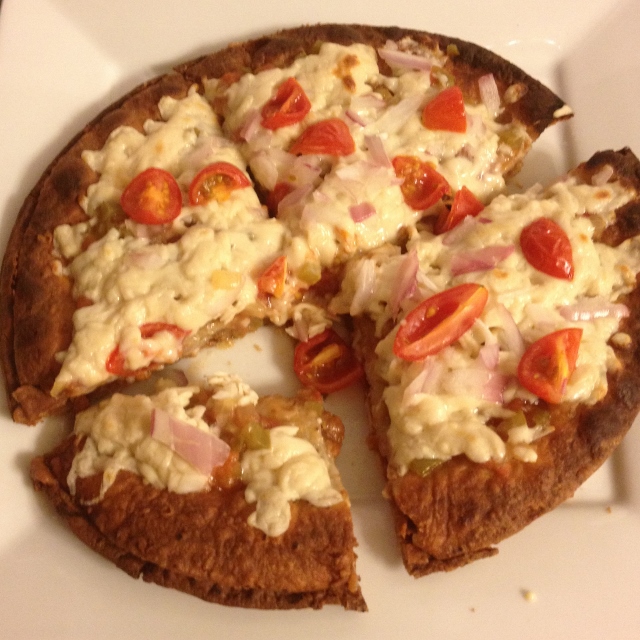 Oh, Taco Bell. How I used to love Taco Bell. We had a long-standing love affair that only ended with my need to eliminate gluten.
Me and Taco Bell, we went way back. In high school, a group of us went there for dinner before a formal dance. In college, it was my late night favorite food. It was usually the cheapest option for a vegetarian drive-thru meal. And even as a calorie-counter in more recent years, I ate there pretty often. Is it wrong that I miss it even though I now know it's not how I want to nourish my body? I do, I miss it.
One night recently while scrounging for something to put together for a late dinner, I commented that I'd like to just once be able to pull through a drive-thru and have someone hand dinner out the window to me. My favorite fella asked what that dinner would be and I immediately said, "Taco Bell!" When I thought back to my favorite foods there, Mexican Pizza minus meat was at the top of the list.
So I re-created it at home. While not exactly a healthy dish, it's a healthier version for me. No gluten, no dairy and foods I feel good about eating. This isn't becoming part of our weekly menu rotation, but I'm looking forward to the next time we have it when I feel like having a junk food-ish indulgence without the bad food hangover the next day.
A Healthier Version: Taco Bell's Mexican Pizza
Ingredients
4

gluten-free flour tortillas

1

cup

refried beans

(either homemade or storebought is fine)

1

cup

non-dairy cheese

(I use Daiya)

1/4

cup

salsa

(I use homemade canned, but whatever you like is great!)

chopped green onions OR red onions

, finely diced

finely diced tomatoes or halved cherry tomatoes

oil for frying
Instructions
In a large, deep skillet add enough oil to fry the tortillas. Heat to 350 degrees. Fry one tortilla at a time, flipping when the underside is browned. Fry just until crispy. (I also tried baking and couldn't get the tortillas crispy enough for my liking.)

Once tortillas are crispy, drain on a paper-towel lined plate.

Turn the broiler on high in your oven to be heating while you assemble.

Place one tortilla on a baking sheet. You may wish to line your baking sheet with parchment or foil. Spread with 1/4 cup of refried beans.

Place second tortilla on top. Spread a thin layer of salsa.

Top with 1/4 cup of cheese. Top with onions and diced tomatoes.

Place under broiler. Leaving door open a bit, keep an eye on this and remove once cheese is melted.

Repeat to make second pizza.

Slice each into quarters.