This post contains affiliate links. See my disclosure for more information.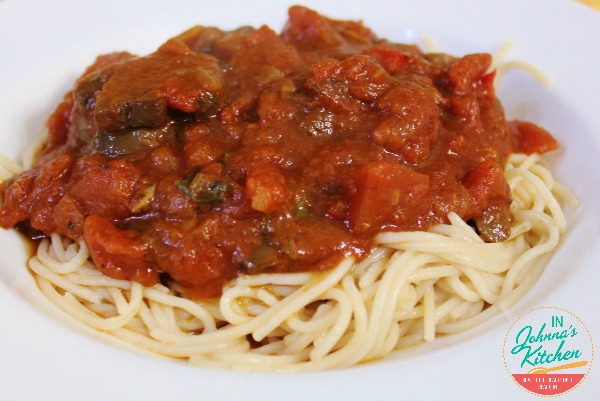 This pasta sauce, it's the best pasta sauce ever. Well, maybe not ever. How about, it's the best pasta sauce I've ever made? Yeah, that's it. I've made lots of variations on pasta sauce, but this one is the deal. Red wine tomato basil pasta sauce, make this with me, won't you?
Here's the story on this: it takes all dang day to make. Your house will smell like your favorite trattoria for hours, bringing back memories of an Italian vacation or making you dream of one. Finally, at the end of the day, you'll prepare pasta and gently ladle this sauce over the top. You'll share the meal with your sweetie, have a few glasses of wine, talk about the day…and then tomorrow? Well, guess what? You can do it all over again as this recipe makes a big ol' batch of sauce! And it's so good you won't even mind eating it for days in a row.
What's that? You don't like leftovers? Well, okay then. You can easily freeze whatever you aren't going to eat the first day. That's what we do here. I freeze the sauce in servings large enough for two and let it defrost on the counter during the day so it is ready when we want to have dinner. Easy! And it doesn't taste like sauce from a jar, so everyone wins.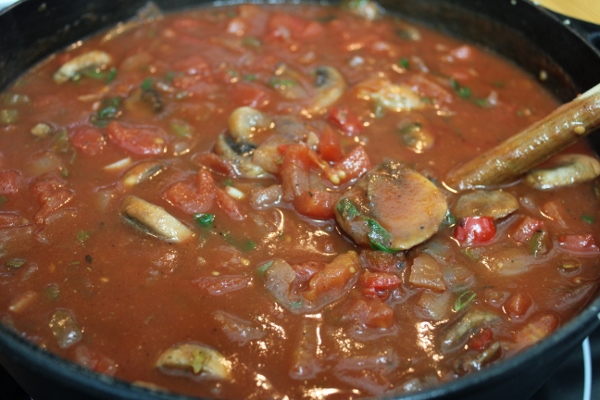 I don't have a family heirloom pan in which to cook this sauce, but I can tell you that I use the Lodge cast iron dutch oven. So many benefits of using this pan for sauce like this! First, getting it in and out of the cabinet counts as a workout, as it weighs something like 72 pounds. (Not really, but it's substantial. Lift with your knees…) Second, there's some truth in the tale that cooking in cast iron will add more iron to your food. That is especially true if you are cooking something that has a high vitamin C content like, oh, say TOMATOES! So if you struggle getting enough iron, this might be worth a try as an addition to your current supplements.
This recipe calls for Shiraz for the wine. You are welcome to use any red wine in this recipe. I wouldn't go any less bold than a Shiraz. A full-bodied red wine will give you great flavor without turning sour, as some sweeter reds can in a slow simmered sauce. Use a wine that you like to drink, especially since the recipe only calls for 1 3/4 cups of wine. You'll need something to do while this sauce simmers and you'll have a partial bottle of wine left…
I've written this recipe for year-round use, which means I've used canned/tetrapak tomatoes. If you happen to have an abundance of garden fresh tomatoes right now, feel free to sub those. Same with fresh versus dried herbs and spices. I've included instructions in the recipe. Mangia! Mangia!
Red Wine Tomato Basil Pasta Sauce
Ingredients
2 1/2

cups

diced yellow onions

1

red pepper

, diced

1

green bell pepper

, diced

8

ounces

sliced mushrooms

1/3

cup

fresh basil leaves

1/4

cup

minced garlic

(not a typo, it's a lot of garlic)

2

Tablespoons

olive oil

1 3/4

cups

red wine

(Shiraz)

2-

twenty-eight ounce cans diced tomatoes

(or about 4 pounds of fresh tomatoes, diced)

2-

six ounce cans tomato paste

2

cups

vegetable stock

2

teaspoons

dried oregano

(or 2 Tablespoons fresh)

1

teaspoon

sea salt

1

teaspoon

black pepper

1

teaspoon

dried sage

(or 1 Tablespoon fresh)

1

teaspoon

dried thyme

(or 1 Tablespoon fresh)
Instructions
In a large dutch oven (I use

this one

), saute onions and garlic on medium heat in olive oil until onions are transparent.

Add red and green peppers, cooking until soft.

Add wine. Continue cooking over low until wine has reduced by half.

Add mushrooms and basil, cooking for an additional 2 to 3 minutes.

Add all remaining ingredients. Bring to a boil, then reduce to a simmer and cover. Continue simmering for 4 to 8 HOURS. Simmer as long as you would like, stirring occasionally.

If you would like your sauce to thicken quicker, remove the lid and continue simmering. Leaving the lid on longer will allow the flavors to more fully develop, however I understand time does not always allow for an 8 hour simmer.
Recipe Notes
If you prefer to use fresh tomatoes, you will need approximately two pounds of tomatoes for each 28-ounce can of diced tomatoes, a total of four pounds of tomatoes for this recipe.
Full Disclosure: This post contains an affiliate link. If you buy the super awesome cast iron dutch oven using the link in the post, I'll make a tiny bit of commission, maybe a whole dollar. Using affiliate links allows me to continue creating high-quality, original recipes tested in my own kitchen, along with travel and dining recommendations at no charge to you. I'm grateful for your support!