This post contains affiliate links. See my disclosure for more information.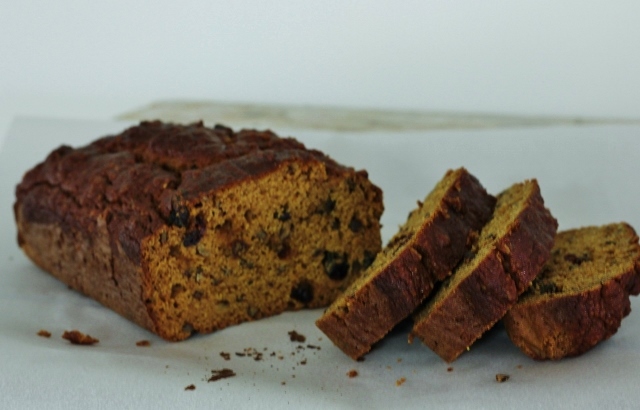 Earlier this week when I made the first batch of this bread, I asked on Instagram and Facebook for ideas to name the bread. Cranberry Pecan Pumpkin Bread seemed like a long, descriptive name with no pizazz. I wanted a snappy name, something sassy and spunky that would encourage you to make this bread, catch your eye, make the recipe go viral, land me a cookbook deal and a fancy TV cooking show so I could spend my winters lounging around in the islands.
See how quickly my thoughts wander? Somehow I went from naming the bread to dreaming of palm trees and sailboats. Well, anyhow, y'all came through in a big way with suggestions for naming this bread! Crumpkin Bread, Pumpberry Bread, Pumpcanberry, PerryBerry, Pumpkin Pecranberry, George, Nutberry Pumpkin, Pecrankin, Autumn Triple Threat Bread, Gratitude Bread, Give Thanks Bread, Cornucopia Bread, Let's Give Thanks Bread and Get In My Belly Bread. Gotta tell ya, that last one, suggested by Sarah of Celiac in the City, almost made the cut. Once you try this bread, you'll probably call it "Get In My Belly Bread."
I've been enjoying this bread with a schmear of pumpkin butter. My favorite fella had it with pumpkin cream cheese. I served warm last night in my Healthy Holiday Baking class and it was gobbled up. I don't think you can go wrong with this bread, dressed up with a topping or served warm from the oven. Perfect for Thanksgiving breakfast!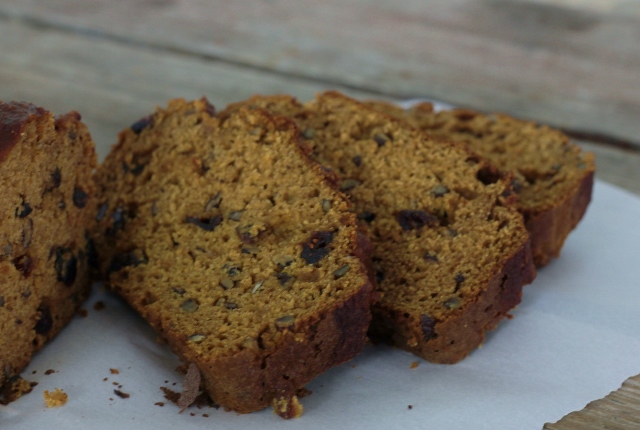 A few ingredient notes: I use dried cranberries from Eden Organics because they are sweetened with apple juice instead of refined sugar. Stock up on canned pumpkin puree right now to keep for the rest of the year. Some stores, like Trader Joe's, stock pumpkin puree only in season but pumpkin is great to eat year round since it's high in fiber and Vitamin A. A last little tidbit on the pecans. I usually buy whole nuts or in the case of pecans, halves. Pecan halves are like gold right now, kinda pricey. And understandably so, it's hard to get the pecan halve out. Have you ever tried shelling them? It's tricky. So unlike my recommendation on other nuts (buy them whole, chop them as needed), buying pecan pieces is more economical. Alright…off to the recipe!
Crumpkin Pumpcanberry Bread (Cranberry Pecan Pumpkin Bread)
Ingredients
3/4

cup

almond meal

2 1/2

teaspoons

pumpkin pie spice

1 1/2

teaspoons

baking soda

1/2

teaspoon

sea salt

1

cup

pumpkin puree

2/3

cup

coconut sugar

1/4

cup

maple syrup

(Grade B)

3

large eggs from happy hens

1 1/2

teaspoons

vanilla bean paste or vanilla extract

3/4

cup

dried cranberries

1/2

cup

chopped pecans
Instructions
Preheat oven to 325 degrees. Line a 9 x 5 loaf pan with a sheet of parchment paper. (I buy

these sheets

and fold one in half.) You may prefer to lightly oil the ends of the pan where parchment does not cover.

In a large mixing bowl, combine flour, almond meal, pumpkin pie spice, baking soda and salt. Set aside.

In a medium mixing bowl, stir together pumpkin puree, coconut sugar, maple syrup, eggs and vanilla bean paste or extract.

Incorporate wet ingredients into dry. Stir until just combined. Gentle fold in cranberries and pecans.

Pour batter into pan. Bake for 45-50 minutes until a cake tester or skewer inserted into middle comes out with just a moist, delicate crumb on it.

Allow to cool in pan for 5-10 minutes. Then gently lift out and allow to finish cooling on a cooling rack.
This recipe was inspired by a recipe I found on the Ocean Spray website. I have modified it to be gluten-free, oil-free and refined-sugar free plus added pecans.
Full Disclosure: This post contains affiliate links. If you click on a link and make a purchase, I make a small commission. Using affiliate links helps to offset the cost of maintaining this website. I appreciate your support!