This post contains affiliate links. See my disclosure for more information.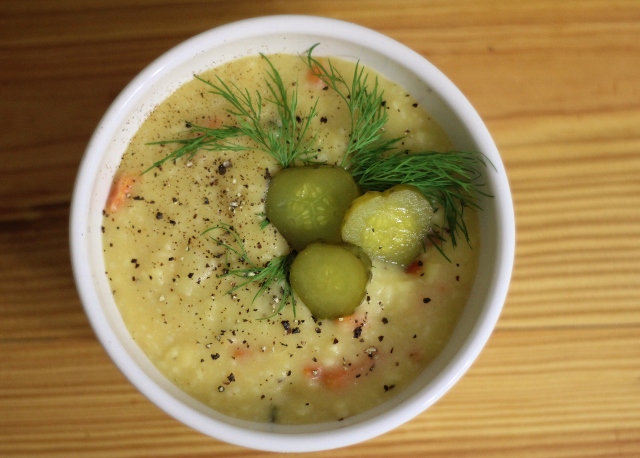 Last week my sweet friend Gina shared the link to a recipe on Facebook. The recipe was for Dill Pickle Soup, a true work of genius from Noble Pig. It reminded me of soup I had tried a few years ago at Fountain on Locust in St. Louis.
I took a peek at the recipe and set to work modifying it work for me. I had to remove the non-vegetarian stock, change the flour, the sour cream, the butter… Those are such easy fixes, a simple switch. I'm going to share below exactly what I did but wanted to encourage you to do the same, to feel empowered to modify recipes so they work for you!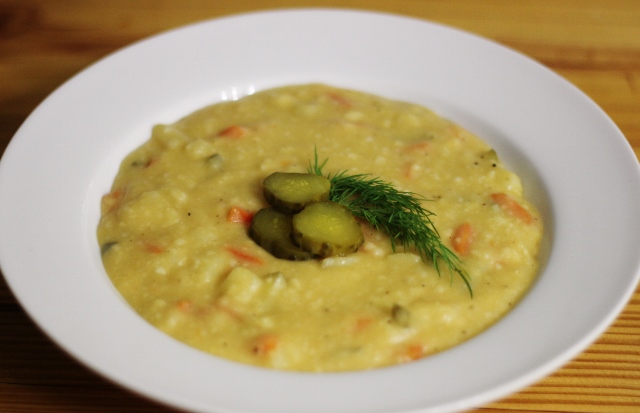 When you find a recipe that isn't gluten-free, think about what easy switches could make it gluten-free. If it's dairy or eggs or nuts or whatever, there is a way to modify it. While I continue to be stymied by yeast breads, there are few recipes I cannot find a way to modify to work for how I eat. There's no need to ditch your family's traditional recipes or start a new cookbook collection when you can easily modify what you have always made. There may be some grand failures and flops along the way, but I'm confident you'll figure it out and still be able to eat the foods you most enjoy!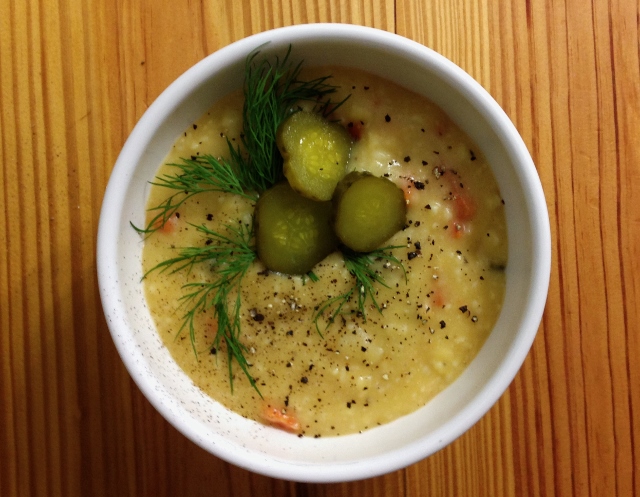 Here are the modifications I made to Noble Pig's Dill Pickle Soup to make it gluten-free, dairy-free and vegan. You'll need to visit Noble Pig's site to get the recipe. It's exceptionally good, like potato soup with a dill-y kick.
Dill Pickle Soup Modifications
Substitute Vegetable broth/stock for chicken (read labels carefully, stock is a great place for sneaky gluten). I used a bit more stock than the recipe called for, but that is just personal preference depending on how thick you would like your soup.
Substitute Earth Balance Vegan Buttery Sticks or healthy oil of your choice for butter
Use Johnna's Favorite Gluten-Free Flour Blend to replace flour
Replace sour cream with Tofutti's vegan Sour Cream Supreme OR non-dairy yogurt (I used So Delicious Cultured Coconut Milk in one batch.)
I eliminated the salt, as the pickles I used were pretty salty. In reviewing my photos, I see I generously peppered one batch and not so much on the second. Both made warm, comforting meals with a side of crusty bread. Apparently I just needed a little more pepper kick one evening.
One other non-essential, but helpful, prep tip: I use this veggie chopper. It's also pictured above. I've got decent knife skills but still find this makes my cuts more consistent and it's just so darned fast! There are many variations of this style chopper available. I prefer one with the large cutting blade and small cutting blade. You can see the difference in size here. Potatoes are with the large blade, carrots and pickles with the small blade.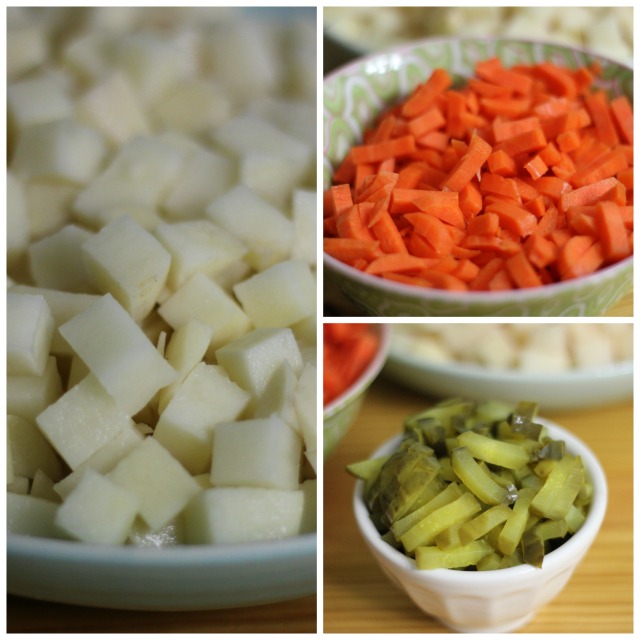 See how easy that was? Simple substitutions took a carnivorous, gluten and dairy-full soup and turned it into one enjoyed by many of us with dietary restrictions or choices. I know it can seem overwhelming, especially if you are new to making changes like this, but it can be done and the results can be so, so tasty!
And have I mentioned how good this soup is? Holy wow, I've made two batches and don't have a single cup of it left. It doesn't hang around here long. I shared it with one friend who kinda looked at it reluctantly and she enjoyed it. I hope you will, too!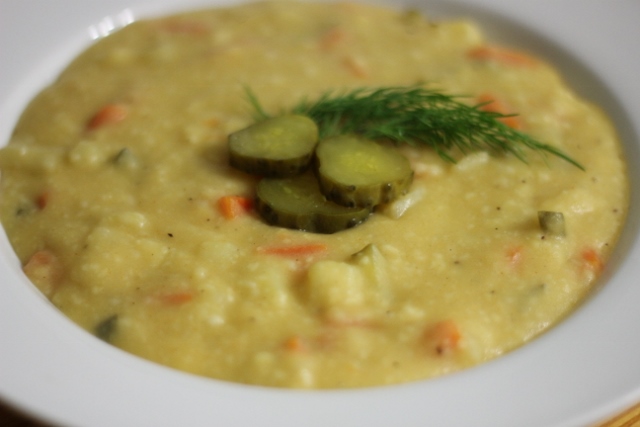 I'm linking this post up with Gluten-Free Wednesdays. Click over there for many more recipes from incredibly talented food writers!
Full Disclosure: This post contains affiliate links. If you click on a link and make a purchase, I may receive a small commission. You still get the same great price. I only recommend products I personally use and like, no soulless schilling here. I appreciate your support of my affiliate links. They help to offset the cost of maintaining this site. Thank you!