This post contains affiliate links. See my disclosure for more information.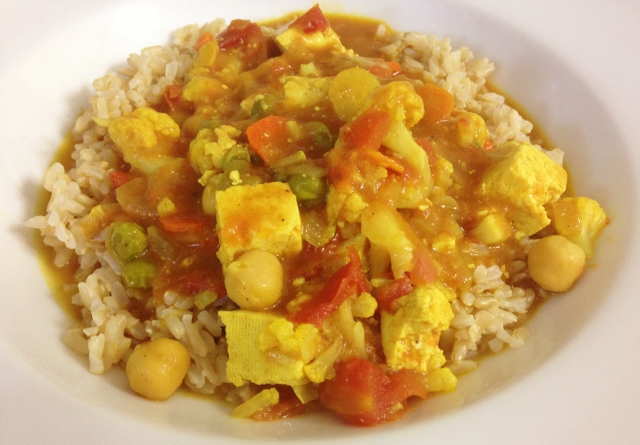 Slow-simmered curries create such a rich, deep aroma as the spices and vegetables meld together to create a comforting, hot meal. The entire house smells of warming spices, thick with coriander, cumin, cinnamon, pepper. While I love cooking slow-simmered curry for hours, most days I just don't have time for that. I need to get dinner on the table and quick. Weeknight Tofu Curry is my solution to this challenge. Still rich with the flavors of a more traditional curry, yet comes together quick enough for a weeknight meal.
Should we talk about food terminology for a minute? I love learning about the ingredients I use and the history of a dish. Curry, it has multiple meanings. First, it's the powder we buy at the store. Curry powder is a combination of spices. Many families have their own special blend and the blends vary by region, by level of heat, sometimes even by season. I think most often in the U.S. when we hear curry, we think of the spice blend. The other use of the word is to create a curry, which is what this dish is. The dish curry is a combination of vegetables and sometimes meat with a gravy-like sauce that coats the ingredients. In the case of the recipe below, it is a curry created with curry powder. Confused yet? Well, there's more…curry can also be a dry dish where the spices and liquid are allow to completely cook off of the vegetables and/or meat, leaving just a coating of the spices. And what if I told you there is actually a spice called curry? Not curry powder, but actual curry? There is! It's the leaves from the curry tree. If you've study Ayurvedic ingredients, you may be familiar with neem. Curry leaves are referred to as sweet neem. Rarely in the U.S. do I find curry powder that contains curry leaves, but it is said the best curry blends do contain curry leaves.
A few notes on this before I share the recipe. I've used the vegetables we most often have in the refrigerator. Feel free to use the vegetables you like best. I've also used tofu. Maybe you prefer tempeh or want to add chicken or whatever you have. While I can't tell you how to cook meat (I'm clueless in that area), I can tell you it's ok to replace the tofu with whatever suits your fancy. This is cooking, not baking, therefore the same level of preciseness isn't necessary. One block of tofu cubed makes about 3 cups of tofu. So perhaps you want to sub in 3 cups of something else. Go for it! Report back and let us all know what worked for you.
Alrighty…on to the curry in a hurry…which took me longer than a hurry to tell you about. Enjoy!
Weeknight Tofu Curry aka Curry in a Hurry
Ingredients
1

Tablespoon

olive oil or healthy oil of your choice

1

medium yellow onion

, diced

1/2

red onion

, diced

1 1/2

cups

sliced carrots

(I used rainbow carrots in the photos, any carrots will be great)

4

cups

cauliflower florets

1

block extra firm tofu

, well drained and cut into bite-sized cubes

1-15

ounce

can chickpeas/garbanzo beans

, drained and rinsed

1

Tablespoon

plus 2 teaspoons curry powder

1-14.5

ounce

can fire roasted tomatoes with green chiles

2

cups

vegetable broth

1

cup

frozen peas

1-13

ounce

can coconut milk

(cans may vary from 13 to 15 ounces, that's fine)

Steamed rice or quinoa to serve curry over

(optional)
Instructions
In a large, deep skillet, heat oil over medium

Add onions and carrots, sauteing until onions are softened over medium heat.

Add cauliflower florets, continuing over medium heat until it starts to soften.

Next add garbanzo beans, stirring to incorporate. Allow to cook for another 3 minutes.

Gently stir in tofu cubes, curry powder and canned tomatoes.

Add in vegetable broth, simmering for 15 minutes.

Gently fold in frozen peas, continuing to simmer until peas are heated through. Peas are added near the end to keep them from getting mushy.

Last, stir in can of coconut milk. Stir together and allow to simmer for 5-10 additional minutes.

Serve over steamed rice, quinoa or grain of your choice.
Full Disclosure: This post may contain affiliate links. If you click on a link and make a purchase, I may make a small commission. I use affiliate links to offset the cost of maintaining this website and the products used in developing original recipes tested in my kitchen. I appreciate your support!