This post contains affiliate links. See my disclosure for more information.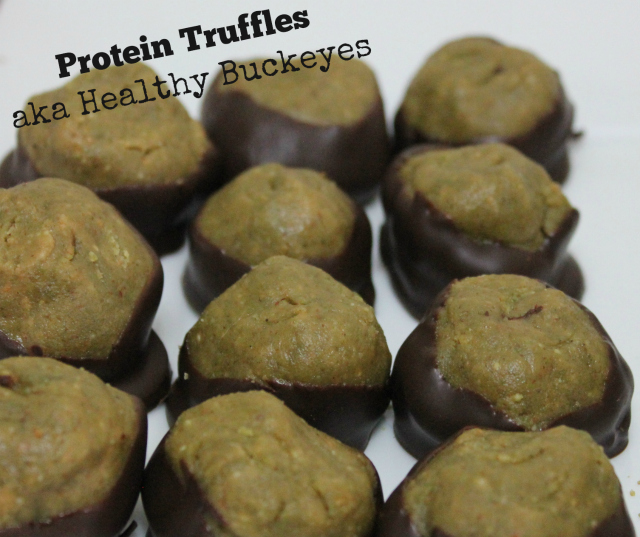 Over the holidays, many people where I live in the Midwest make Buckeyes, peanut butter balls dipped in chocolate. I hear that some folks simply call these Peanut Butter Chocolate Balls. Whatever you call them, they are little chunks of super sweet, peanut butter-y goodness dipped in chocolate. They are made of little more than peanut butter (many choose sugar-sweetened varieties) and copious amounts of powdered sugar. I knew there had to be a better way to make these, yet still have something that tasted like a sweet indulgence. Friends, allow me to introduce you to Protein Truffles, aka Healthy Buckeyes.
Last week I wrote a post about my two preferred protein powders, which are very different from what most of us think of when we think protein powder. We often think of a flavored powder with a list of ingredients a mile long, many of those ingredients words we can't pronounce and have no idea what they are. The protein powders I use are simple, single-ingredient powders. Pumpkin Seed Powder and Hemp Seed Powder.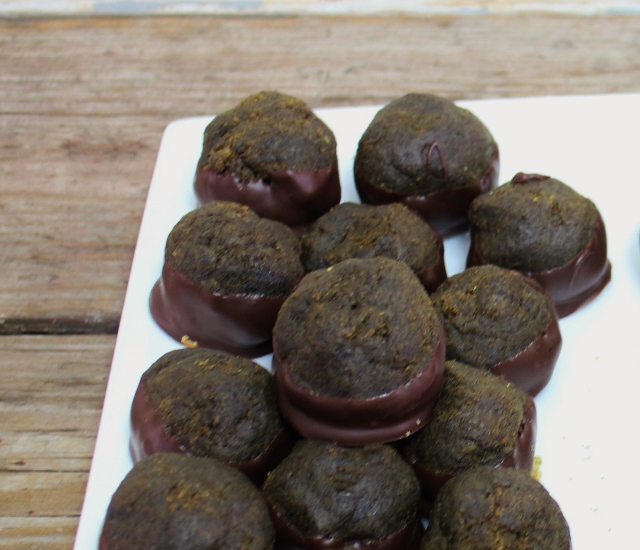 I tested this recipe extensively, with several variations on nut butter (and not-nut butters), maple syrup and honey and either hemp protein powder or pumpkin protein powder. This recipe is very versatile! Depending on the protein powder you use, you will either get a brown color reminiscent of the traditional Buckeyes OR you'll get a darker color that looks more like chocolate.
As for nut butters, I tested this recipe with WOWBUTTER (made from soybeans), sunbutter (sunflower seed butter), almond butter and all natural (unsweetened) peanut butter. All are interchangeable in this recipe, as are maple syrup and honey. Use whichever speaks to you and your tastebuds! My absolute favorite: the peanut butter and coconut oil spread from Earth Balance. It's incredibly creamy. It's not as healthy as a simple nut butter, but it's still a better option than making the traditional variation on this recipe. Balance. 😉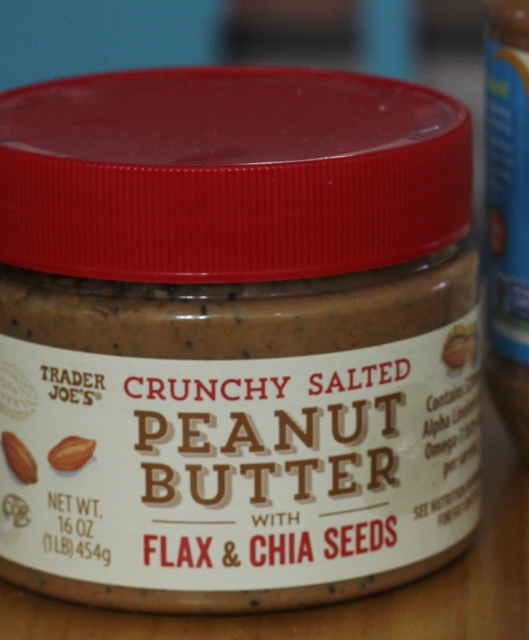 The only time I needed to modify the recipe was using the peanut butter from Trader Joe's that has flax and chia seeds mixed into the nut butter. Because flax and chia absorb liquid, the recipe required a tiny bit of modification, as noted in the recipe below. I wanted to give you a heads-up on that should you be working with nut butter I've not yet tried.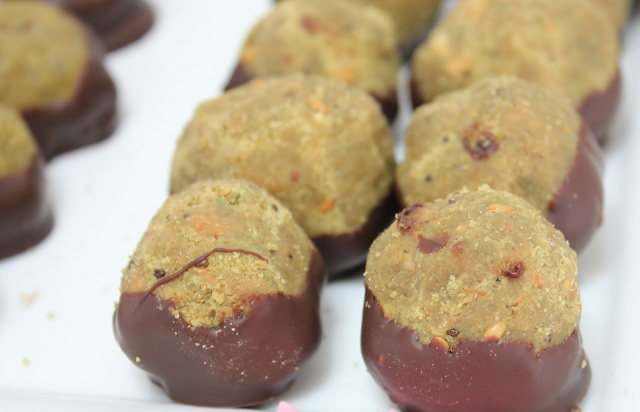 Alrighty! I think that's all of the rambling I need to do before sharing this super versatile, packed with protein recipe with you. Here we GO!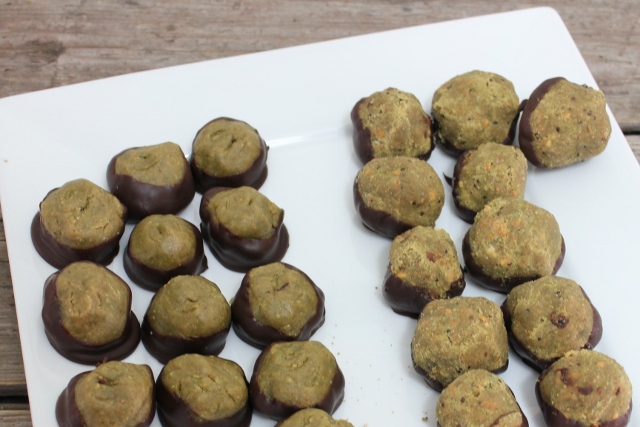 Protein Truffles, aka Healthy Buckeyes (gluten-free, dairy-free, vegan)
Ingredients
*For Truffles:

3/4

cup

nut or not-nut butter of your choice

(all natural peanut butter, almond butter, WOWBUTTER, sunbutter, etc...See notes below)

1/3

cup

honey or maple syrup

1 1/4

cup

hemp protein powder or pumpkin seed protein powder

*For Chocolate coating

(optional):

1

cup

Enjoy Life chocolate chips

1

teaspoon

healthy oil

(coconut oil, grapeseed oil, avocado oil)
Instructions
In a mixing bowl, mix together nut butter or not-nut butter and either honey or maple syrup. Stir together until well combined.

Gradually mix in protein powder, a few tablespoons at a time. As you get close to having all of the protein powder mixed in, you may find it easier to mix or knead with your hands. The mixture will be very firm. (The mixture in the photo below is peanut butter, honey and pumpkin seed protein powder.)

(The next photo is of sunbutter, hemp protein powder and maple syrup.)

Refrigerate for 30 minutes. Line a baking sheet with parchment paper.

After 30 minutes, you may use either a cookie scoop (I like this one) or a spoon to portion out small amounts. Press them firmly into a ball shape. This is not a rolling motion, instead you will press them into a ball shape.

Return to refrigerator. If you want to coat them in chocolate, this is the point where you will melt the chocolate.

Two ways to melt the chocolate: you may either use a double boiler and combine the chocolate and oil, heating over low until chocolate is melted. OR you may put the chocolate chips and oil into a bowl and microwave in 30 second increments, stirring each time, until chocolate is melted.

While chocolate is liquid, dip each ball into the chocolate, covering it halfway up. Return to the parchment lined sheet and allow chocolate to harden. If you are in a hurry, you can return them to the refrigerator.

Store in the refrigerator. Enjoy within a week!
Recipe Notes
Note: If you are using the Peanut Butter from Trader Joe's that includes chia and flax seed, you will need to increase the amount of peanut butter to 1 cup.
This post may contain affiliate links. If you make a purchase of a product I recommend and use in my very own kitchen, I may make a small commission. With affiliate links, I hope to make enough money to pay for the ingredients used in my recipes, the hosting for my website, the tech guru who helps me keep this site up and running, my culinary and nutrition education, the wear and tear on my kitchen and maybe, just maybe, I'll make enough money to pay myself a little something for my time. Thanks for your support. I love that you are here!