This post contains affiliate links. See my disclosure for more information.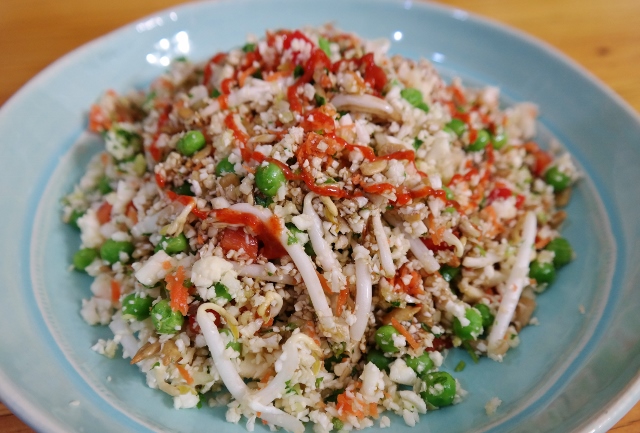 It's too hot to turn on the oven or even the cooktop to make dinner here. Maybe where you are, too? Cauliflower Fried Rice is on the menu this week. Light, quick to prepare, yet filling.
I first had Cauliflower Fried Rice at a cooking (or uncooking, as it may be) class at PuraVegan in St. Louis. Monica is a dynamic teacher. Like me, she is a certified Nutritional Education Trainer and really knows how to make raw vegan meals appealing. My first culinary certification was in Raw/Living Foods but I was spending a lot of time prepping those meals, a lot of time dehydrating and cutting vegetables. In one class, I learned four dishes from Monica that could be made in under 30 minutes. She changed how I look at raw vegan meals. (That said, I am not eating a raw vegan diet or even a high raw vegan–80% raw–diet. I like warm food on cooler days.)
In the years since, I have modified PuraVegan's version of Cauliflower Fried Rice to make it work for our kitchen. I've added more veggies and an option to spice it up a bit. I'm so excited to share it with you today because I am certain you will enjoy it, too. It's a main dish here, but it would make a nice side dish or a salad to take to a potluck.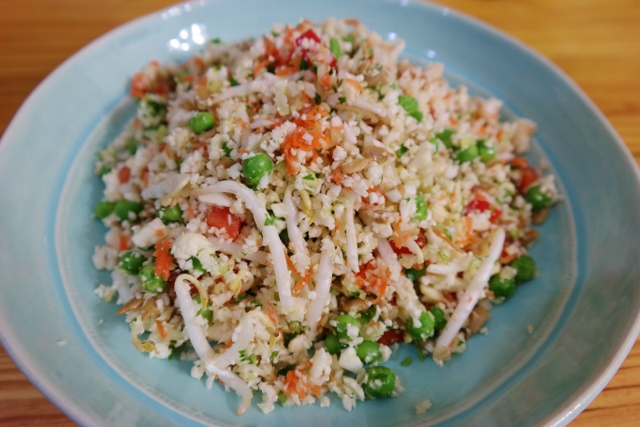 As always, a few ingredient and equipment notes:
If spice is your thing, by all means add Sriracha to the top. Or go crazy and get some Gochujang, but make sure it's gluten-free.
If you are striving to eat raw, you'll want to use raw sunflower seeds. I like the flavor of roasted ones better.
If you are eating raw, you'll probably want to use Bragg's aminos or coconut aminos as opposed to a gluten-free soy sauce.
If you live near a Trader Joe's, they have cut little package of fresh English peas. These are wonderful in this dish and you'll need a couple of packages. Otherwise, any fresh or frozen peas, thawed of course, will work.
I use a Cuisinart food processor to "rice" the cauliflower and have heard from others who simply use a box grater. Let me know if you try the grater method and take good care of your fingertips while doing that!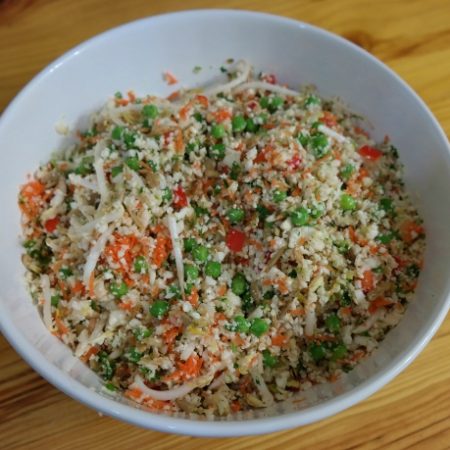 Cauliflower Fried Rice, No Bake. Perfect for Hot Summer Dinners! (gluten-free, raw, vegan, paleo, grain-free)
Ingredients
1

Head fresh cauliflower

2 1/3

cups

fresh peas

, fresh English peas or frozen peas (thawed)

1

cup

mung bean sprouts

1/2

to 1 cup sunflower seeds

, depending on how much crunch you like (shelled, raw or roasted)

1/2

cup

shredded carrots

1/2

cup

diced red pepper

1/4

cup

diced yellow onion

1/4

cup

fresh cilantro

1-

inch

piece peeled ginger root

2

cloves

garlic

drizzle of sesame oil

(toasted or plain) or other healthy oil of your choice

Bragg's aminos

, coconut aminos or gluten-free soy sauce/Tamari

Sriracha or Gochujang

(make sure it is gluten free)
Instructions
In bowl of food processor fitted with an "S" blade, add 1/2 head of cauliflower, broken into smaller pieces. Pulse until it has the texture of rice.

Remove from the bowl of food processor and place in a large mixing bowl.

Repeat with second half of cauliflower. Place that cauliflower "rice" in the large mixing bowl.

Add the onion, cilantro, ginger root, garlic and drizzle of oil to the bowl of the food processor. Pulse until is has the consistency of a slightly chunky sauce.

Remove from the bowl and place on top of the rice.

Add the red pepper, sprouts, sunflower seeds, peas and carrots. Toss to combine.

Serve with Bragg's aminos, coconut aminos or gluten-free soy sauce. Add a bit of Sriracha or gluten-free Gochujang if you like spice.
Recipe Notes
Additional notes about ingredients and tools I use are included in the blog post where this recipe is featured. I encourage you to read it, as there is more information there than I can include in a recipe. Thank you!
Disclosure: This post contains affiliate links. Should you follow one of them and make a purchase, I may make a small commission. I use affiliate links to offset the costs associated with maintaining this website and providing original, tested recipes and dining/travel info at no charge to you. Thank you for your support.