This post contains affiliate links. See my disclosure for more information.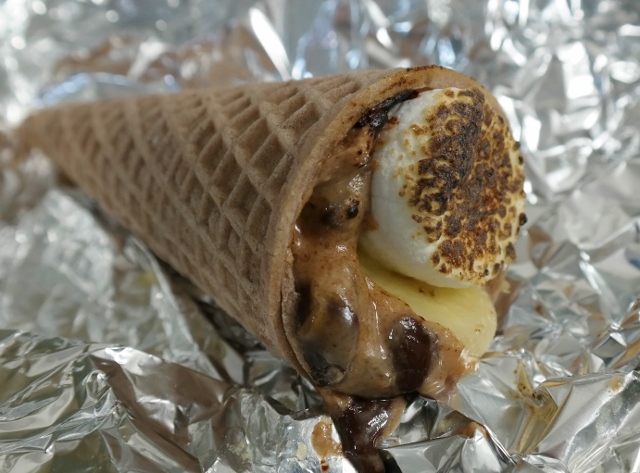 Have y'all heard about Campfire Cones, ice cream cones packed full of s'mores goodness, wrapped in foil and then cooked over the campfire or in the oven? I can't look at Facebook or Pinterest these days without seeing someone's post with a recipe for Campfire Cones, but not a single one that would work for me, no Campfire Cones gluten-free. Or for my dairy-free friends. Or my vegetarian friends. I'm here to fix that.
Give me a moment while I put my Super S'mores cape on. (No tights, it's hot here…)
So here is what you need to know about Campfire Cones: Once you locate an ice cream cone that works for how you eat, you can stuff it with virtually anything, wrap it in foil and put it in the oven until the ingredients are warm and gooey. I've been experimenting a bit and have figured out the critical step is finding a solid ice cream cone. These from Let's Do Gluten-Free are up to the task. They are well-packaged, not a single one has been broken when I open the box. I found them locally at Whole Foods.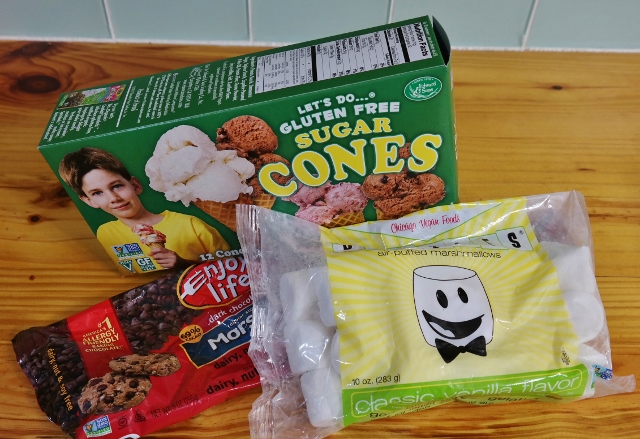 Next up, you are going to need marshmallows. They are essential in a campfire cone. Their gooey, meltiness holds everything together in the cone. I adore Dandies marshmallows, like seriously adore. No wait, it's not just adoration, it's a problem. We can't keep them in our house because I eat them, huge quantities of them. They are the softest, squishiest marshmallows I have ever had. They also happen to work for vegetarians and vegans. Tradition marshmallows are made with corn syrup, sugar and gelatin. Gelatin isn't vegetarian or vegan. I'll spare you the ugly details, google it if you must. Just go buy ya some Dandies, I know you'll enjoy them even if you aren't of the veg-persuasion. Good stuff. In my area, Dandies are available at Whole Foods. Others have reported finding them at Sprouts, but I haven't in my area yet.
If you want to go the traditional route and make a s'more, you will just need some chocolate. I use Enjoy Life morsels or their Mega Chunks. I find Enjoy Life chocolate in both of my mainstream local grocery stores. So nice to have options that work for many dietary intolerances/allergies available at the "regular" store.
You can also get fancy and use mini peanut butter cups, but I've had trouble finding a dairy-free version of those. If dairy is your deal, I feel obligated to warn you: the combination of melted peanut butter cups and marshmallows in an ice cream cone will soon be illegal in 38 states. Ok, well, not really. But it should be. Once you make one, devour it in 5 minutes, you'll find yourself back in the kitchen at 11:30 at night making more. And then at 1 in the morning, you'll be driving to the grocery store in hopes they have box of gluten-free ice cream cones waiting for you. Or so I hear. I mean, that's totally not a true story.
I did discover a way to get around the dairy issue and still making a Campfire Cone similar to one with peanut butter cups. I layered marshmallows, peanut butter and chocolate chips in this one. And banana. Because that made it healthy. So messy. So good.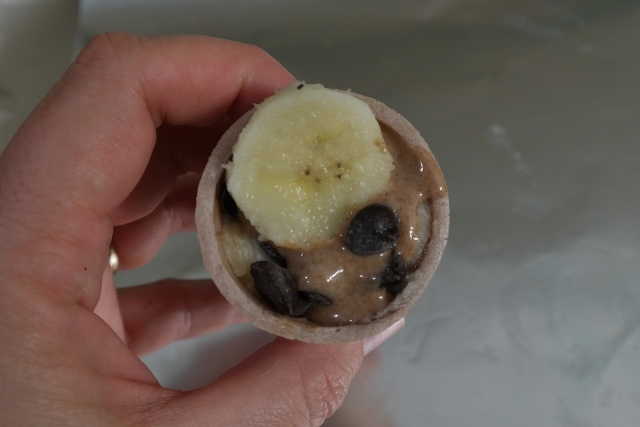 If you like pina coladas… and getting caught with your hand in the ice cream cone box, you'll like this flavor combination. (See what I did there? I almost made you sing a song. Or did you anyway?) I put a little diced, fresh pineapple and unsweetened shredded coconut in this cone. I also stuck a few pieces of fresh mango in there to fancy it up. But it really needed marshmallows. You can't skip those in a Campfire Cone.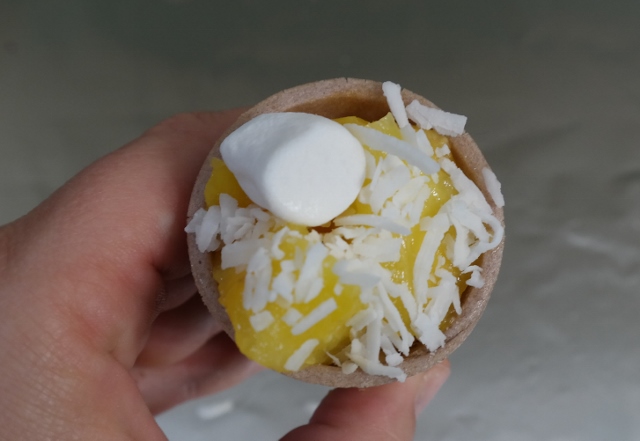 Hey, one last little tip. Dandies marshmallows come in two sizes. I used the minis in the cones and then I top each cone with one of with the larger marshmallows and roast it with a kitchen torch. It makes a pretty presentation and you get the charred flavor of a marshmallow roasted over the campfire.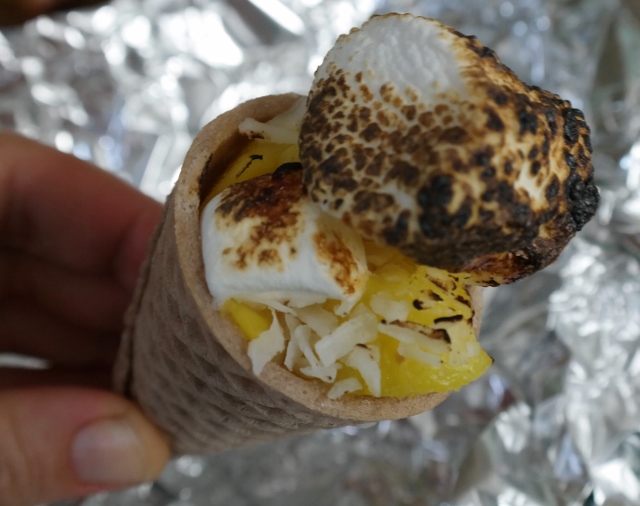 Alright, enough rambling about Campfire Cones. I know you want the full scoop in recipe style so you can get busy making your own. Here ya go…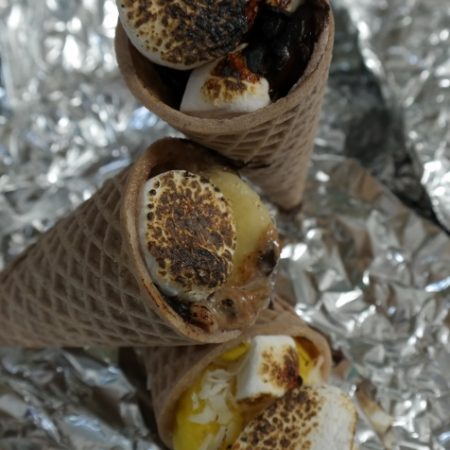 Campfire Cones, A New-Fangled Twist on S'mores
Ingredients
Gluten-Free Ice Cream Cones

(I like Let's Do Gluten-Free)

Small Dandies Marshmallows

Large Dandies Marshmallows

Chocolate Chips or Chunks

(I like Enjoy Life)

Other goodies to stuff in cones: fruit

, peanut butter cups, nut butter, jam, caramel sauce, sky is the limit, use your imagination!
Instructions
Preheat oven to 400 degrees.

Stuff each Campfire Cone you are making with a small marshmallow first. This will keep any of your ingredients from trickling out the bottom of the cone.

Next layer ingredients of your choice into the cone.

Wrap tightly with foil and place in oven for 6 to 8 minutes, until everything is warm and gooey inside.

Top with a large marshmallow and roast with a kitchen torch. Serve immediately.
So there you have it, everything you need to know to make Campfire Cones gluten-free. And dairy-free. And vegan. Really, just for everyone. Make them your way and enjoy!
Full Disclosure: This post contains affiliate links. If you click on a link and make a purchase, I may make a small commission. I use affiliate links to offset the cost of maintaining this website and bringing you original recipes at no cost to you. I'm grateful for your support. My full privacy policy and disclosure statement are at the bottom of each page.