This post contains affiliate links. See my disclosure for more information.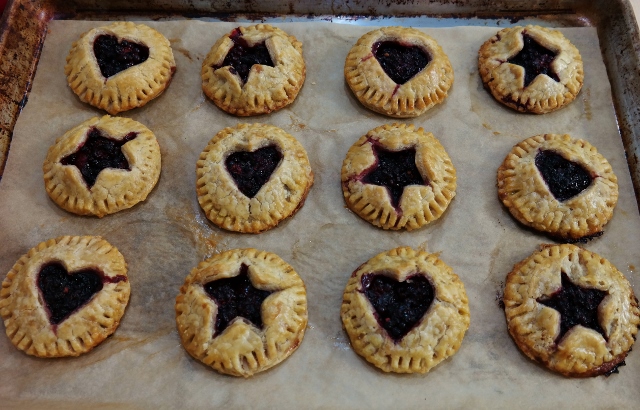 Last week I returned to my friend's berry patch to do a little blackberry picking with my favorite fella. The result of that trip, Blackberry Hand Pies.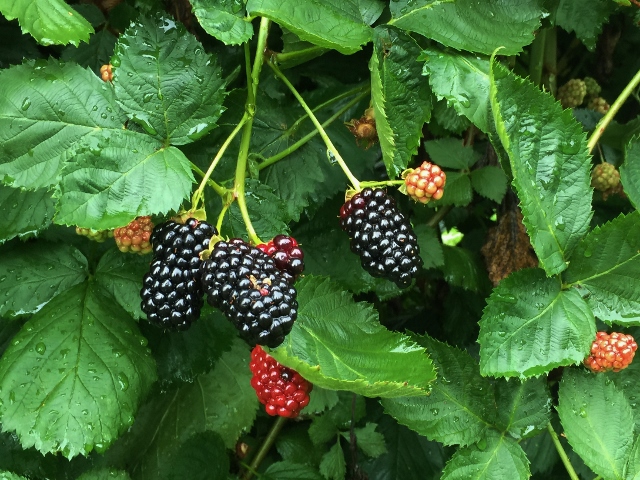 We spent just about thirty minutes berry picking. We were the first to arrive, beating the farmers to the patch. Soon we were joined by two older ladies, who we decided must be named Mildred and Betsy. Neither of us being much for early morning talk, we listened to their chatter as we quietly picked our way through the bushes wet with dew and a bit of early morning drizzle. Mildred and Betsy rambled on about the benefits of picking with a bucket as opposed to a box. My fella loudly rolled his eyes at this notion from the other side of a thick hedge of berry bushes, suggesting on our car ride home the berries in the bottom of the bucket would be smashed. Betsy told Mildred a story about a gal who goes to her church that is unrepeatable here, apparently Betsy forgot she was in mixed company with a fella a row over. We quietly giggled and avoided much eye contact with each other, lest we break out laughing at the debaucherous tail. Then Mildred gossiped about another nearby berry patch and how tart their berries are, suggesting what they were picking were the better of the two by far.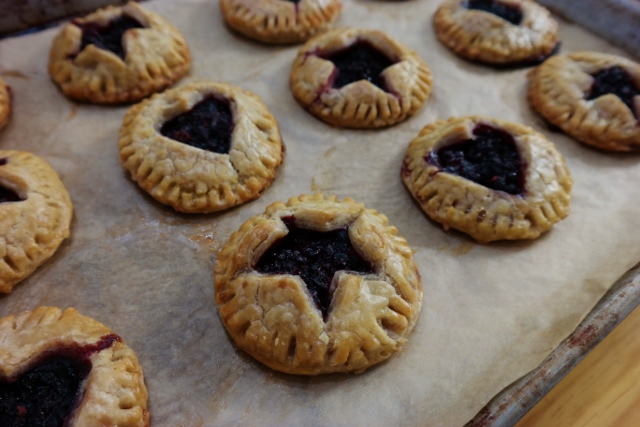 Without even tasting berries from the other patch, I'm in agreement. These are some of the best blackberries I've had, the perfect balance of sweet and tart. Friends who I shared the berries with said they aren't as seedy as store-bought blackberries. I made cobbler, breakfast smoothie bowls and these adorable little hand pies with the blackberries and can't find a reason to not like them.
But you know what I can find a reason to not like? Sharing pie…
I baked these sweet little pies over the 4th of July weekend. I sent a photo to a friend thousands of miles away, telling her it wasn't the perfect photo but the pies made my heart sing. I love baking pie; I love sharing pie with friends, I told her. Apparently even photos of pie are amongst the things I like to share.
The more I thought about it, the more I realized it was just the photos I wanted to share. These pies were too tasty to share, I wanted to eat them all. And then I spotted my favorite fella in the kitchen, with his hands approaching the very last blackberry hand pie. I blurted out, "Get your hands off my pie!" He quickly pulled his hands back, startled by my rude outburst.
So we split it. See? I'm not really refusing to share pie. 😉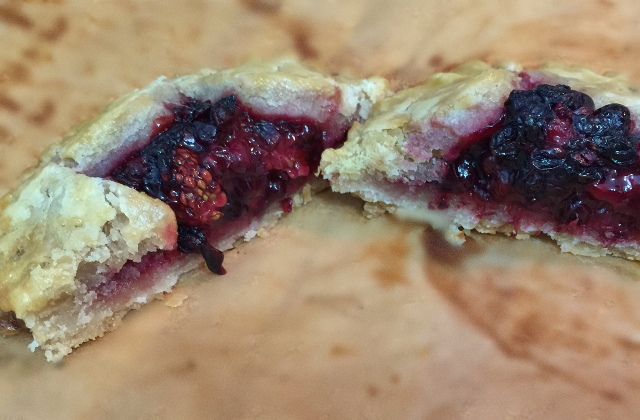 Enjoy the recipe. And I promise to not judge you if you choose to eat them all, not sharing a single one.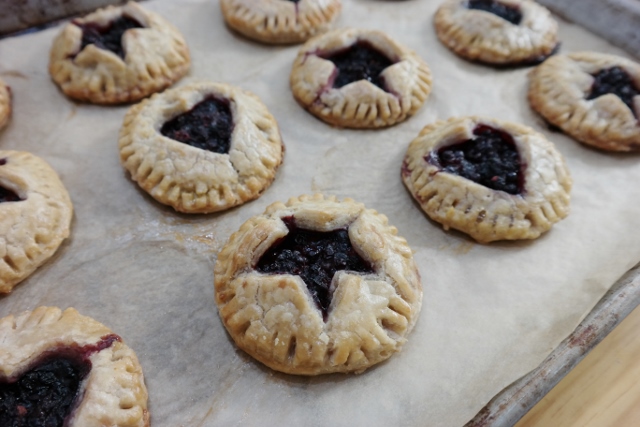 Get Your Hands Off My Pie! Blackberry Hand Pies (gluten-free, dairy-free, vegan option)
Ingredients
1

batch Johnna's Perfect Pie Crust

1

cup

fresh blackberries

2

Tablespoons

coconut sugar

2

teaspoons

arrowroot or cornstarch

1/4

teaspoon

lemon juice

1/4

teaspoon

lemon zest

1

egg

(optional)
Instructions
Make pie crust according to recipe instructions. Chill in the refrigerator.

In a small mixing bowl, add berries, sugar, arrowroot, lemon juice and zest. Using a fork, give them a rough smash, breaking up any larger berries into little bite size chunks. Allow to sit for about 20 minutes.

Preheat oven to 400 degrees. Line two baking sheets with parchment paper.

Roll out half of the pie crust between sheets of plastic wrap. Using a

3" round cutter

, cut 12 rounds and move to baking sheet. (I put six on each sheet).

Atop each of the rounds of pie crust, place a scant tablespoon of the berry filling. It is probably closer to two teaspoons of filling.

Roll out the remaining half of the pie crust. Cut into 3" rounds and then cut a design out of the top using a small cutter. I've used

hearts and stars

. You can use whatever shape you like OR you can simply cut slits into the pie crust to vent.

Move the pieces of crust to top the filling-topped pieces of crust on the baking sheet.

Using a fork, press all the way around the circles, sealing the crusts together.

Optional: You may whisk one egg in a bowl and then use a pastry brush atop each of the hand pies. This leads to better browning of the crust, but it completely optional.

Bake at 400 for 18-20 minutes.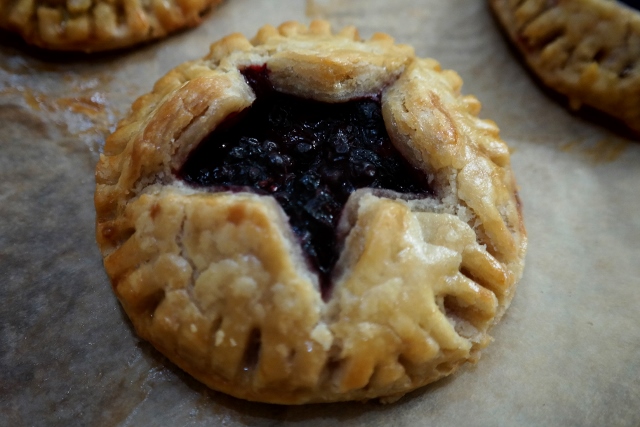 Disclosure Statement: This post contains affiliate links. Should you make a purchase after clicking on the link, I make a tiny commission. One day I hope those commissions will add up to enough to pay for the costs of maintaining this website and serving up original recipes at no charge to you. It hasn't happened yet, but I sure do appreciate you supporting me in my dream!