This post contains affiliate links. See my disclosure for more information.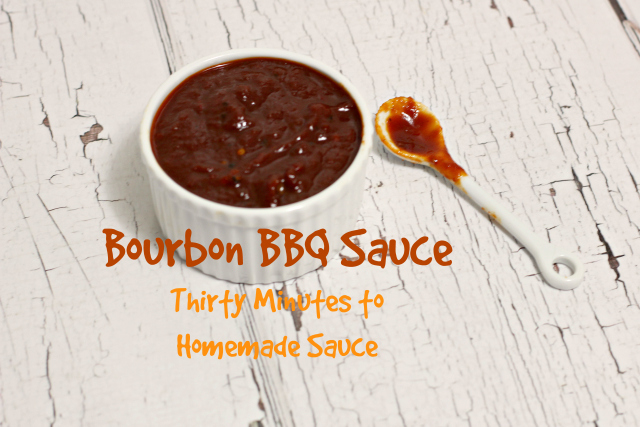 Summer has arrived, it's time to fire up the grill. You'll need this recipe for Bourbon BBQ Sauce. It's gluten-free and refined sugar-free, two things hard to find in sauces at the store. You won't want those sauces anyway after you taste this one!
Bourbon BBQ Sauce, the backstory:
I'm from Kansas City, the Barbeque Capital of the World. Our grocery stores have large selections of bottled sauces, Some most of an aisle, many from BBQ joints right here in town. And when you eat BBQ out, the restaurants will have bottles of sauce available to take home. I'm going to guess we eat more tomato-based BBQ sauce per capita than any other city in the nation.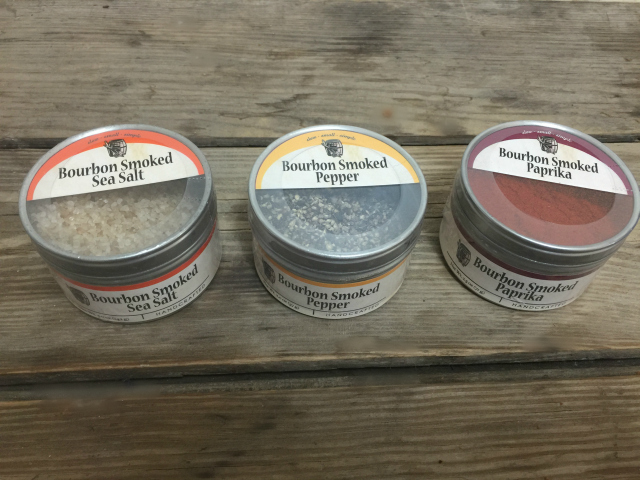 So when the folks at Shari's Berries dropped me a note asking if I would like to try their Smoky Bourbon Spice Set, I said YES in a hurry. They challenged me to create a grilling recipe. Since I am from Kansas City, no grilling recipe is complete without sauce. The wheels were turning; what could I create with these wonderful spices, basic ingredients from the pantry, maybe a nice bottle of Bourbon from Kentucky? I thought and I thought…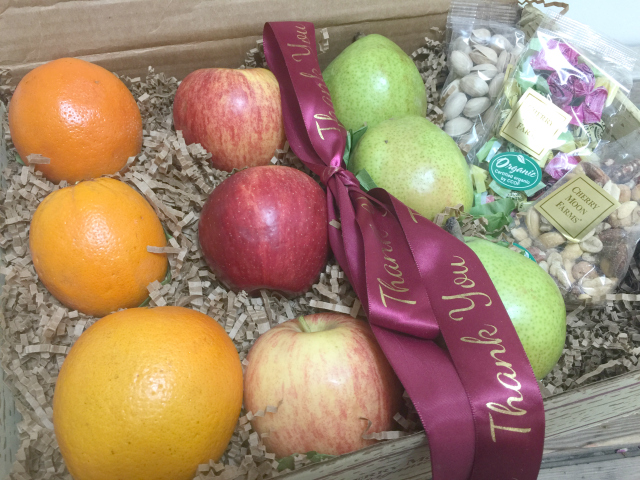 It's a good thing they also sent a nice selection of organic fruit. (Did you know Shari's Berries does all sorts of gift boxes, including these healthy ones? I sure didn't!). I had plenty of healthy snacks to sample while I thought more and more about using these spices in a concoction worthy of Kansas City-style BBQ. The only solution was to hit the kitchen and start experimenting with sauces.
And then it happened: after sharing samples of each experimental batch of sauce, the kitchen became a BBQ sauce factory. Those who sampled the sauce were asking for more. Then they started asking if they could buy it for gifts. (Umm, NO. But I'll make a jar for you…) We've had this sauce on burgers, on grilled kabobs, on grilled tofu, even in macaroni and cheese. That's one of my favorite places for BBQ sauce, but I'm sure my fellow Kansas Citians can top that. Surely one of you eats BBQ sauce on ice cream or atop chocolate cake?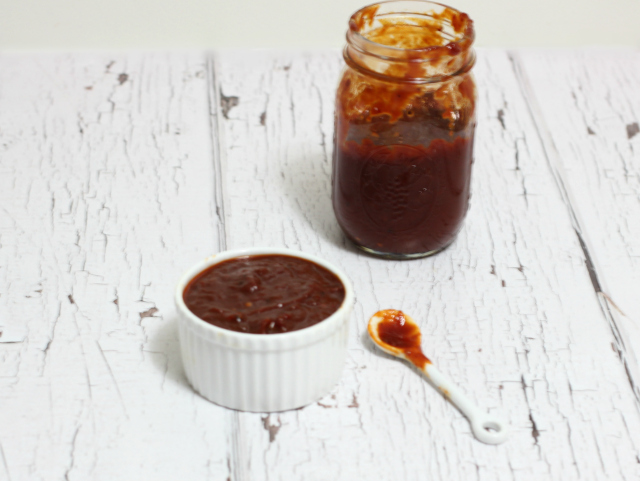 Bourbon BBQ Sauce, the recipe:
Here are a few tips on making this recipe. I know it sounds tedious and perhaps tear-inducing to grate an onion on a box grater. Don't skip this step. The grated onion is the perfect texture for this sauce. I tried with super small diced onion and it was never just right. Grating does the trick. Feel free to share in the comments you favorite tip for teary eyes while grating an onion; this particular technique induced tears in my favorite fella who is usually fine chopping onions for hours. But even he agrees it is worth it to get this sauce *just right.*
Choosing a bourbon: If it's not good enough to drink, it's not good enough for your BBQ sauce. I've made this Bourbon BBQ Sauce with Woodford Reserve, Military Special (which is only available on military bases) and Knob Creek. Each resulted in a slightly different flavor, each very good. If you lean toward a sweeter sauce, go with Knob Creek.
The spices: I've used the spices the folks from Shari's Berries shared with me. These are smoked over repurposed bourbon barrel staves, imparting a smoky, rich flavor. If you don't have these in your kitchen, feel free to use regular sea salt and black pepper. But by all means, splurge on a smoked paprika. It belongs in your spice cabinet. I love it on popcorn and stir a little into my pimento cheese spread.
Alright. That's everything you need to know…except how to make the sauce. Here ya go. Make sure you drop back by after you make this and let me know how you used the sauce. Enjoy!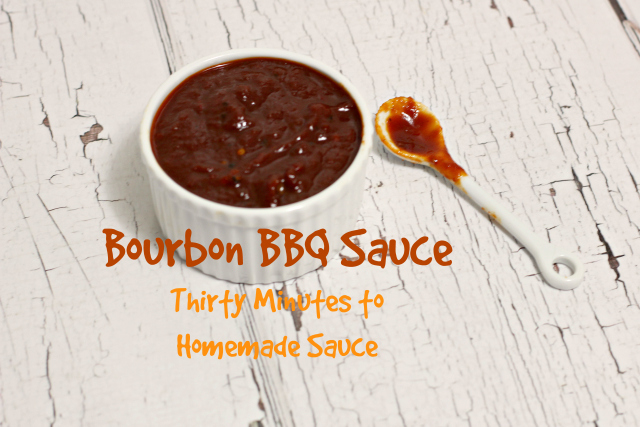 Bourbon BBQ Sauce, Perfect for Summer Grilling!
Ingredients
3

Tablespoons

grapeseed oil

(or other neutral oil)

2

teaspoons

red pepper flakes

1

yellow onion

, grated

3

cloves

garlic

, minced

1

cup

Bourbon

1

cup

tomato sauce

6

ounces

tomato paste

1/2

cup

fresh squeezed lemon juice

1/2

cup

apple cider vinegar

1/3

cup

molasses

1/3

cup

tamari or gluten-free soy sauce

1/3

cup

coconut sugar

1

teaspoon

bourbon barrel smoked black pepper

1

teaspoon

bourbon barrel smoked paprika

1/2

teaspoon

bourbon barrel smoked sea salt
Instructions
In a large saucepan, heat grapeseed oil and red pepper flakes over medium oil until warm.

Add the grated onion. Cook over medium for approximately 5 minutes until onion becomes translucent but does not begin to brown. Add the minced garlic and cook for one more minute.

Remove the pan from heat. This is especially important if you are using a gas cooktop. Once removed from the heat, add the bourbon.

Return to heat and bring mixture up to a simmer. Cook for 5 minutes to allow bourbon to reduce.

Next add all remaining ingredients. Whisk or stir to combine well. Cook on low/medium-low for 20 to 30 minutes until sauce has reduced to the thickness you prefer in a BBQ sauce. I cook mine for 30 minutes, however some have preferred this sauce to be cooked as little as 15 minutes for a thinner sauce.

Allow to cool and store in jars. This sauce should be kept refrigerated.
Disclosure: As mentioned above, Shari's Berries gifted the spice set and a lovely box of organic fruit and healthy snacks to me. I was not required to use their products in my recipe nor required to write this post. No additional compensation was received. As always, I only write about products I use in my kitchen. And, as luck and wanderlust would have it, I have visited the fine folks in Kentucky who produce the spices. I keep them (and their bourbon barrel smoked chili powder) in my pantry. So this is a real-deal endorsement post, not a bought-and-paid-for "opinion."