This post contains affiliate links. See my disclosure for more information.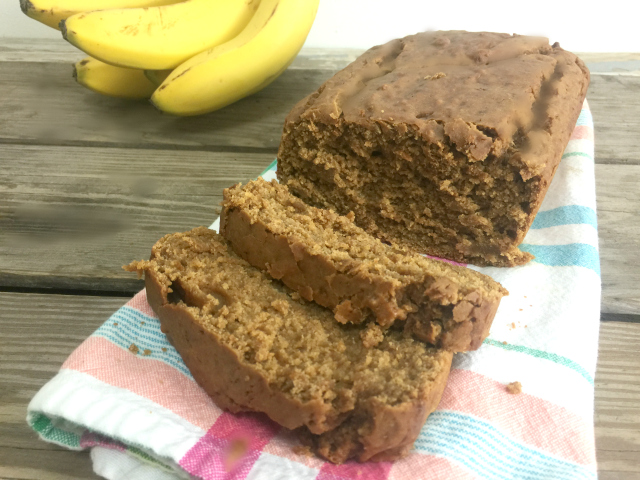 Peanut Butter Banana Bread, a quick bread that is free of gluten, dairy, eggs and is vegan! Plus it's one of the best quick breads I've ever had. Add a schmear of jelly and it's a decadent PB&J worthy of dessert.
Baking his been minimal here in the heat of Summer, even though today is technically the first full day of Summer. With the "feels like" temperature over 100 for several days now, baking happens only late in the evening or early in the morning, well before the air conditioner is feeling the pain of cooling our house. I've seen the A/C repair folks at too many of my neighbor's houses already and don't want to join the ranks. It's brutal here right now!
Instead of whining about the heat (which I've done plenty of), let's talk about quick breads. This one is made in a standard loaf pan, 5″ by 10″. While I like mini loafs, I feel they dry out more quickly than a full loaf. I like to line my pan with parchment sheets prior to baking, so when I pull it out of the oven, I can easily lift it out by the parchment sheets. I always suggest letting a quick bread cool on a rack like this one, but rarely manage to let the bread cool all the way before slicing it. It's hard to wait for this goodness! I recently got a new serrated bread knife and it worked really well with this bread. Where has that been all of my life? You bread baking folks had been keeping a secret from me. 😉
Are you a fan of banana pudding? This makes a great parfait layered with chunks of this bread, banana pudding (I like this recipe) and coconut whipped cream. Or, as I mentioned above, just slice it and spread a bit of jelly on top. If peanut butter and jelly existed in cake form, this would be pretty close to it. But my favorite way to eat this bread? Simply sliced, by itself. Already a favorite around here!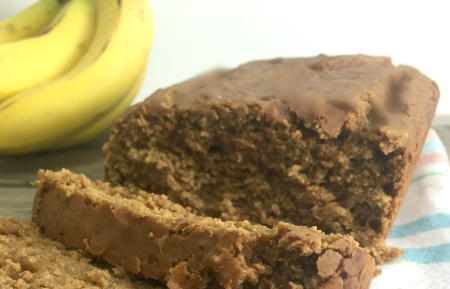 Peanut Butter Banana Bread, gluten-free, dairy-free, egg-free and vegan!
Ingredients
1 3/4

cups

Johnna's favorite gluten-free flour blend

1

cup

coconut sugar

1 1/2

teaspoon

baking powder

1/2

teaspoon

sea salt

1

Tablespoon

apple cider vinegar plus

1

cup

(scant) dairy-free milk (I use my hemp milk or unsweetened almond milk)

1/2

cup

smooth peanut butter

1/4

cup

mashed banana

2

Tablespoons

maple syrup
Instructions
Preheat oven to 350 degrees. Line a standard loaf pan with parchment sheets.

In a liquid measuring cup, add 1 Tablespoon apple cider vinegar, then add enough dairy-free milk to equal one cup. This will make buttermilk. Set aside to allow to "curdle" while mixing other ingredients.

In a medium mixing bowl, whisk together flour, coconut sugar, baking powder and sea salt. Set aside.

In a second bowl, mix together peanut butter, mashed banana and maple syrup. Stir in milk/vinegar mixture. Once combined, add to dry mixture.

Mix just until combined. Pour into the loaf pan.

Bake at 350 degrees for 45 to 50 minutes. A toothpick or skewer inserted into the middle will come out clean when done.

After 10 minutes out of the oven, gently lift the loaf out using the parchment sheets. Move to a cooling rack. Try your darnedest to wait for it to cool completely before slicing. Enjoy!