This post contains affiliate links. See my disclosure for more information.



Instant Pot Banana Bread, Gluten-Free and Dairy-Free
I wasn't sold on the benefits of "baking" in the Instant Pot. It takes about the same amount of time as in the oven, requires a round pan instead of a traditional loaf pan. What could possibly be the benefit other than heating up the oven? Well, let me tell you: it's the best texture in banana bread I've had! I started with a tried-and-true recipe developed in my own kitchen and modified only slightly to make it work well in the Instant Pot. I'm beyond excited to share the recipe with you so you can experience this in your own kitchen, too!
As I mentioned, a traditional loaf pan doesn't fit in my six-quart Instant Pot. But what does fit is a 6 inch round by 4 inch deep Fat Daddio cake pan. (If you have a Sur La Table store nearby, they usually have these in the store.) I'm now eyeing the cheesecake pan from this same collection. I'll be the gal in the store carrying her Instant Pot insert to see what bakeware fits inside…

Beyond needing an Instant Pot and a 6″ deep cake pan, you should consider the following to make this banana bread:
Johnna's Favorite Gluten-Free Flour Blend. I use this for nearly all of my baking, with the exception being yeast bread. There is no gum in this blend and you can mix up a canister of your own for much less than buying store bought gluten-free blends.
Vanilla Bean Paste. I love the deep, rich vanilla flavor this adds to baked goods, so much nicer than vanilla extract
Plenty of aluminum foil to wrap the pan before placing in the Instant Pot.
Parchment circles. When baking in the Instant Pot, it's a good idea to have parchment lining the bottom of the pan. You could cut your own circles or you could just buy these and be all set every time you want to bake in your Instant Pot.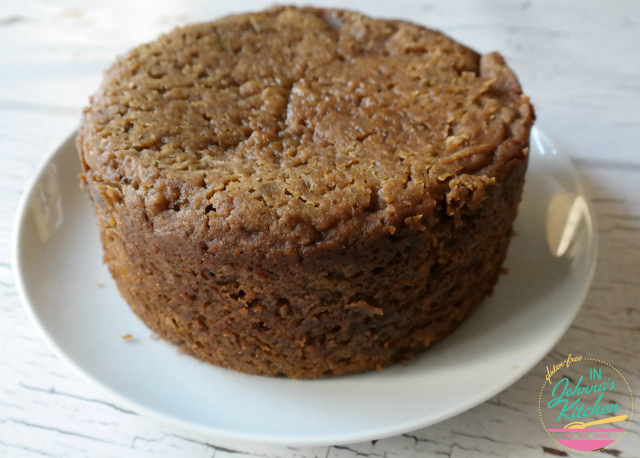 Alright! Let's get moving to the recipe. Click below to get the super easy, incredibly delicious Instant Pot Banana Bread recipe!