This post contains affiliate links. See my disclosure for more information.


Finally, a truly tropical cocktail for the Boozy Advent series. Today, a slightly modified version of a Painkiller cocktail.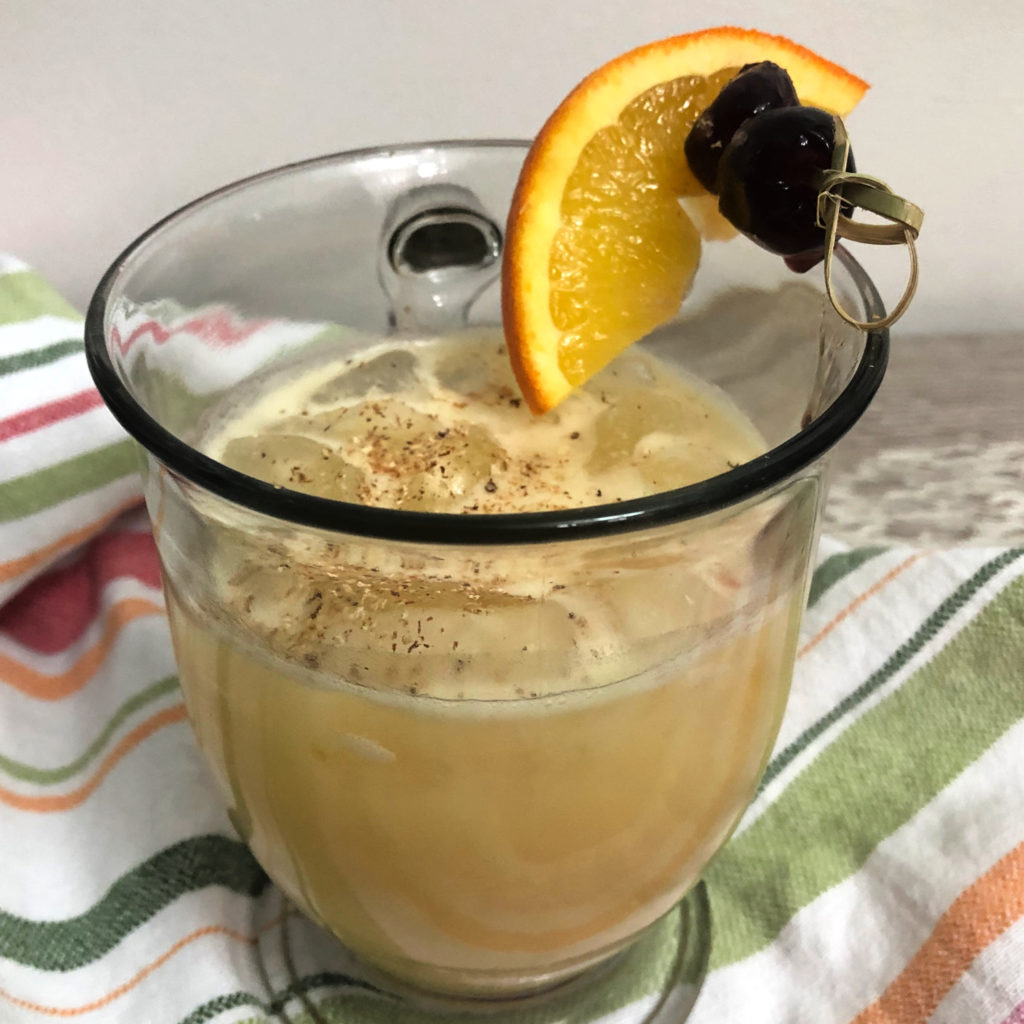 The Painkiller cocktail originates from the Soggy Dollar Bar on Jost Van Dyke in the BVIs. Soggy Dollar because there is no dock, you have to swim or wade through the water to get there, hence soggy dollar.
In the 1970's, Soggy Dollar bartender Daphne Henderson created this drink which ultimately caught the attention of Charles Tobias, the founder of Pusser's Rum. Daphne refused to share the recipe, Charles attempted to re-create the recipe at his home in Tortola and decided on a 4-1-1-1 ratio of pineapple, orange, coconut and rum.
This is a favorite cocktail here and I don't quite agree with the ratio, using anywhere from 2-4 ounces of rum instead of the 1 ounce Charles Tobias reportedly preferred. I'm going to venture a guess that most use a bit more than 1 ounce of rum when making this, too.
While more Caribbean than tiki, this seems to be a staple at tiki bars. Johnna is a fan of the Painkiller cocktail and often has one when we visit a tiki bar. I asked her about that when making this one. She counted at least five countries where she's ordered a Painkiller at a bar, tiki bars in three countries and general beach bars just about anywhere. Then I lost her attention as she went off to browse plane tickets. This cocktail does make you think about a beach vacation. She's probably watching the webcam from Soggy Dollar Bar. Who could blame her? It's currently 21 degrees here.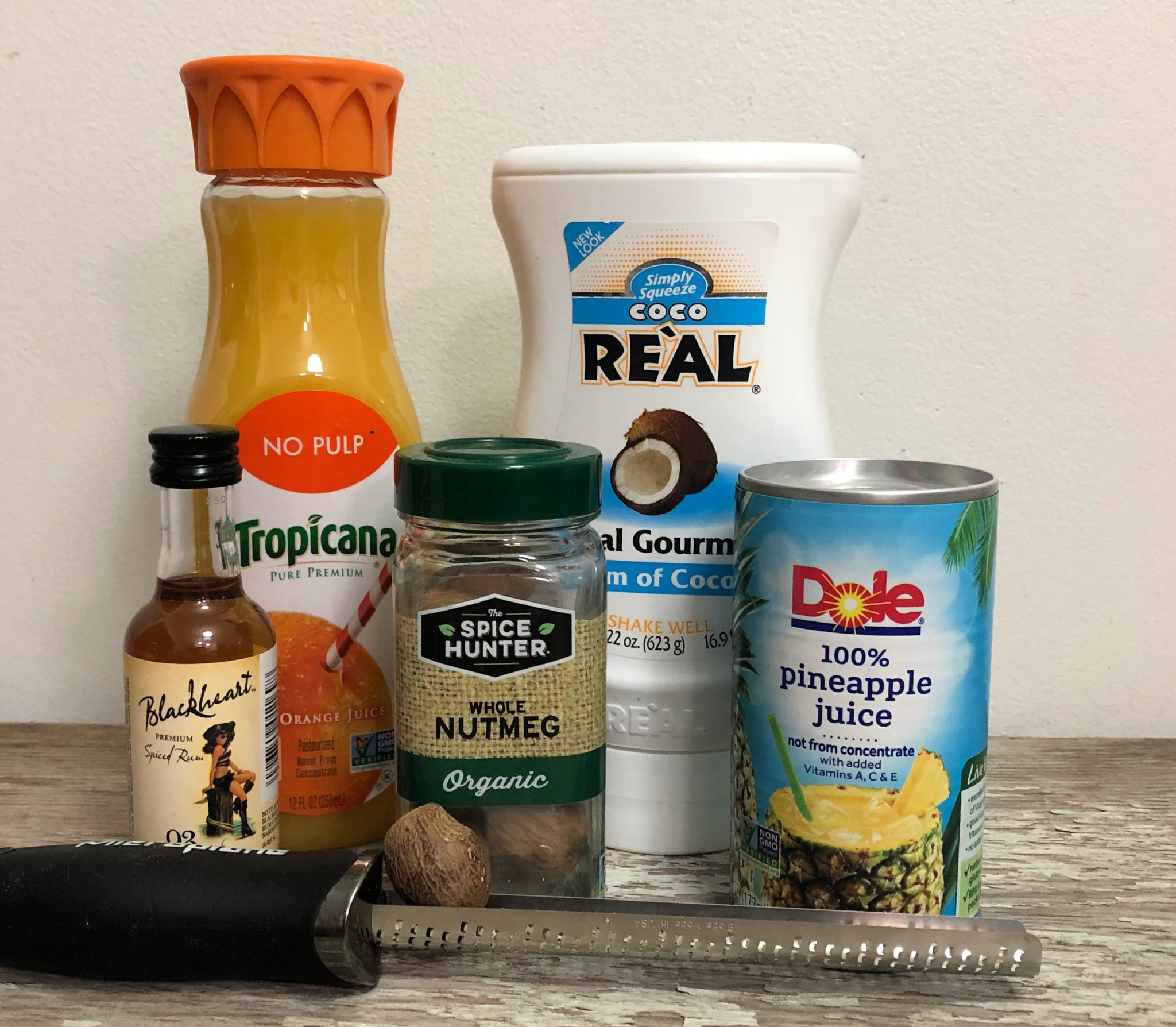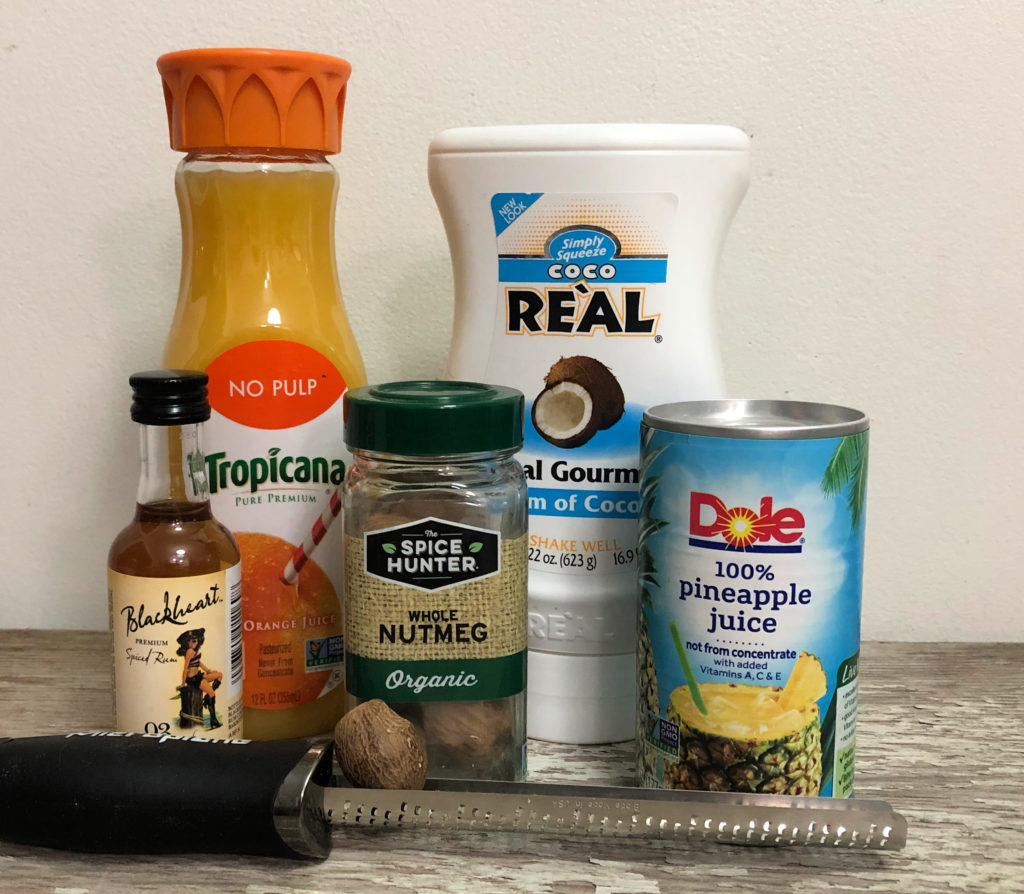 Ingredients: Pineapple juice (juice your own or buy fresh if you can, Johnna juiced 10 pineapples for my birthday party recently and it makes a big difference), orange juice (same, fresh if you can), cream of coconut (I buy Coco Real), Pusser's Rum, nutmeg. Since I couldn't find Pusser's Rum in a mini bottle, I used Blackheart spiced rum. Stick with Pusser's, it's better in this cocktail. Garnish with a nice amount of fresh grated nutmeg, Luxardo cherries* and an orange wedge. If you are looking for a fun stocking stuffer type gift for a friend who enjoys cocktails, this little microplane (it's available from Amazon) and a jar of whole nutmeg is nice.
*Luxardo cherries are the original maraschino cherry. There's no bright red artificial color here, just marasca cherries in marasca cherry syrup, made in Italy. Once the cherries are gone from the jar, save the syrup. You can use this in cocktails that call for a simple syrup or a flavored syrup. You can also pour the syrup on top of a warm brownie.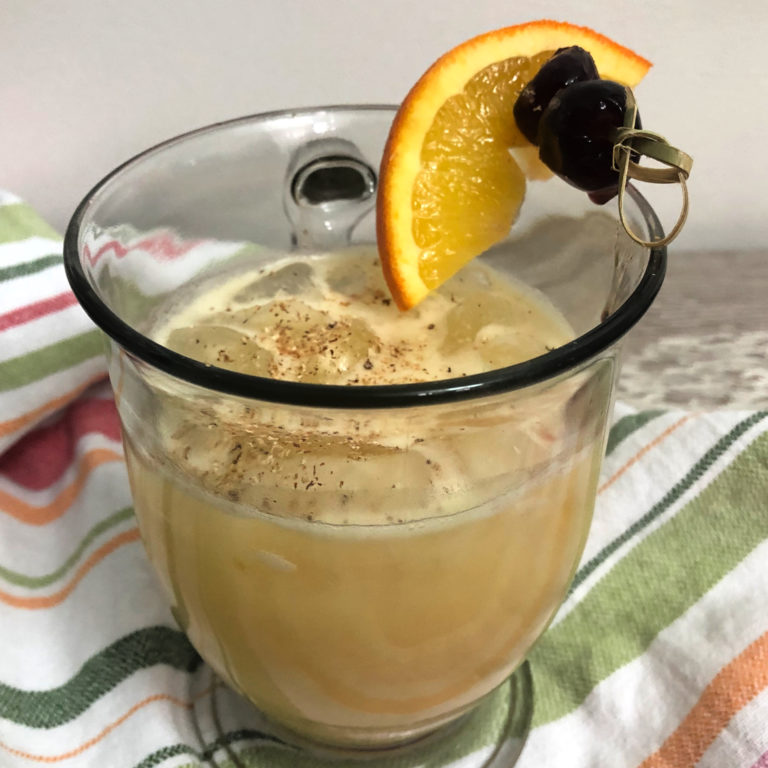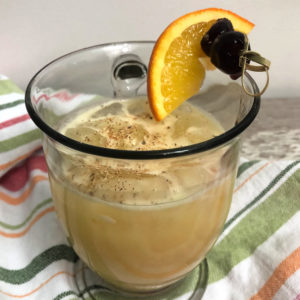 Painkiller Cocktail
Ingredients
4

ounces

pineapple juice

1

ounce

orange juice

1

ounce

cream of coconut

2 to 4

ounces

Pusser's Rum

fresh grated nutmeg

luxardo cherries

orange wedge
Instructions
Add pineapple juice, orange juice, cream of coconut and rum to a shaker filled with ice. Shake vigorously.

Strain into a glass filled with ice.

Top with fresh grated nutmeg. Garnish with Luxardo cherries and an orange wedge.
In case you missed the introduction, there is a Boozy Advent series going on here, written by Johnna's Favorite Fella John. He's sharing a cocktail each day, inspired by the Boozy Advent Tree purchased from Annie's Barn. Follow along each day through Christmas for a new cocktail recipe each day!
Day 1: Bourbon Nog
Day 2: Kahlua Ginger Fizz
Day 3: Bourbon Cider
Day 4: Tequila Manhattan
Day 5: Cinnamon Roll Cocktail