This post contains affiliate links. See my disclosure for more information.


Let's kick of Advent with a new series here, Boozy Advent. First up, Bourbon Nog. Here's the scoop on how this got started:
It seems there is an Advent Calendar for everything these days. Wine, cheese, beer, chocolate, I even noticed a dog treat one at Trader Joe's. While getting into the spirit of the season, I spotted this fun advent tree from Annie's Barn.* It holds mini bottles, or maybe you call them airplane bottles?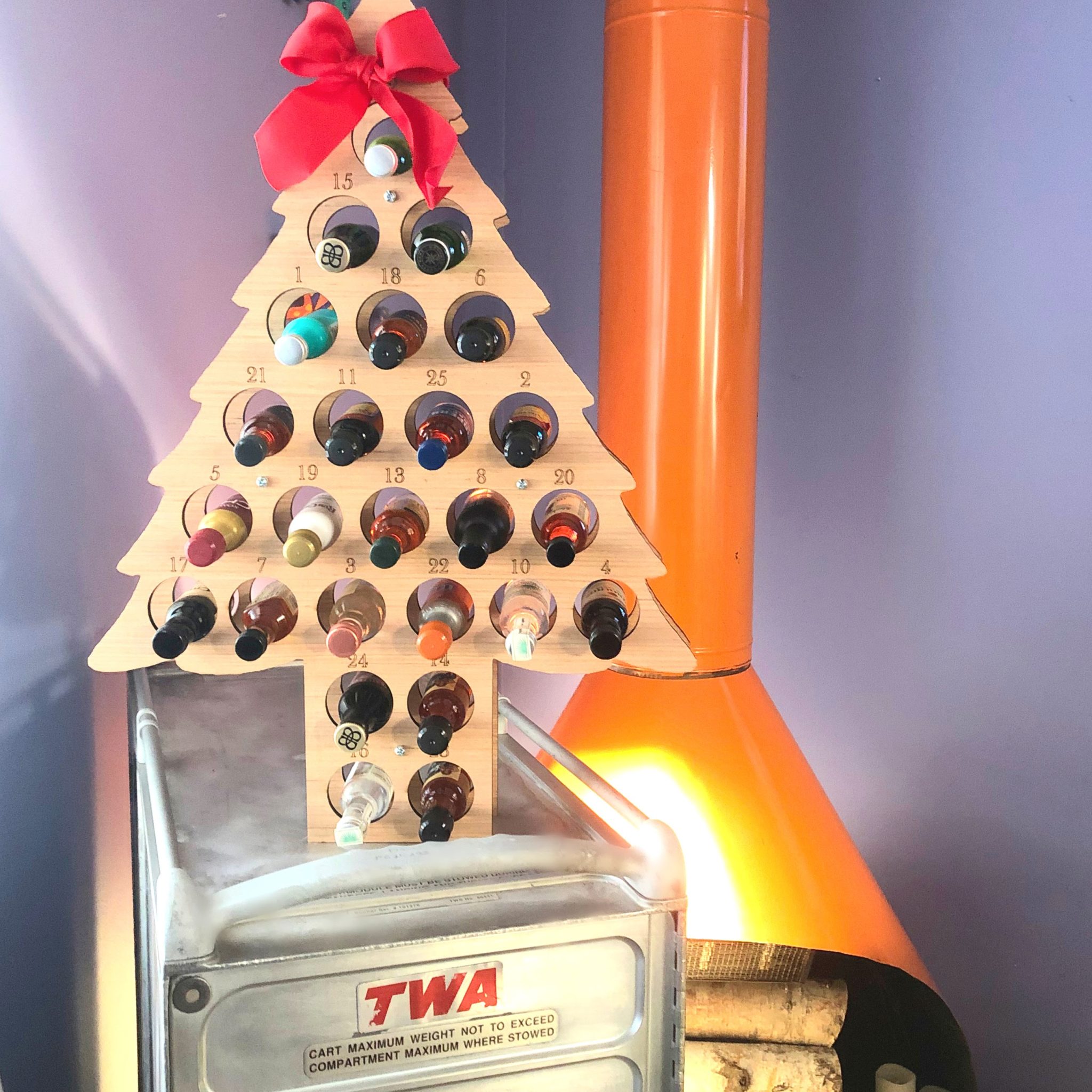 *Annie's Barn is a small business local to my area. There is also a White Claw version available and one that holds those mini bottles of wine. If you enjoy a bit of snark, you'll love all of the goodies over there and you'll be buying from a small business. I think that's especially important this time of year.
Our bar cart is a vintage TWA airplane beverage cart. You know, the kind that bumps into your elbows if you sit in the aisle seat. Snagged at an airplane boneyard several years ago, it's one spot in our house that doesn't have any Christmas decor. Fixed it! I knew this was perfect for my favorite fella who enjoys making cocktails and would work well with the theme of our bar cart.
Finding mini bottles was a fun adventure. Not all fit, the funky shaped tequila bottles are a particular challenge. And not all of my fella's favorite spirits were easily found in our area. A friend in Kentucky sent a really thoughtful package including lots of mini bottles of bourbon.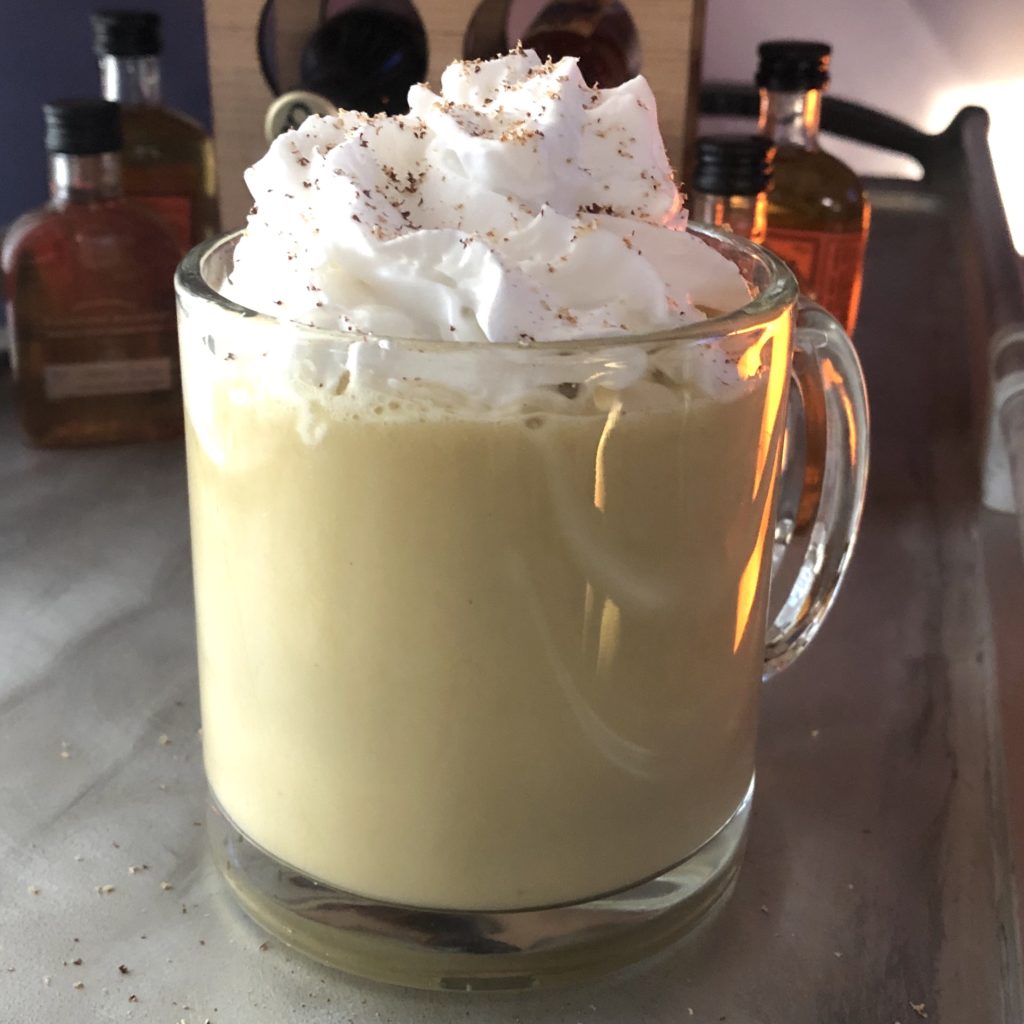 Now that the tree is loaded up (and then some!), what to do? Well, my favorite fella decided he was going to make a different cocktail each day of advent AND he wanted to share the recipe here. So with that, I'm handing things over to him for the next three weeks. Enjoy!
Oh, wait! I forget to introduce you to my favorite fella. This is John. We've been married for 8,877 days and have been on a million silly trips to offbeat places together, usually in search of a meal or a cocktail. You're gonna love his cocktails!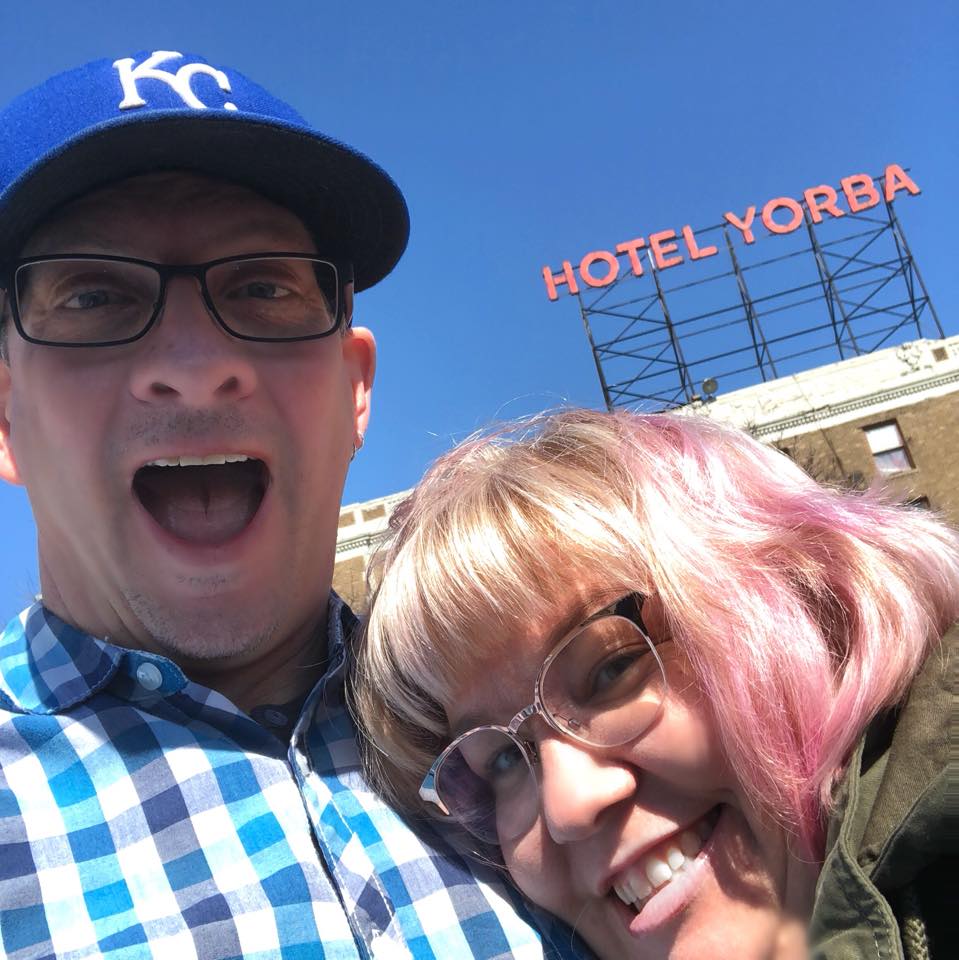 Hello! I'm John, the favorite fella. I'm sharing a single serve cocktail recipe for each day of advent, based on a mini bottle. Bourbon is my favorite so let's start with a variation on eggnog, without egg or dairy.
I used Califia Farms version of nog because it's available at Target. Use whatever nog works for you. Knob Creek is my favorite bourbon for a nog. The coconut whipped cream came from Trader Joe's. On top, fresh grated nutmeg. Buy yourself this little grater from Amazon and whole nutmeg. This is a game changer for cocktails and takes very little time. Johnna usually buys nutmeg from Penzeys. I bought this locally and it's not quite as fragrant, so go to Penzeys or order online.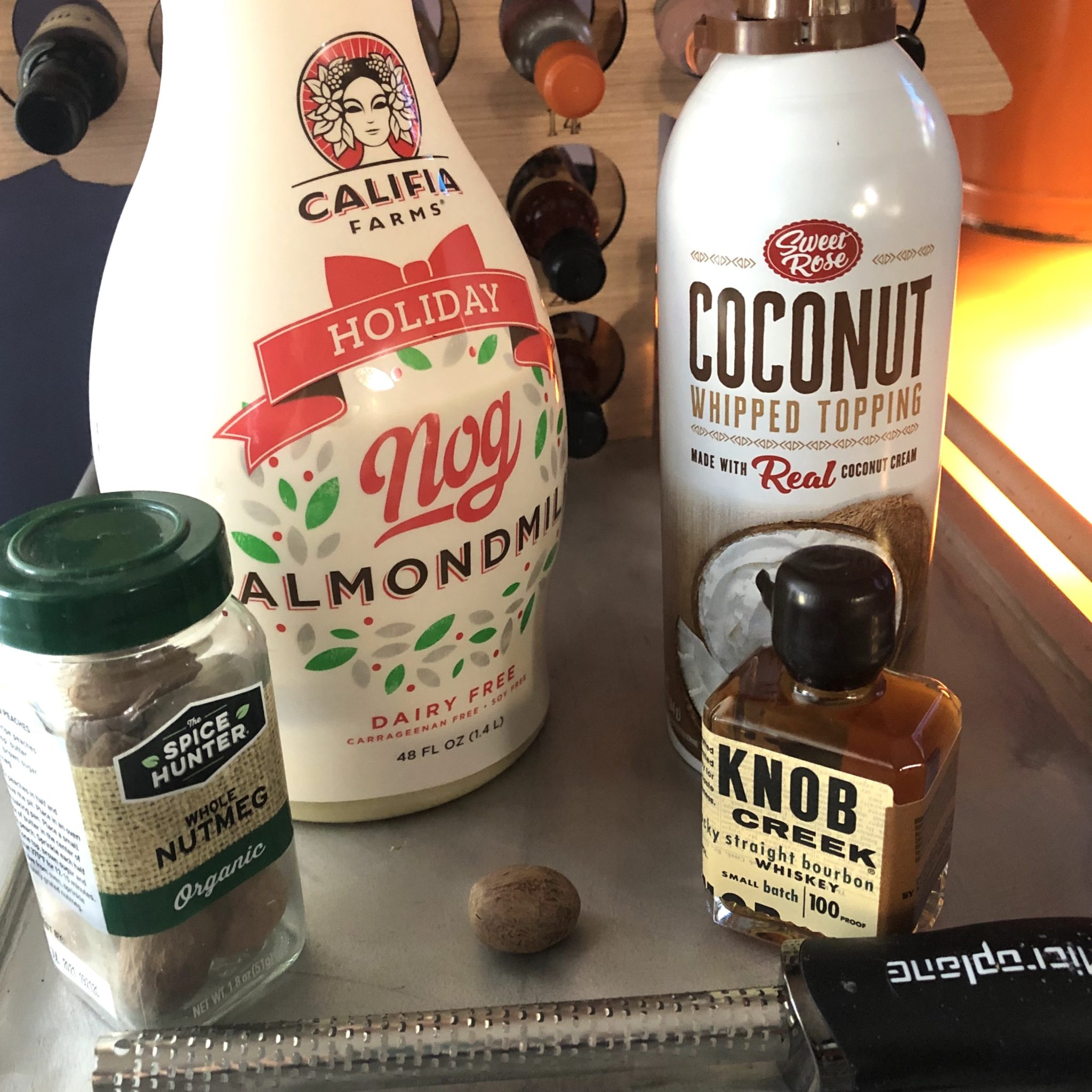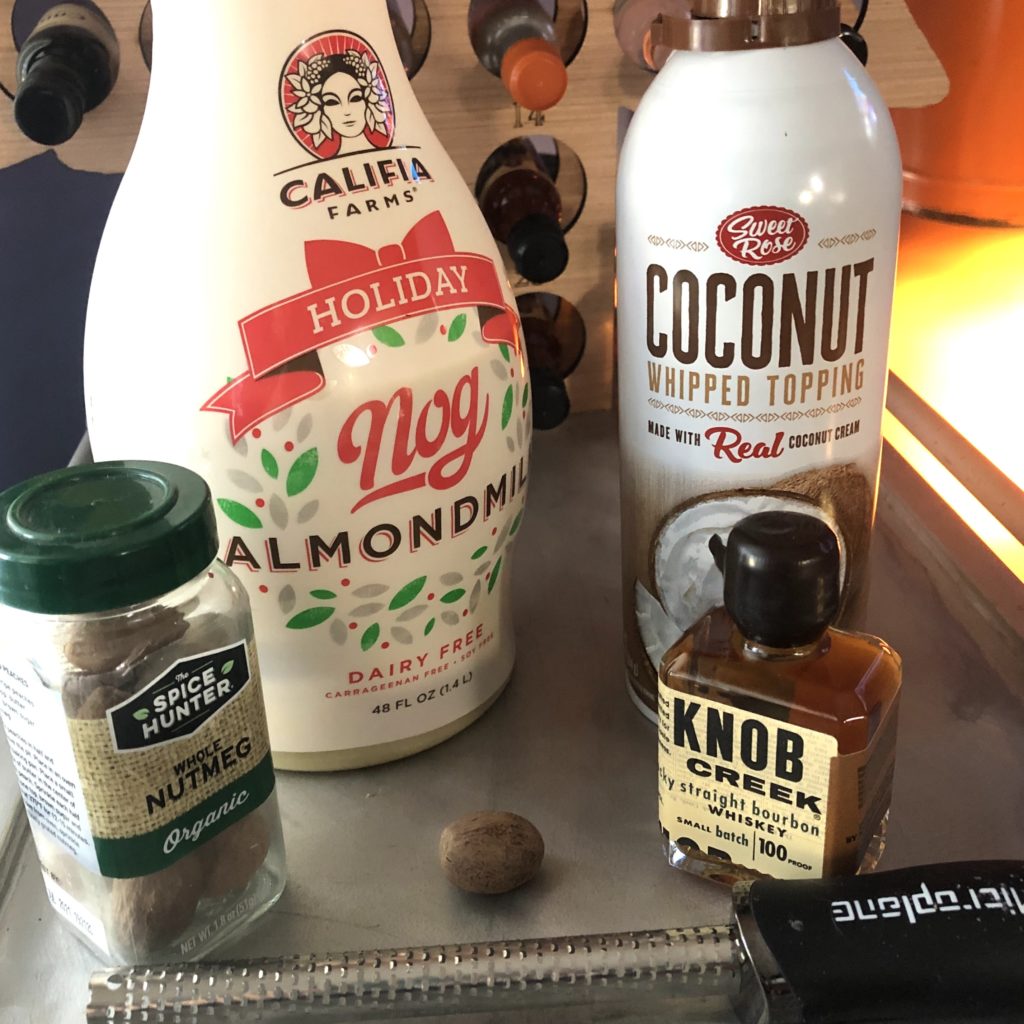 Ok, here's the recipe. Simple, few ingredients and quite tasty.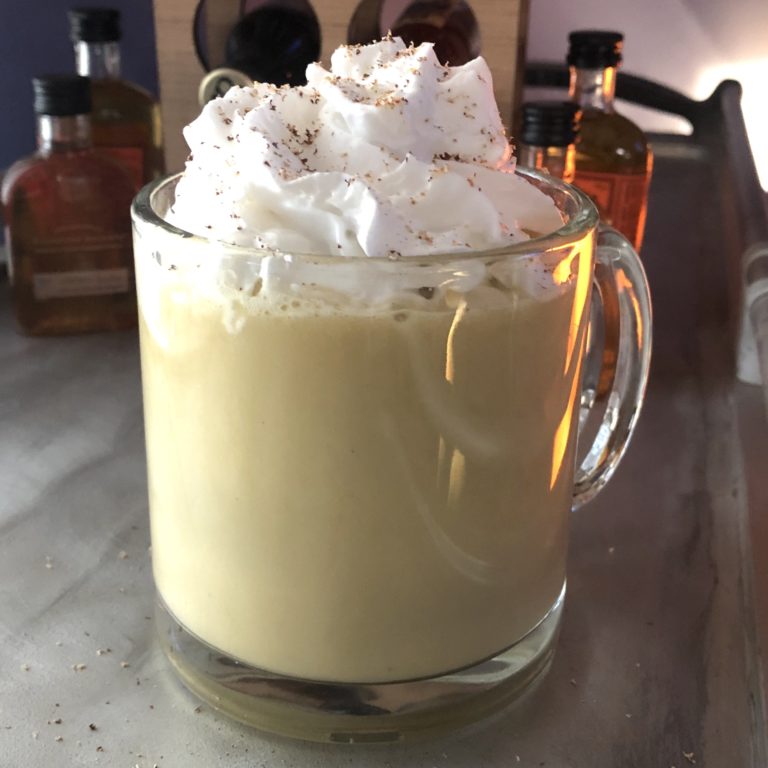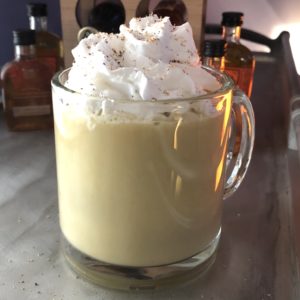 Bourbon Nog
A single serving cocktail free of gluten, dairy and egg
Ingredients
1

mini bottle

bourbon

(55ml bottle Knob Creek used here)

8

ounces

prepared nog, egg nog variety of your choice

whipped topping of your choice

fresh grated nutmeg
Instructions
To make cold, simply mix bourbon and nog together. Top with whipped topping and a dusting of fresh grated nutmeg.

To make hot: Heat nog using your preferred method (microwave, stovetop, campfire) and then stir in bourbon. DO NOT heat the bourbon. Flammable. Plus supposedly cooks off the booziness. You don't want that. Top with whipped topping and a dusting of fresh grated nutmeg.