This post contains affiliate links. See my disclosure for more information.


For Day 14 of Boozy Advent, I made a Bourbon Banana Colada inspired by Shirley of Gluten-Free Easily. You can find her original recipe here.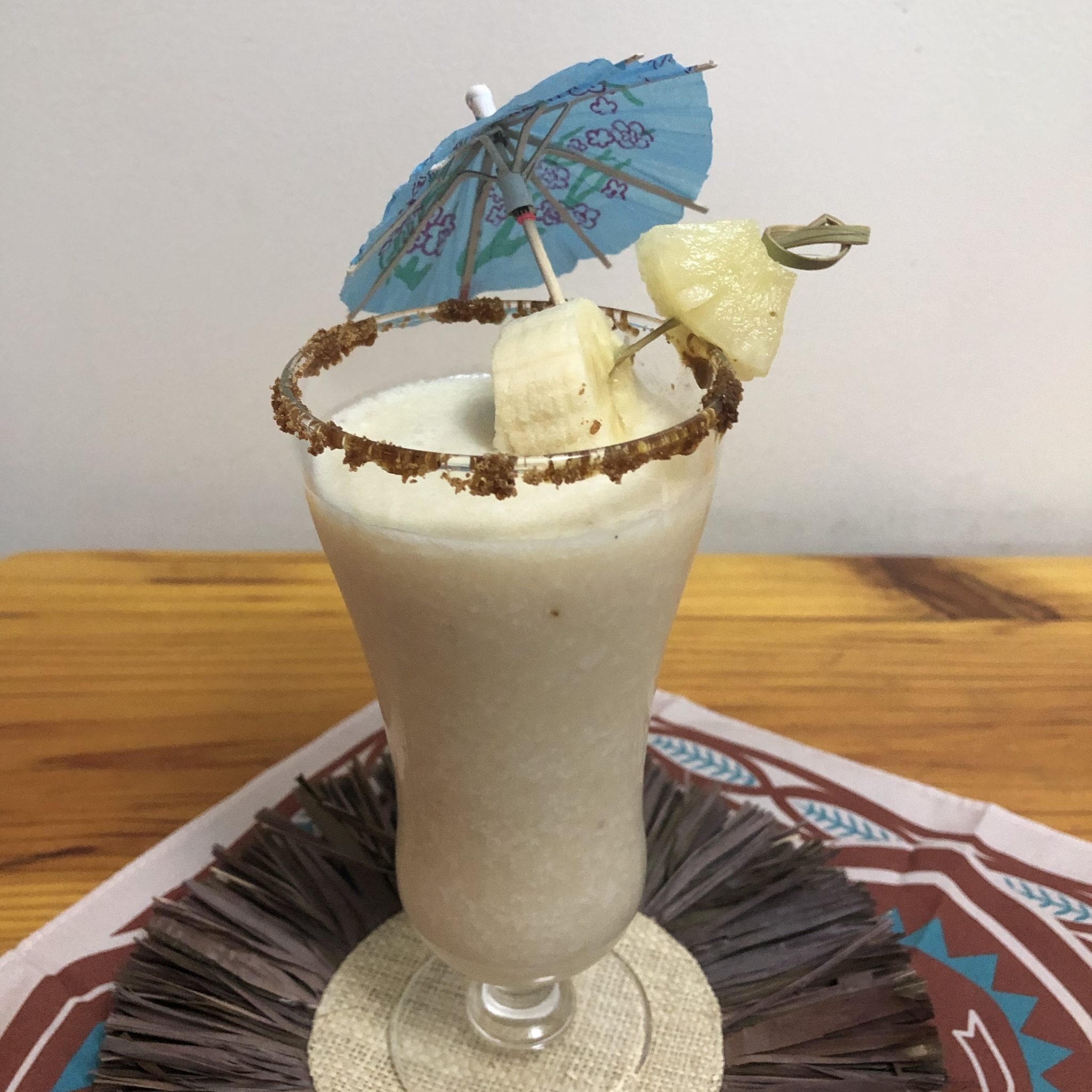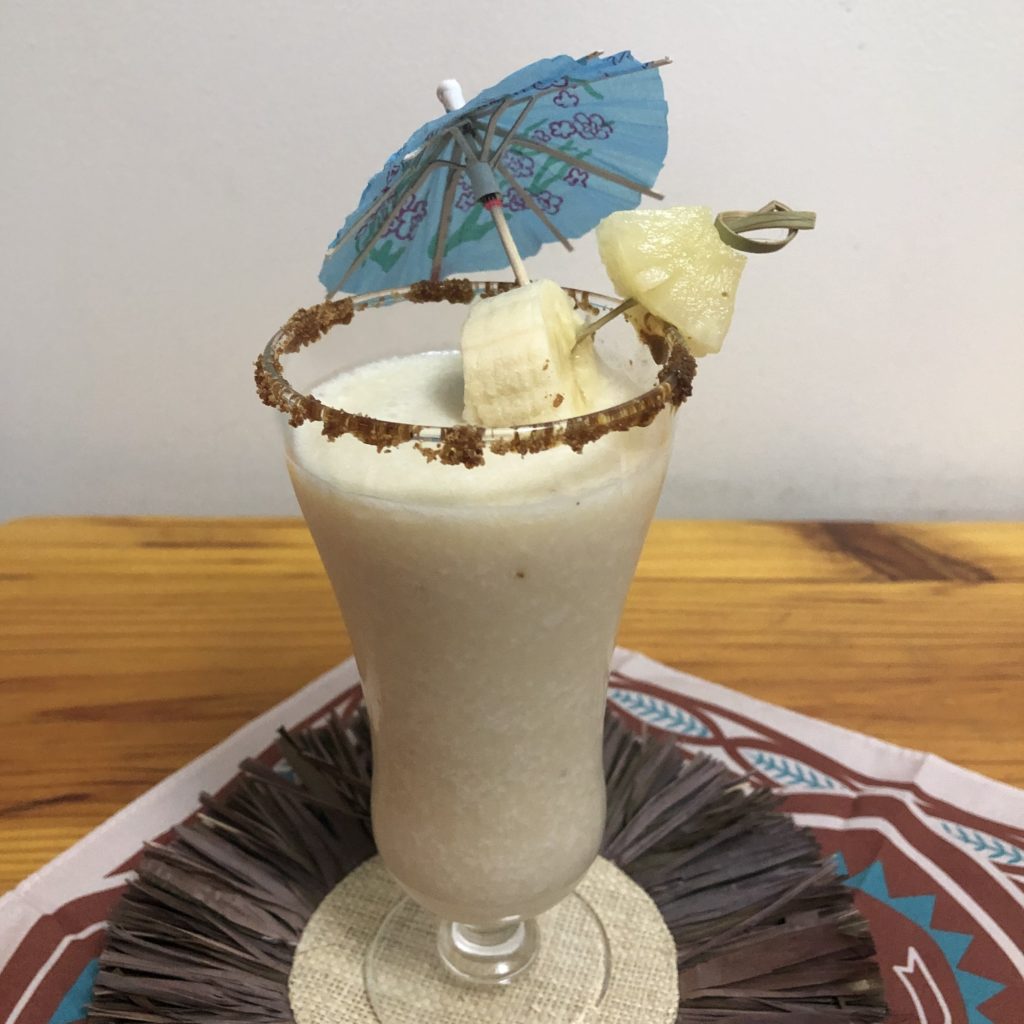 Shirley does a great job of sharing the history of the BBC, traditionally made with Baileys, in her post. The best cocktails come from travels and this one has a great story about discovering the BBC in the BVIs.
I don't want to veer too far off topic from Boozy Advent, but I'm going to for a minute before writing more about this cocktail.
When Johnna was diagnosed with Celiac disease, the doctor gave her a list of what not to eat and sent her on the way. She went first to the bookstore, where she bought the only two gluten-free cookbooks they had. Then she spent a very long time at the grocery store across the street from the bookstore. She was reading labels and trying to figure out what she could eat.
It didn't take her long to figure out that there were solid gluten-free bloggers who knew what they were talking about, who shared recipes that worked and tasted great and were working hard to make sure erroneous information was dispelled. Some of them were much better resources than the doctor who diagnosed her with Celiac disease.
Shirley was one of the bloggers Johnna started following online and eventually made her acquaintance. I know people say all the time that online friends aren't real friends. Maybe that is true but it certainly isn't in the gluten-free community. Johnna has gone on to travel the world with gluten-free friends she made online, we've shared many meals with gluten-free people Johnna has met online. Some of them are a bit like family to us. Shirley is one of those people.
If you are looking for a no-BS approach to living gluten-free, need recipes that are made with mostly naturally gluten-free ingredients and need the lowdown on what's really gluten-free, you should follow Shirley's site. Because her recipes are so very easy to follow, I cook from them almost as often as I do from Johnna's recipe. Here are a few of the Gluten Free Easily recipes I use most often:
Pizza Bombs If you enjoy pao de queijo or chebe-style pizza, you'll love these.
That Chili with the Mushrooms This is a great vegetarian chili that carnivores enjoy.
Crustless Coconut Pie This pie is easy enough to make on a busy weeknight.
Ok, onward to the Bourbon Banana Colada. Here are the ingredients I chose: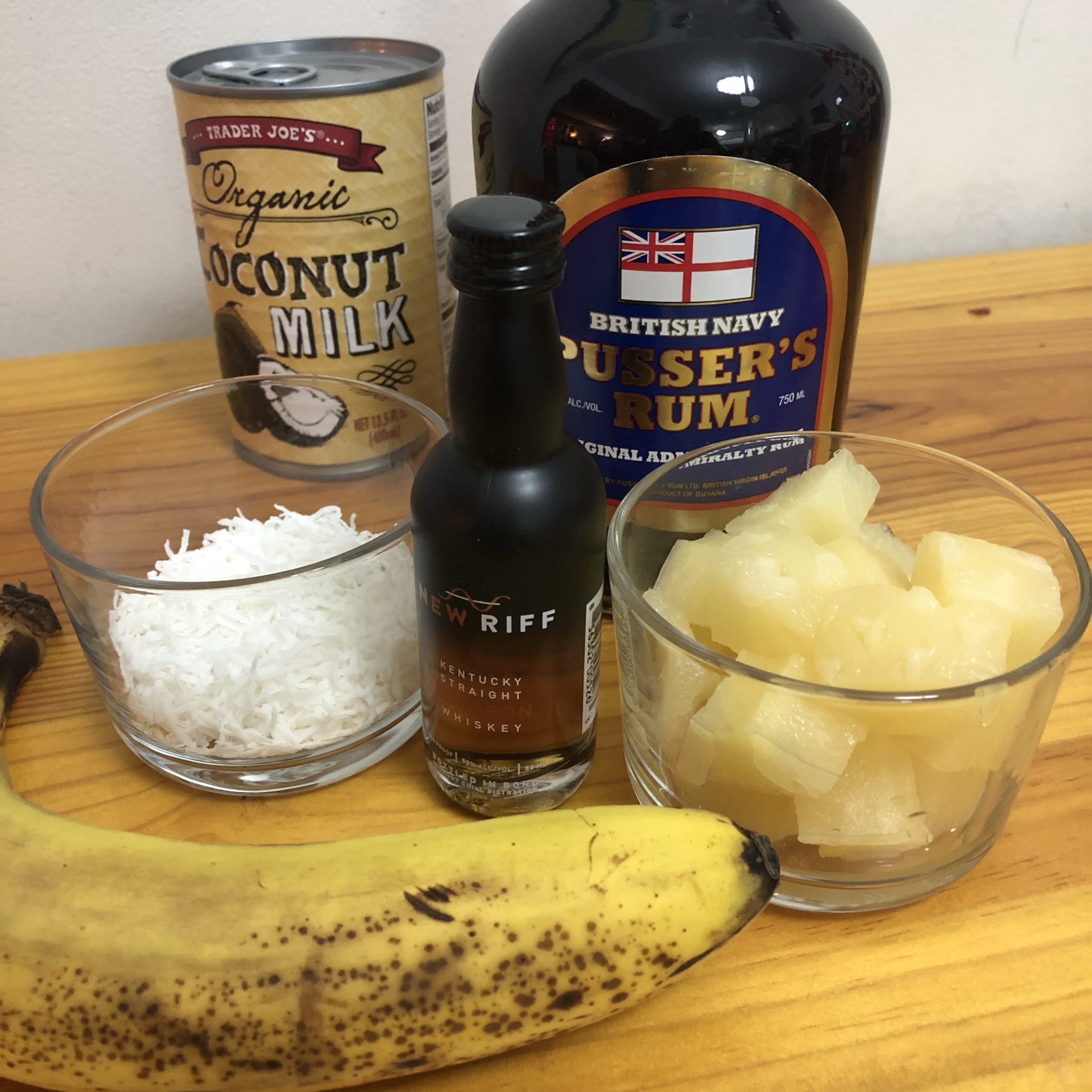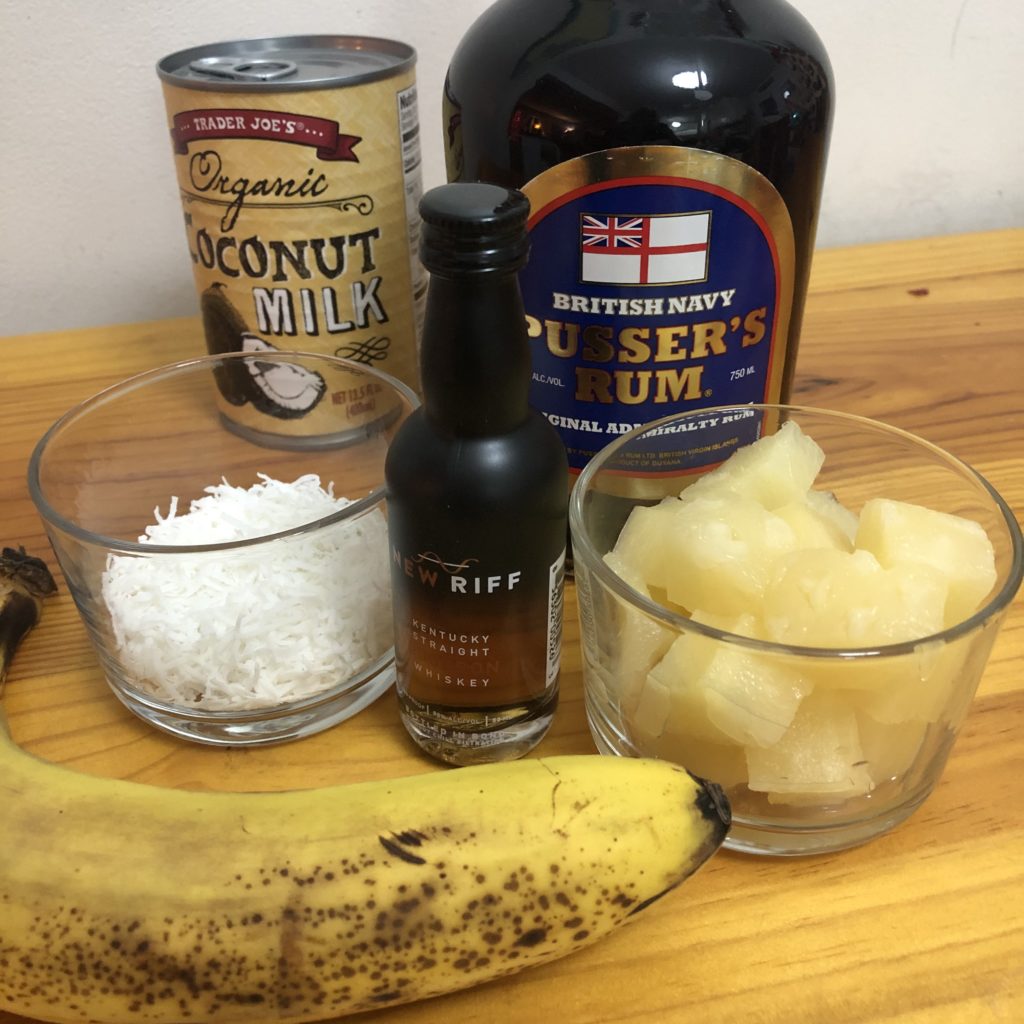 I used exactly half of Shirley's recipe and it made two nice sized cocktails. I used a frozen banana, canned pineapple, unsweetened coconut, canned coconut milk and coconut sugar on the rim of the glass. I used New Riff bourbon* and Pusser's rum, garnishing with banana and pineapple. We don't make a lot of frozen cocktails here, but would definitely make this one again. I tossed everything into the Vitamix, give it a whirl and it was ready to go. *I had not tried New Riff bourbon before. Our friend in Kentucky who sent mini bottles to fill the Boozy Advent tree sent it our way. I would buy it if I could find it in our area.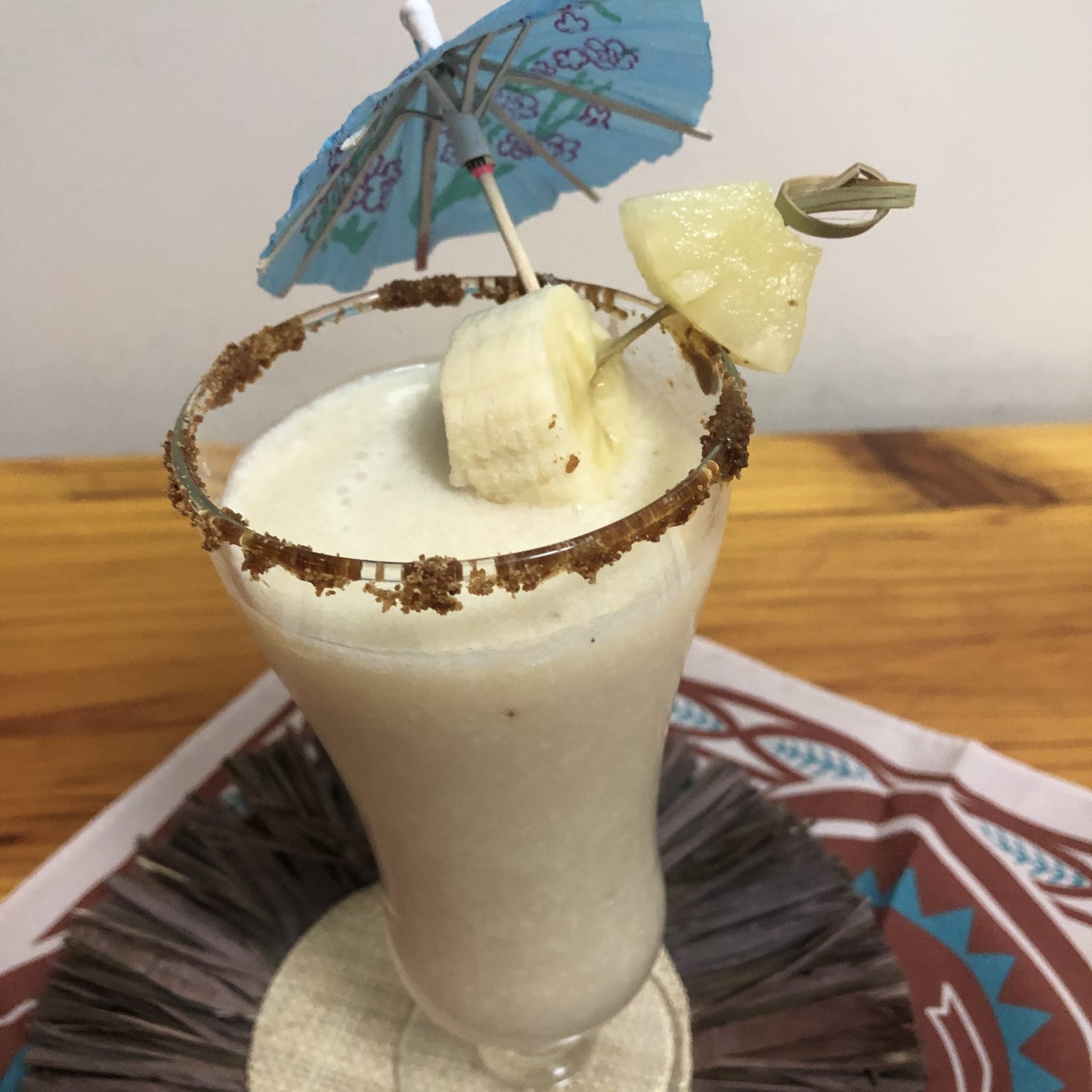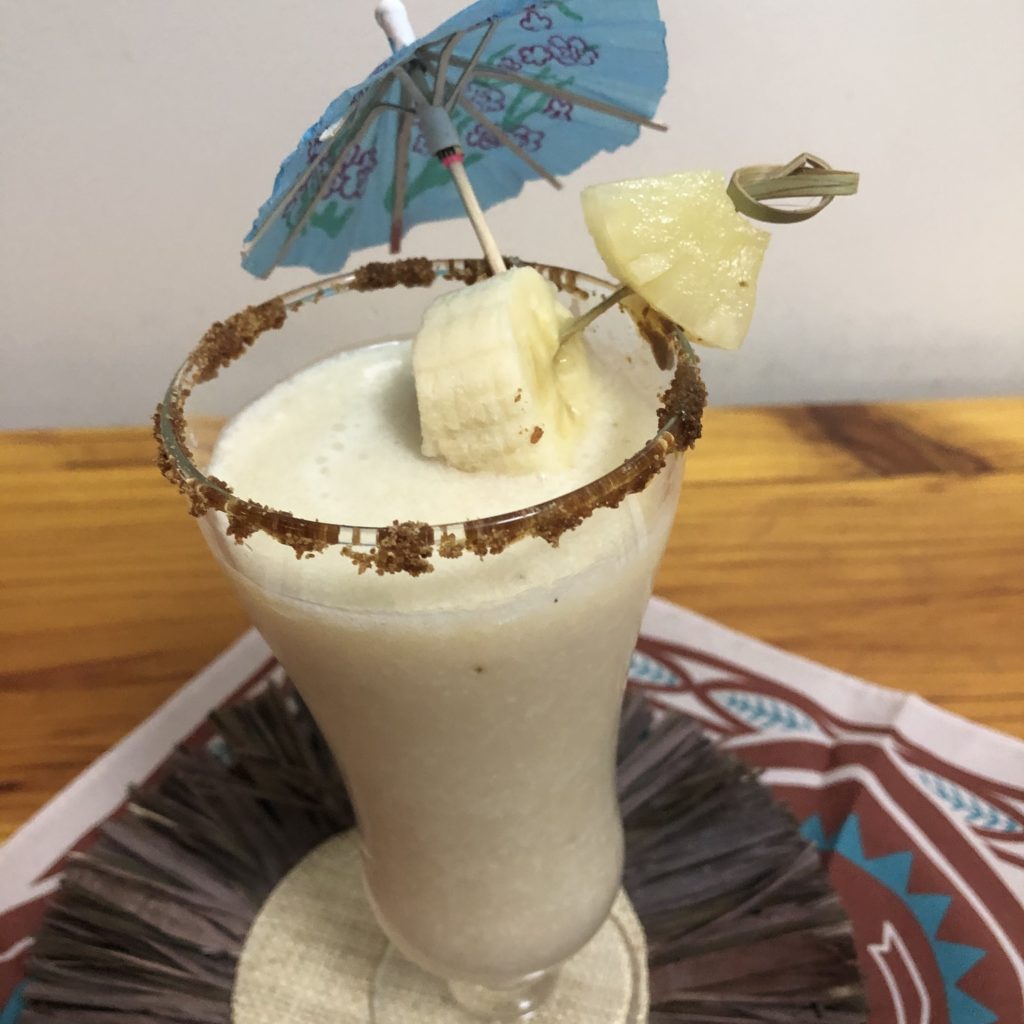 Here's the recipe from the original source. I hope you'll make this one. It's every bit as delicious as I've come to expect recipes to be from Gluten Free Easily.
In case you missed the introduction, there is a Boozy Advent series going on here, written by Johnna's Favorite Fella John. He's sharing a cocktail each day, inspired by the Boozy Advent Tree purchased from Annie's Barn. Follow along each day through Christmas for a new cocktail recipe each day!
Day 1: Bourbon Nog
Day 2: Kahlua Ginger Fizz
Day 3: Bourbon Cider
Day 4: Tequila Manhattan
Day 5: Cinnamon Roll Cocktail
Day 6: Painkiller Cocktail
Day 7: Scotch and Soda
Day 8: Santa Shot
Day 9: Bourbon Apple Cocktail
Day 10: White Russian
Day 11: Runaway Lime
Day 12: Brandy Maple Milk Punch