This post contains affiliate links. See my disclosure for more information.


For Day 15 of Boozy Advent, I made a Baby Yoda Margarita. Drink it, you must.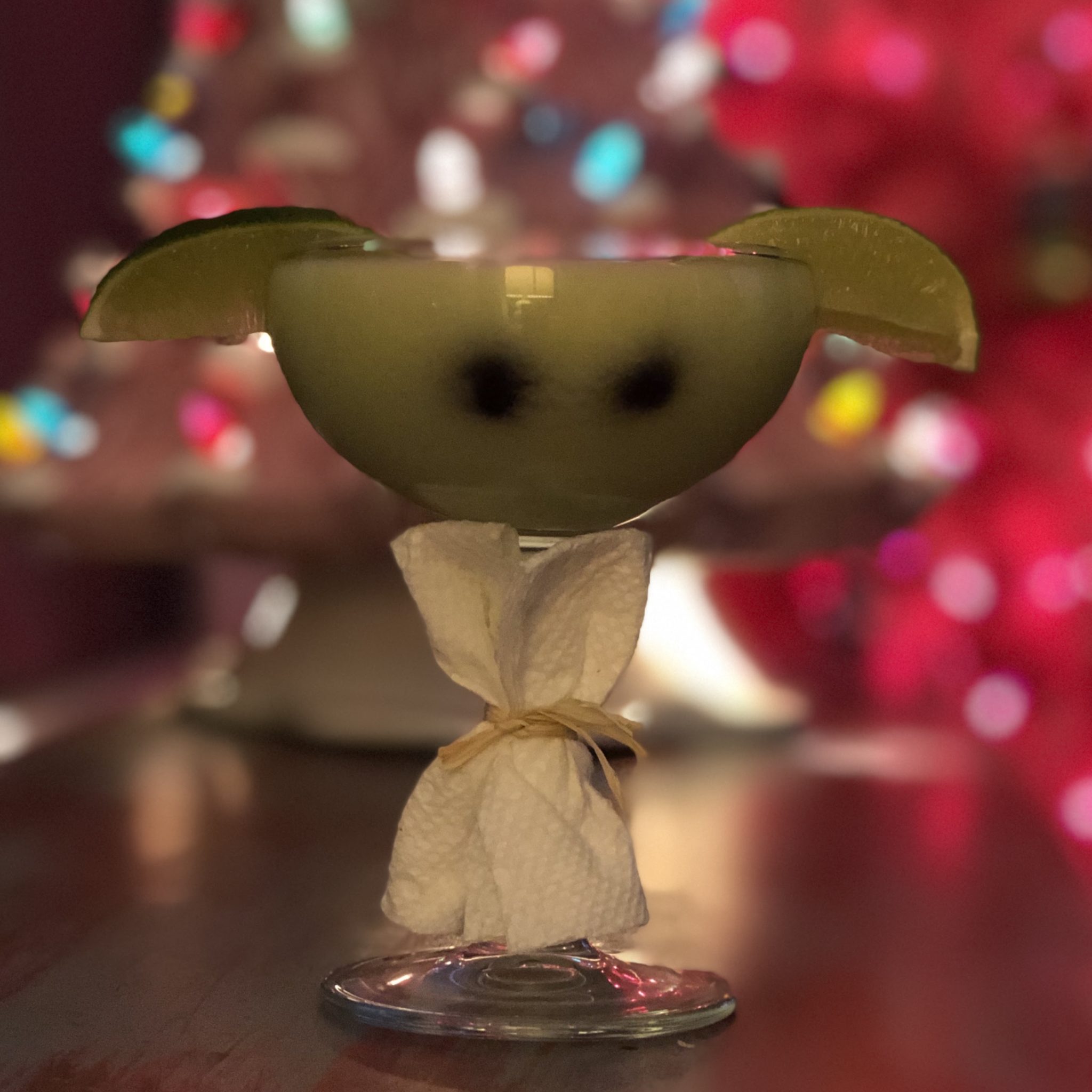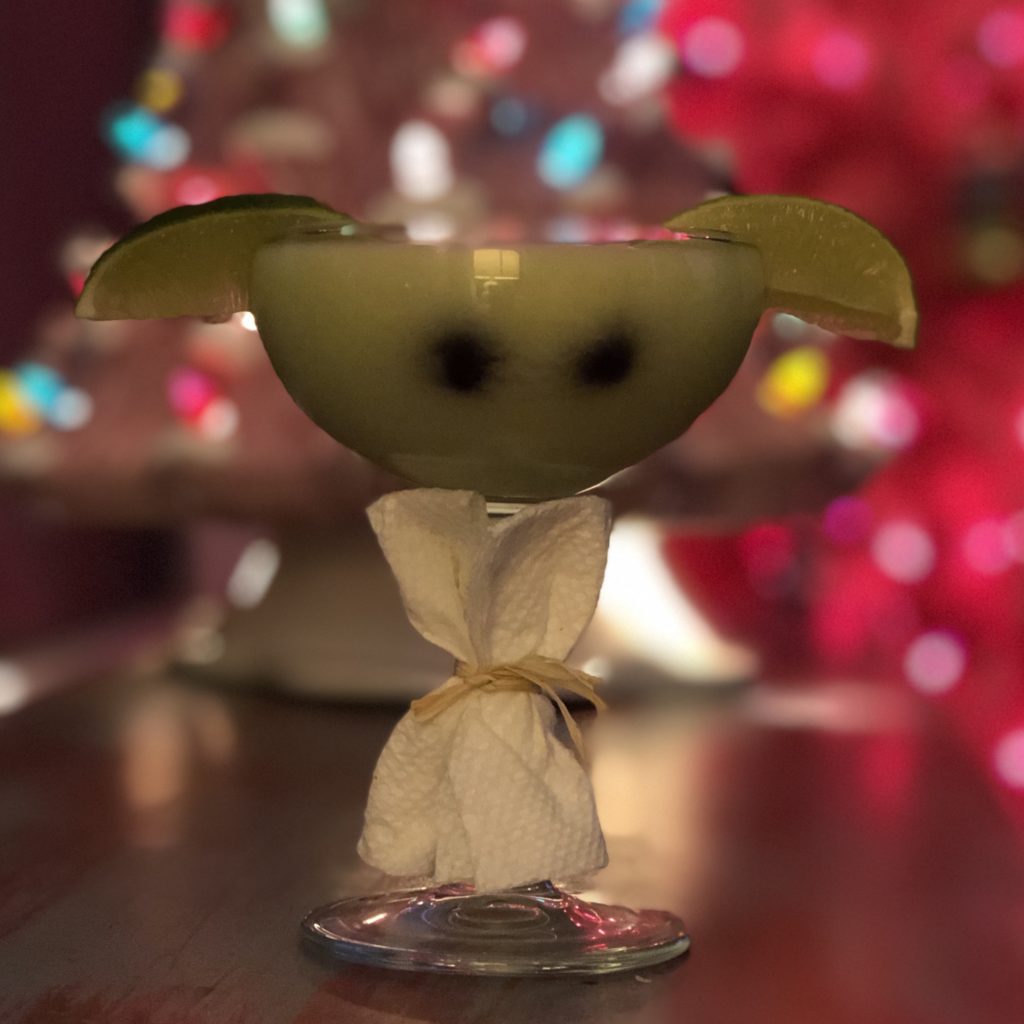 This is an easy variation on a margarita, very creamy thanks to the addition of avocado. Tequila, triple sec and lime juice round out the ingredients for the Baby Yoda Margarita.
The Baby Yoda-inspired bits added to this drink aren't original to me. In a local tiki group someone shared a link to a site with something similar. A quick searched turn up many versions popping up in the last two days. I've used a bit of paper towel for the robe and a piece of raffia for the belt. I got cheesecloth out, but ended up not liking how it looked plus wanted to use something most people would have handy. Some have shared pictures using a crumpled brown paper bag. The eyes are Luxardo cherries, available on Amazon. Lime wedges for ears. So easy and it's pretty adorable.
On to the recipe we go…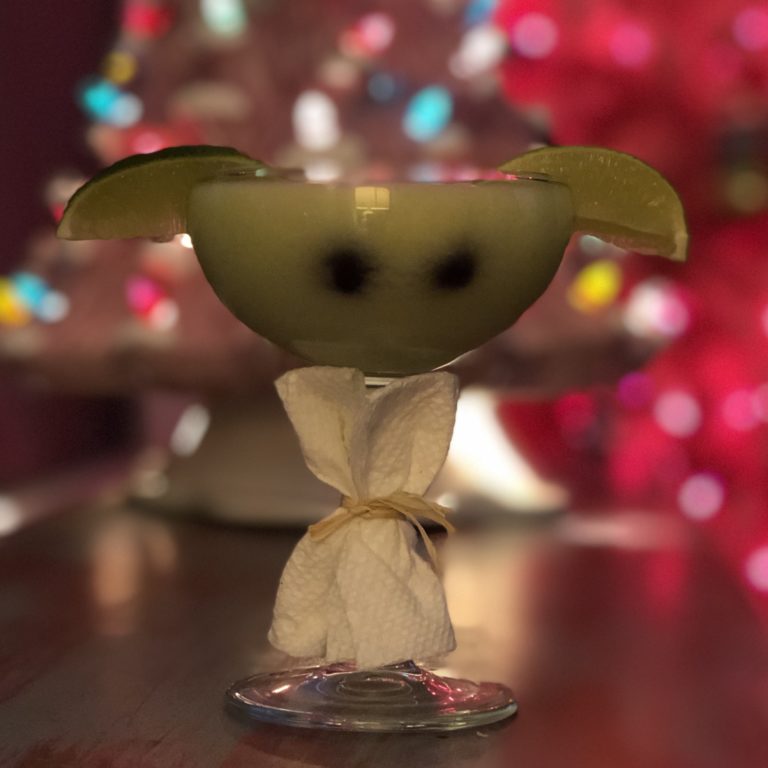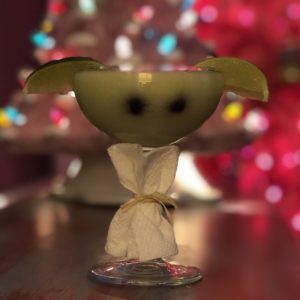 Baby Yoda Margarita (Avocado Margarita)
Ingredients
2

ounces

tequila

2

ounces

triple sec

2

ounces

fresh squeezed lime juice

1/3

avocado

1

cup

ice

2

Luxardo cherries

2

lime wedges

1

paper towel

4

inches

raffia or other twine
Instructions
Remove two Luxardo cherries from the jar. Place on a paper towel to drain. Turn a few times while preparing the cocktail to drain as much juice/syrup as possible so they do not discolor the drink.

Cut a piece of paper towel to fit the height of the stem of a coupe glass. Secure so that it looks like a robe with raffia or twine.

To the blender, add tequila, triple sec, lime juice, avocado and ice. Blend until smooth,

Pour into coupe glass. Add two lime wedges to resemble ears.

Use a toothpick to position Luxardo cherries to look like eyes.
Day 1: Bourbon Nog
Day 2: Kahlua Ginger Fizz
Day 3: Bourbon Cider
Day 4: Tequila Manhattan
Day 5: Cinnamon Roll Cocktail
Day 6: Painkiller Cocktail
Day 7: Scotch and Soda
Day 8: Santa Shot
Day 9: Bourbon Apple Cocktail
Day 10: White Russian
Day 11: Runaway Lime
Day 12: Brandy Maple Milk Punch
Day 13: Baileys Hot Cocoa
Day 14: Bourbon Banana Colada