This post contains affiliate links. See my disclosure for more information.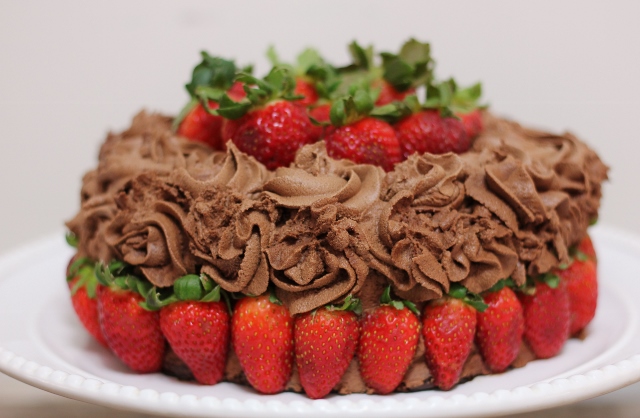 If you are offended by talk of the Fifty Shades of Grey books or movie, please skip the dialogue in this post and proceed directly to the bottom of this post for the recipe. Thank you.
This cake, you'll want it again and again. It will leave you screaming, begging for more. A mutually agreeable arrangement of chocolate and strawberries joining in sweet succulence; all of the indulgences colliding to create something so painfully right you can't resist it. Unrestrained, debaucherous, yet perfect for those of us with dietary restrictions including gluten, eggs, dairy and nuts. Don't wait for a birthday to make this one…it's to be indulged in today. 😉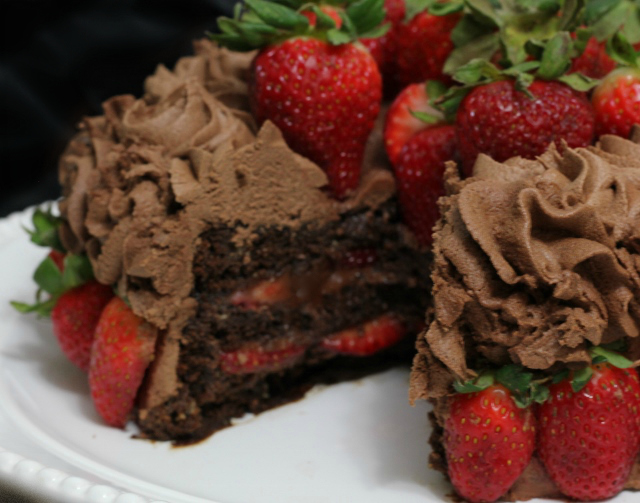 Oh my. Things got a little steamy in the kitchen dreaming about this cake. It's quite sexy as cakes go. And speaking of sexy and steamy, did you happen to read the Fifty Shades trilogy? (I'm not asking in judgment. If you did, you aren't alone.) Thinking of going to the movie later this week? Once I got past the urge to edit the books, my thoughts turned to all of the food they were constantly eating. And who can blame them? That kind of umm…activity requires plentiful sustenance! But what if one of them had food allergies or intolerances or couldn't eat gluten?
For a couple of years now, I've rolled around this silly thought of re-writing the books or at least snippets reflecting what life is really like for those of us who have food challenges. For example, if Anastasia couldn't eat gluten. Let's start with their first date at the Portland Coffee House: (Text in italics is mine.)
"Why don't you choose a table while I get the drinks? What would you like?" he asks, polite as ever.
"I'll have English Breakfast tea, bag out."
"Anything to eat?" he asks.
And here's where it gets awkward. First date. When do you decide to explain your "stuff," your food deal?
"No thank you." He pops a small piece of muffin into his mouth and starts to chew it slowly, not taking his eyes off me. (Note to self: Don't kiss him, he just ate gluten.)
But what happens further down the line…that's when it gets really tricky. A sleepover…
"You need to eat. Breakfast will be here in 15 minutes. You must be famished."
Crap, crap, crap! I'm going to have to tell him I can't eat what he's ordered. What if it's cross-contaminated? I don't want the cha-cha-chas around him. My inner goddess assures me to just pick at my food, eating only the garnish. Surely that's safe.
"I didn't know what you liked, so I ordered a selection from the breakfast menu."
I opt for eggs and fruit. Surely those are safe. Is this when I tell him? No, I'll wait.
Our next date includes a roadtrip. Sigh. What if we stop to eat along the way? He's always so insistent that I eat!
"Hungry?" he asks.
"Not particularly." Good grief, I'm going to have to tell him now.
"You must eat, Anastasia," he chides. "I know a great place. We'll stop there."
Ok. I'm going to do it. I'm just going to tell him my whole deal with food, get it out in the open. If he isn't understanding, better to end this now.
"How about I pick a spot, Christian? I can't eat gluten and it's sometimes a challenge to eat out. I have an app on my phone."
And because this whole series of books is an enormous fantasy, he replies:
"Of course, baby. I just wish you would have told me. I would have had a gourmet picnic packed just for you. We would have stopped at the marina for a romantic picnic and a quick romp aboard my sailboat. When you are with me, eating food that is safe and healthy for you will never be a worry. You won't have to think about this. I will take care of you; I need to know you are not hungry!"
What is it about him and food? Why was I so reluctant to tell him? My inner goddess is thrilled, complete with a sly, self-congratulatory smile on her face. I'm going to make sure he understands how much I appreciate him on his birthday next week. I bite my lip while contemplating how I can accomplish this…
Cake. I'm going to make him a cake. Not just any cake, but the most decadent, sinfully rich chocolate cake known to man. It definitely needs to be chocolate, no vanilla here…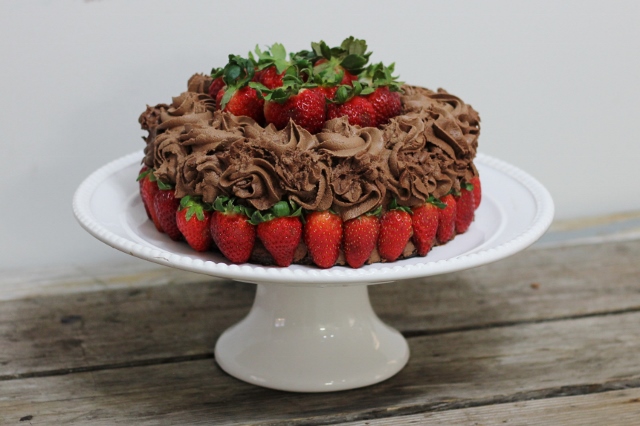 Below is my recipe for the most indulgent chocolate cake I've ever created. I've topped it with chocolate buttercream frosting and strawberries, which are also used between the layers of this triple-layer cake. If strawberries are not your thing, feel free to use any berry or no berries. This is a basic recipe that can easily be made into a wide variety of cakes. Make it yours. And report back. I love hearing from you!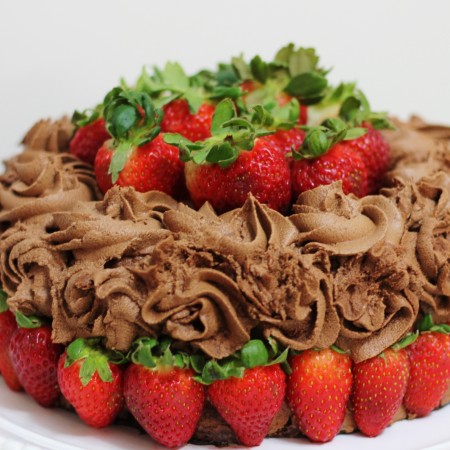 The Ultimate Chocolate Birthday Cake (gluten-free, dairy-free, egg-free, vegan, nut-free)
Ingredients
For the Cake:
1

cup

almond meal

, sunflower meal or sesame meal (photos show with sesame meal, see notes)

2

cups

coconut sugar

2/3

cup

cocoa powder

(indulge, buy a good one like Askinosie)

1

teaspoon

baking powder

1

teaspoon

baking soda

1

teaspoon

sea salt

1

teaspoon

guar gum

2

Tablespoons

chia powder

(finely ground chia seeds in high speed blender or spice grinder) in 6 Tablespoons hot water (this is an alternative to two eggs)

6

ounces

dairy-free yogurt

(soy, almond and coconut were all tested in this recipe)

1 1/4

cup

unsweetened dairy-free milk

(almond and hemp were tested in this recipe)

1/3

cup

grapeseed oil

2

Tablespoons

Vanilla Bean Paste or vanilla extract

2

teaspoons

powdered instant coffee

(optional but enhances chocolate flavor)

1

to 1 1/2 pounds fresh strawberries

, thinly sliced and patted dry, plus additional whole berries for the top and sides.
For the Frosting:
6

ounces

unsweetened chocolate

(I use Guittard)

5

cups

powdered sugar

8

Tablespoons

vegan butter

(I use Earth Balance)

4

Tablespoons

shortening

(I use Earth Balance or Spectrum palm shortening)

1/3

to 1/2 cup unsweetened dairy-free milk

(almond and hemp both work well)

2

teaspoons

Vanilla Bean Paste or vanilla extract
Instructions
For the Cake:
Preheat oven to 350 degrees.

Line three 8" cake pans with parchment paper. Lightly spray with nonstick cooking spray or oil of your choice.

In a small bowl, combine chia seed powder and 6 Tablespoons of hot water. Allow to sit and form a gel-like substance while you mix other ingredients. (This is often referred to as a chia slurry. It is an egg alternative.

In a large mixing bowl, combine flour, almond/sunflower/sesame meal, coconut sugar, cocoa powder, baking powder, baking soda, sea salt and guar gum. Stir to combine.

In a medium mixing bowl, stir together yogurt, milk, oil, vanilla bean paste and instant coffee powder. Once well combined, add in chia seed gel. Stir well.

Add wet mixture to dry, stirring well to combine.

Once batter is mixed, pour 2 cups of batter into each of the three cake pans. You will have batter remaining. Split it evenly between the three cake pans. (It will be between 1/3 and 1/2 cup for each pan.)

Bake cake at 350 degrees for 18-22 minutes. A toothpick inserted into the center of the cake will come out clean when the cake is done. Remove from oven and allow to cool completely (this is important) before removing the cakes from the pan and assembling.
For the Frosting:
Melt the unsweetened chocolate either in a double boiler OR in the microwave. Once chocolate is completely melted, allow to cool to room temperature.

In the bowl of a stand mixer, combine powdered sugar, vegan butter alternative, shortening, 1/3 cup of the milk and vanilla bean paste.

Turn mixer on low for one minute, allow ingredients to combine. Once well combined, you may wish to scrape down the sides of the bowl. Then turn mixer onto medium and mix for two more minutes.

Turn mixer to low and slowly drizzle in the melted chocolate. Once the chocolate is incorporated, turn the mixer up to medium and mix for an additional 1 to 2 minutes.

If the frosting is too thick, add the remaining milk a couple of teaspoons at a time until it is the perfect consistency for you.
To Assemble:
Choose a cake stand or plate for your cake. Cover the edges with parchment paper strips that will fit just under the edge of the cake. These will keep your plate clean while you frost the cake and can be easily removed when you are finished.

PLEASE make sure your cakes are completely cooled before assembling. You may even prefer to refrigerate them before assembling. Frosting will hold better on a cool cake and it is easier to remove the cakes from the pan in once piece if they are completely cool.

Gently invert the first cake pan onto the cake plate or stand. Carefully pull the parchment paper off.

Top with 1/3 to 1/2 cup of the frosting. Spread gently with an offset spatula.

Top the frosting with a layer of sliced strawberries. It is important to pat dry the strawberries so there is no excess moisture between the layers of your cake.

Repeat this process with the second layer cake.

Now add the third layer.

At this point, frost the entire cake with a very thin layer of frosting, similar to a "crumb coat" of frosting.

Choose to frost the cake however suits your fancy. I used a large tip to pipe loose roses or swirls around the top edge. I sliced strawberries in half and pressed them along the bottom edge and topped the cake with whole strawberries.

Pull parchment strips away from cake when done frosting. Serve immediately or store in the refrigerator until ready to serve. This would easily serve 10-12 people, as it is so rich a narrow sliver of cake will satisfy most.
Recipe Notes
The sesame meal used in this recipe was created by placing sesame seeds in a spice grinder or high speed blender and processing until a smooth flour was created. This is not the same as bennecake flour, which is made with a different variety of sesame seeds than those typically found in the grocery store.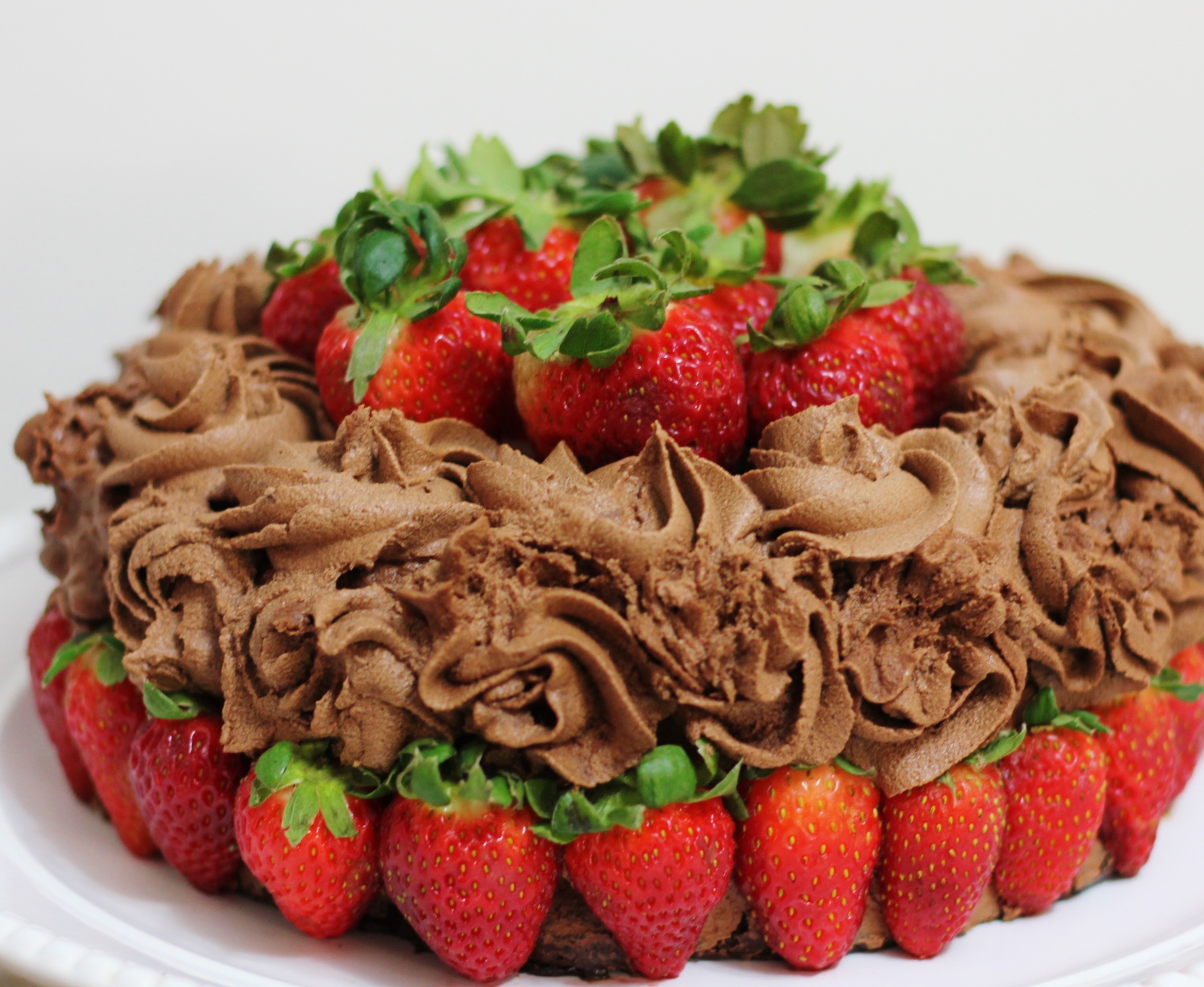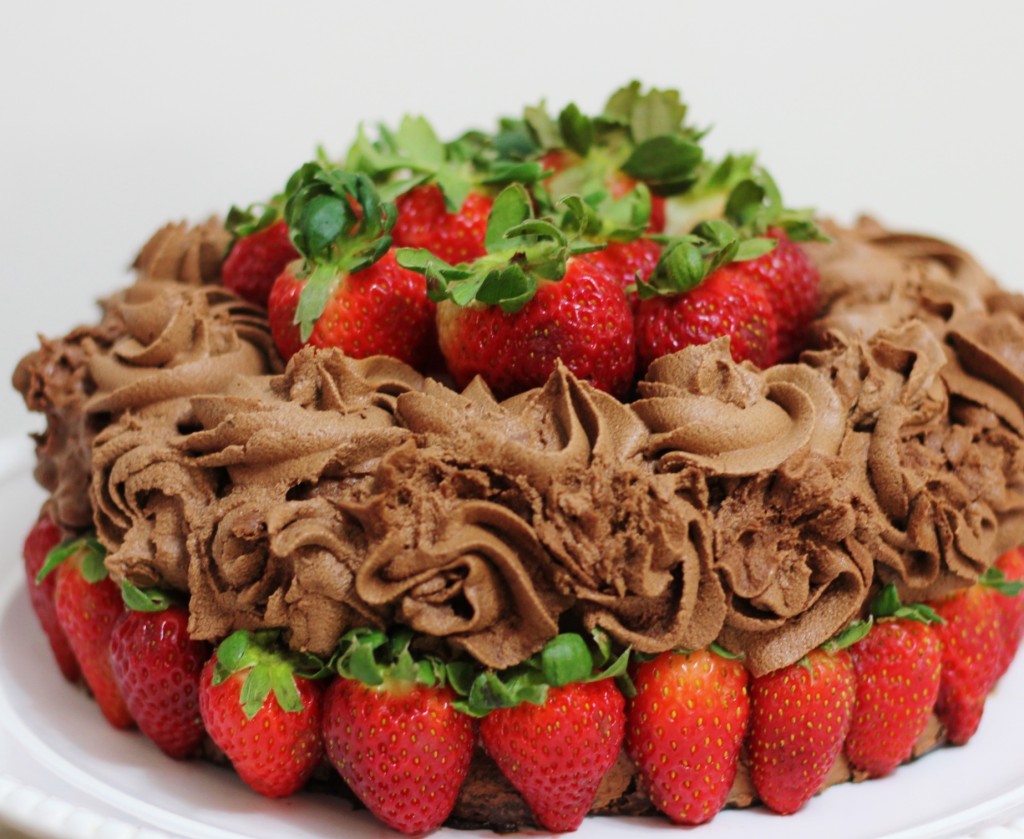 I am linking up this post to Gluten-Free Wednesday. Click over to see many, many more terrific recipes!
Disclosure: This post may contain affiliate links. If you click on a link in this post and make a purchase, I may make a small commission. Affiliate links help me to offset the expense of maintaining this website and creating original recipes. I appreciate your support!