This post contains affiliate links. See my disclosure for more information.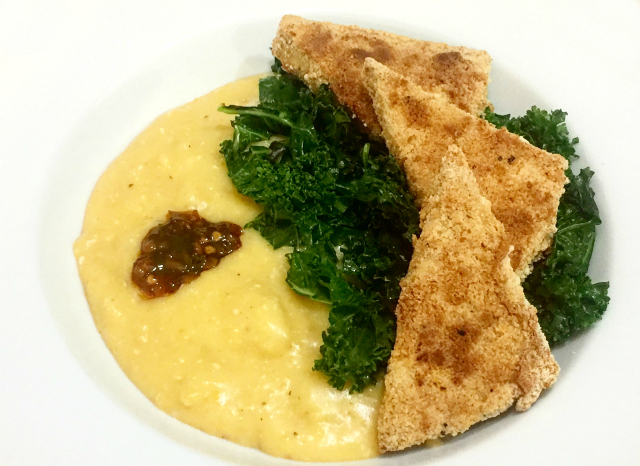 Baked Tofu, Chicken Fried Style. Whew! That's a mouthful. A delicious, crunchy mouthful.
Months ago when I shared a photo of my Chicken Fried Tofu, my friend Mack mentioned he and his wife Karen create a similar breaded finish on meat of some sort by baking in the oven, spraying the top side with oil, flipping halfway through and then spraying the new top side with oil. Well, why not give it a go with tofu?
The end result: almost as crunchy as fried. Plus I don't have to either heat up oil in the little countertop fryer or get my Dutch oven out for frying. A great bonus: the leftovers reheat better than when fried!
I served this over cheese grits with sauteed garlic kale. I think it would also be good with a country gravy and mashed potatoes for Sunday dinner.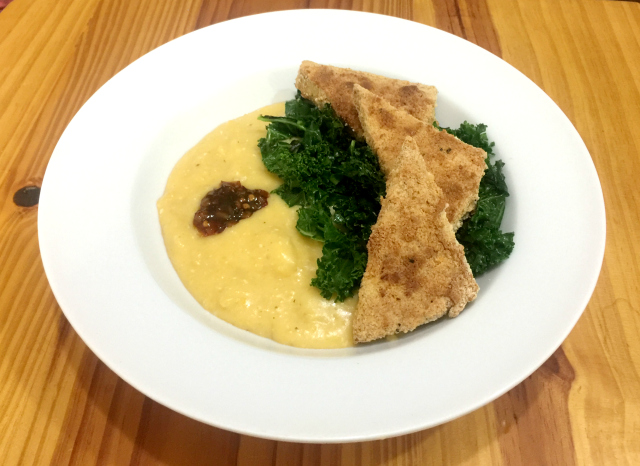 A few notes on ingredients: I use the super firm tofu from Trader Joe's. It's the refrigerated one in shrink wrap, not the one in a tub with liquid around it, not silken tofu. I saw similar tofu at Natural Grocers from Wildwood. It doesn't take as long to drain and cooks up nice and firm. If you use tofu in the tub with liquid around it, you'll need to drain it and wrap with paper towels to gently squish out water unless you have a tofu press. I used Schar breadcrumbs and my gluten-free flour blend.
I did dip in egg, which makes the photographed variation not vegan. I have made this version by using The Neat Egg, which is a powdered egg replacer. I used 2 Tablespoons of Neat Egg with 1/2 cup water. (This does not match the directions on the package, I doubled the water. Otherwise it is too thick and gel-like to coat the tofu.) A quick chat with Valerie from City Life Eats about this came with this recommendation: use garbanzo flour and water to make an egg-like dip. I have not tried this version to have exact measurements to share. If you try this variation, I would love to hear from you.
Alrighty! On to the recipe. Enjoy!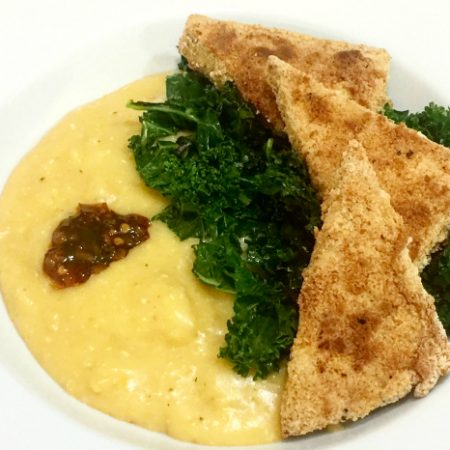 Baked Tofu, Chicken Fried Style
Ingredients
1

eight-ounce block super firm tofu

, well drained and lightly squeezed between paper towels

1/3

cup

Johnna's gluten-free flour blend

2/3

cup

gluten-free bread crumbs

(I used Schar)

1/2

teaspoon

black pepper

1/4

teaspoon

smoked paprika

2

egg whites

(please see notes below for vegan option)

2

Tablespoons

dairy-free milk of your choice

(or dairy if that works for you)

Cooking spray of your choice

(I used canola)
Instructions
Preheat oven to 400 degrees.

Slice the block of tofu into eight slices. Then cut each slice on the diagonal so you have 16 triangles.

Line a baking sheet with parchment paper.

In a pie pan, mix together flour, breadcrumbs, pepper and paprika.

In a small bowl, mix together egg whites and milk with a fork. Mix until well combined and just starting to look frothy.

With each triangle, dredge first in the flour/breadcrumb mixture, then dip into the egg/milk mixture and then back into the flour/breadcrumb mixture. Place on the baking sheet. Repeat until finished.

Spray the topside of each triangle lightly with cooking spray. Bake for 10 minutes.

Remove from oven after 10 minutes. Flip over each triangle. Spray the top with cooking spray and return to the oven for another 8 to 10 minutes.

Remove from oven and enjoy!
Recipe Notes
Vegan option to replace eggs: 2 Tablespoons of The Neat Egg powdered egg substitute in 1/2 cup water. Use as egg in recipe without adding any milk.