Monday, June, 03, 2013
Spiralizer Round-Up, Recipes To Use Your Noodler!
Did you catch the amazing deal Amazon has going for my favorite Spiralizer?  When I last checked, you could still snag one for $22.49, the cheapest I've ever seen it! Last week I saw Chef Amber Shea mention this steal of a deal and then Shirley of Gluten-Free Easily mentioned it and well…I figured you all jumped on it because a recommendation from these gals is good as gold. This kitchen gadget is a must-have, especially at this price!

So you bought one and now you're wondering, "What do I do with it?"  Besides the typical zucchini noodles with marinara, I gotta tell you this gadget will help you make a gazillion new dishes.  Zucchini, sweet potato, carrots, beets, eggplant, they all work well in this cutter I fondly refer to as The Noodler. Plus it's fun to use, kids love it!
My absolute favorite dish to use The Noodler with is my Japchae. Click through to the post to see what folks are saying about this dish, it's a BIG favorite of lots of folks.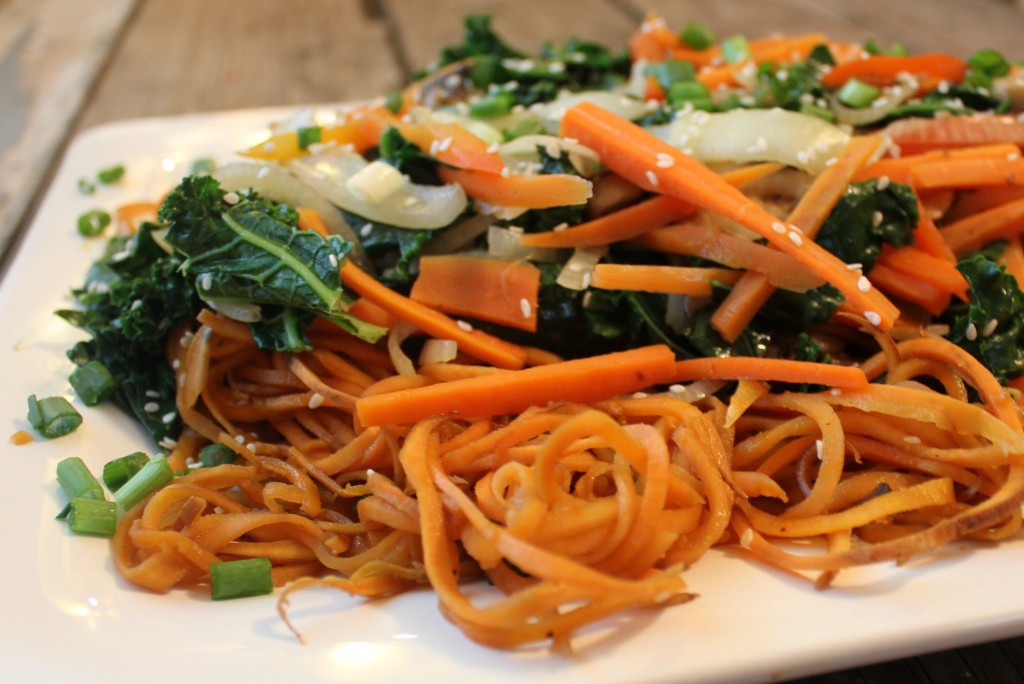 The Noodler comes with three blades.  The one I see used least often is the flat blade, which makes lovely ribbons.  Heather from Gluten-Free Cat makes this beautiful Green Ribbon Salad.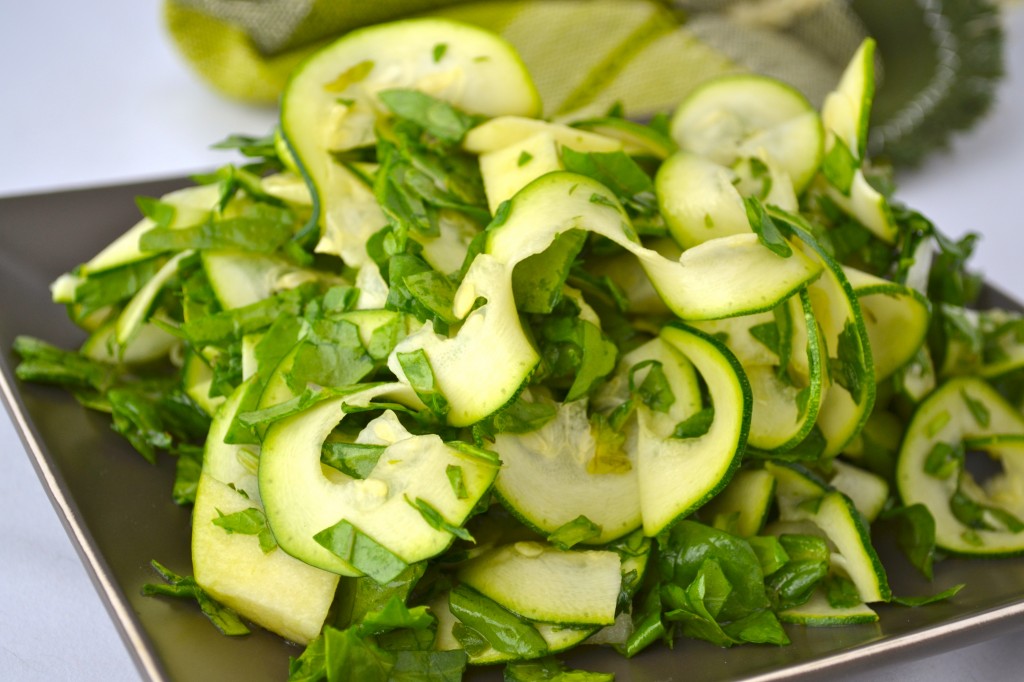 One of my summer favorites is Lemon Almond Pesto over spiralized zucchini noodles.  This one is from my own kitchen but I hope you'll soon find it in your kitchen!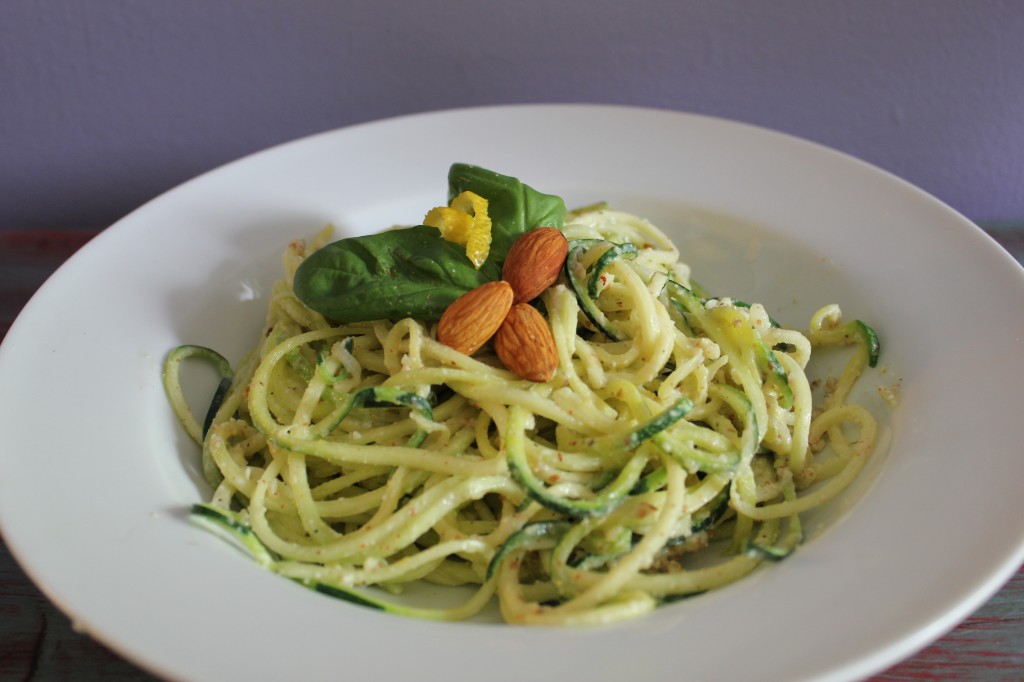 This great Summer dish comes from Karina at Gluten-Free Goddess.  Her Raw Zucchini Pasta in a Vegan Curry Cashew Cream Sauce sounds perfect and it's beautiful!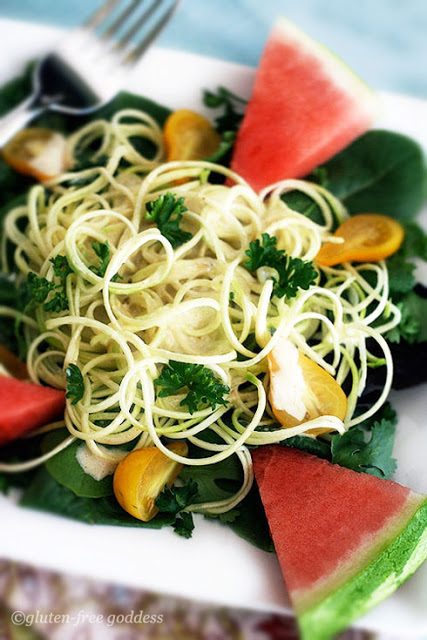 Another from my kitchen, Pumpkin Alfredo with Sweet Potato Noodles.  I usually eat this raw, but also like it warm with the noodles sauteed for just a few minutes to soften them a bit.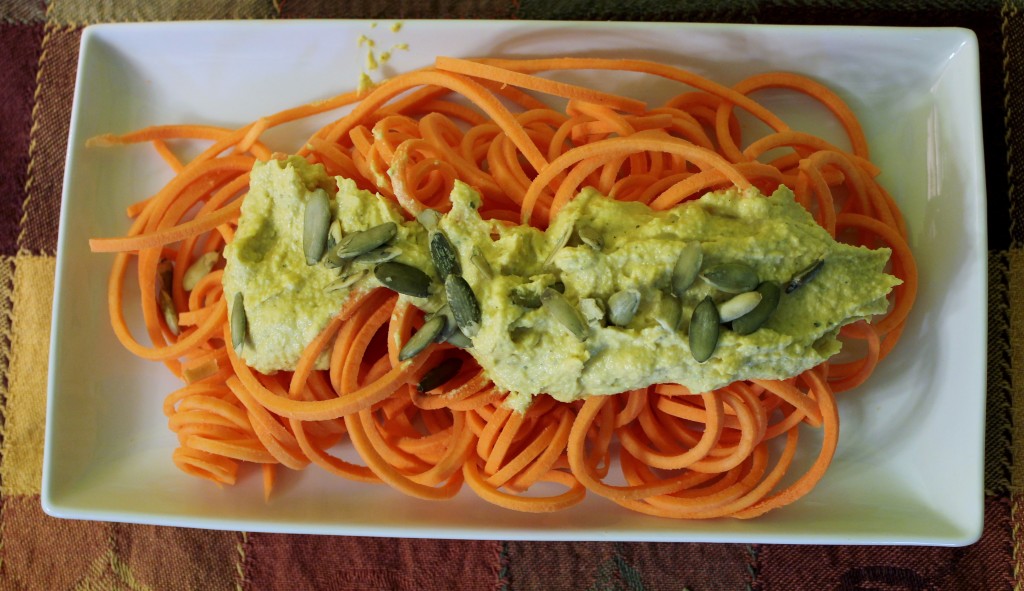 For those who are enamored with Sunbutter, Lauren from Oatmeal with a Fork shares Spicy Sunbutter NoodlesThis dish is on my menu this week.  If you aren't a Sunbutter fan, just sub PB or almond butter. Super versatile!
From The Urban Poser, a visually stunning dish, Raw Noodles & Veggies with Raw Asian Pesto Sauce.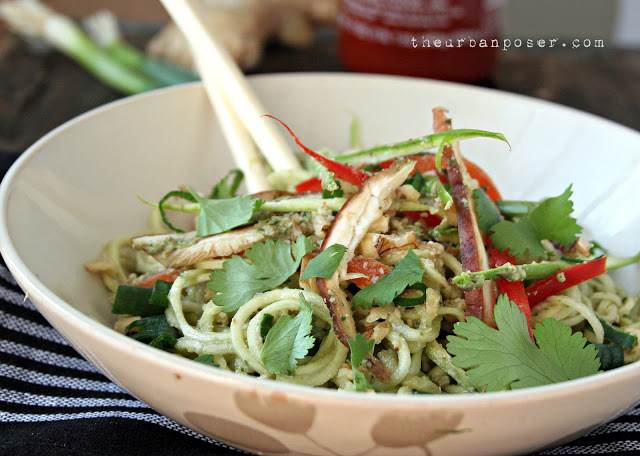 From Rawmazing, Avocado Kale Pesto with Zucchini Noodles.  So creamy!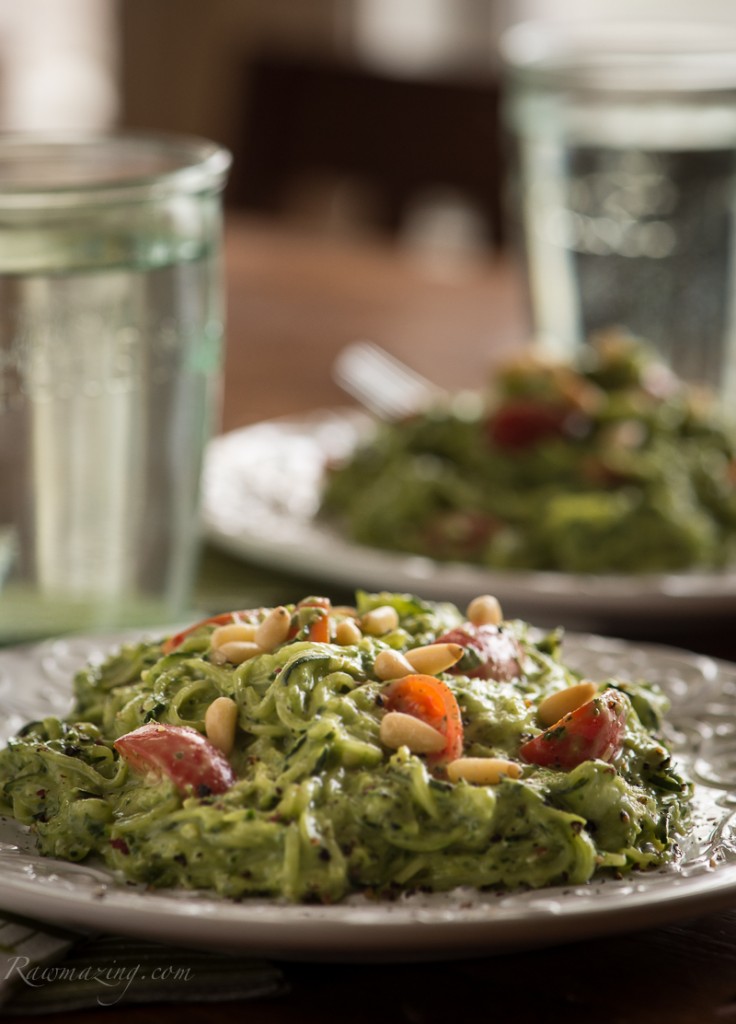 From Averie Cooks, a delightful Raw Pasta Salad with Creamy Lemon Herb Dressing.  Averie says this dish came together in 5 minutes.  Perfect for busy days when you still crave a light and healthy meal!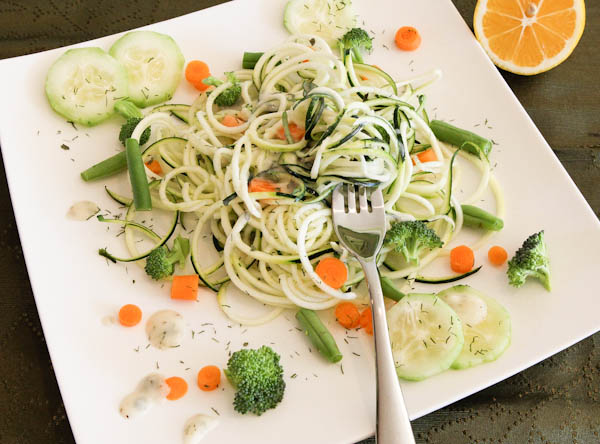 Whew!  What a gorgeous collection of spiralized dishes. Make sure you click through to visit each of the contributors.  Their recipes will be a sure-fire way to put your new Noodler to work.
I would love to hear what you are making with your spiral cutter.  Drop me a note below and I'll do my best to share links to recipes on my Facebook page.  Thanks for stopping by my kitchen!