This post contains affiliate links. See my disclosure for more information.


I love the simplicity of bars. Quick to make, fun to share and of course, perfect to soothe a bit of a sweet tooth.
A bit of a sweet tooth? Yep, that's what I said. I've made this one close to free of refined sugar, as seems to be my habit lately. For me, less refined sugar means less puffiness or bloating. I also am discovering that lots of refined sugar just tastes too sweet to me these days. Said the girl who started writing about food because of donuts…
While this recipe features chocolate and strawberries, it works well with any fruit spread/jam/preserves. You don't have to do the melted chocolate part. You can instead spread a bit of the Justin's chocolate hazelnut spread on the bottom crust. (Think Nutella but with less sugar and no dairy plus amazing flavor.) What I'm getting at is that this is a good basic recipe. I started with a Martha Stewart recipe and modified to make it gluten-free and egg-free, but it is essentially a basic ratio that is needed to make a shortbread bar. Make it yours!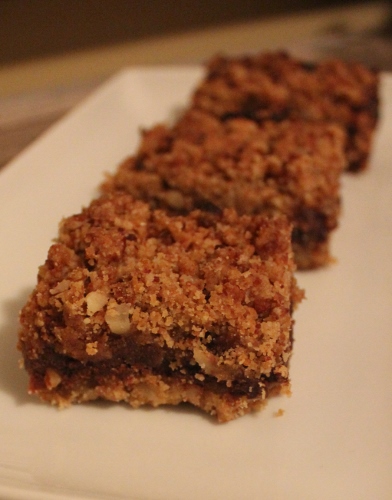 Chocolate Covered Strawberry Shortbread Bars
Ingredients
2

sticks non-dairy butter

, room temperature (I use Earth Balance)

1

cup

chopped almonds

, pecans or walnuts

3/4

cup

coconut sugar or jaggery

3/4

cup

strawberry all-fruit spread

, jam or preserves

1/2

cup

non-dairy chocolate chips

(I use Enjoy Life)
Instructions
Preheat oven to 350 degrees. Prepare an 8 x 8 baking dish by spraying with non-stick cooking spray. I use coconut oil spray.

In the bowl of stand mixer fitted with the paddle blade, combine gluten-free flour blend, non-dairy butter, coconut sugar and nuts. Mix on low to medium-low until it is crumbly.

Measure out two cups of the crust mixture and press into the baking dish. Place the baking dish into the freezer.

Next, melt chocolate chips using either a double boiler or the microwave. I use the microwave, heating for only 30 seconds and then stirring.

Once chips are melted, remove the crust from the freezer. Gently spread melted chocolate chips over the crust. Return to freezer for 15 minutes or until chocolate is set.

When chocolate chips have set, gently spread strawberry fruit spread over the chocolate-covered crust. Spread to about 1/4" of the edge.

Sprinkle the remaining crust mixture over the top. Bake for 35 to 40 minutes.

Allow to completely cool before cutting. Not kidding here, attempting to cut before they are completely cool will result in something more like cobbler than bars. I know because I have trouble waiting on something as delicious as these bars to cool before digging in. Enjoy!