This post contains affiliate links. See my disclosure for more information.



Instant Pot Pasta with Meat Sauce (gluten-free, dairy-free, vegan options)
The past couple of months, I've been experimenting with the Instant Pot. I have not come across a single kitchen tool that allows me to so effortlessly cook healthy meals in a minimal amount of time. Plus I don't have to stand there and tend it–it takes care of itself. Think of it like a Crockpot or slow cooker, only in a very short amount of time. I call my Instant Pot the Time Machine. It is like it travels forward in time and beep, beep, beep…dinner is ready! I've enjoyed making macaroni and cheese in just a few minutes, making refried beans that provide great burrito fillings all week long and lots of cheese grits.
Today I'm sharing my 5-ingredient recipe for Pasta with Meat Sauce. Once the Instant Pot comes to pressure, it's 8 minutes of cook time, 8 minutes of natural pressure release, then a short quick release and it's ready to eat. How about that? And if you are like me, eating a meat substitute instead of browning ground meat, you won't need to do a single thing ahead of time. (Don't worry, omnivorous friends, it will only take a few minutes longer for you and no additional pans or cookware…)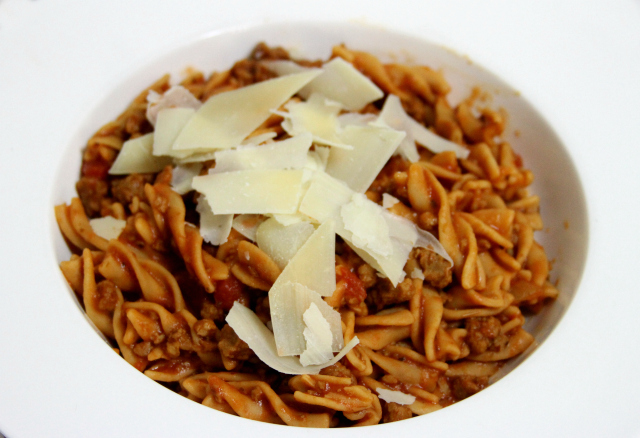 Let's talk a minute about the Instant Pot. I have the six-quart duo, which means it has high and low temperature settings. I haven't come across many recipes that use the low temperature setting except yogurt. If you don't plan to make yogurt, you'll do just fine with the basic six-quart Instant Pot which will save you a few dollars. I got mine on Prime Day from Amazon and am so hopeful it will soon be offered at that incredible price again so more of you can get in on this goodness.

And a few words on ingredients: It's not often I include instructions for adding meat to a recipe because I am vegetarian. But I have to tell you, many meat eaters enjoy my recipes with simple additions of meat. This recipe works with ground meat, Beyond Meat which is a meat substitute or crumbled tempeh, which is a cultured soy alternative to meat. Something to work for everyone here.
As for pasta, I've used Banza. I just don't find myself enjoying other gluten-free pasta as much as Banza. The ingredients are super simple, it's high in protein and lower in carbs than the alternatives and the texture is nice. It also reheats well when we have leftovers, which is pretty important in our small household where leftovers are common.
Sauce! I used the organic marinara from ALDI for the first couple of batches of this, then switched to a pasta sauce from Trader Joe's and finally tried a canned pasta sauce made with a friend's garden harvest. Every sauce I've tried has worked just fine.
Alright! Ready for the recipe? I am! Click below for the super easy, quick and simple recipe to make Instant Pot Pasta with Meat Sauce (gluten-free, dairy-free, vegan options)!